When fresh peaches start appearing in stores and markets, Peach Pie is on my must make list. You don't have to use a lot of sugar, especially when the fruit is fresh and sweet. This way you can really taste the peaches. Don't worry if you don't make your own pastry, you can use store bought for this one.
I don't use a lot of sugar in homemade pie. Pies of my childhood had more sugar. Maybe because our grandmas lived through sugar rations during war time so they went crazy after. Or maybe because their diets weren't full of added sugars so they splurged on a piece of pie. Personally I like to be able to taste the fruit. And you can always add a scoop of ice cream if you need to raise your blood sugar!
Jump to Recipe
The best pies are made with Homemade Pastry. But don't beat yourself up if you're not into making your own. I'm told that some store bought pastry is pretty good. I wouldn't know because I've never used it. Wink. But seriously, if you make pastry in the food processor it only takes a few minutes. You need to refrigerate it for at least 30 minutes to let it rest. Even better, it can be made up to one day in advance. You'll want to take it out of the fridge for about 5 minutes before you roll it. If you're making a double crust pie, cut off half of the dough and leave the other half in the fridge until you're ready to roll the top.
Prepare your bottom crust first. Generously flour a large surface and roll into a circle a few inches larger than your pie plate. Rotate and flip the dough as you're rolling, adding more flour as needed. Try to keep it uniformly thin by keeping steady pressure on the rolling pin and working from the centre out. But don't expect it to be a circle, it never really is.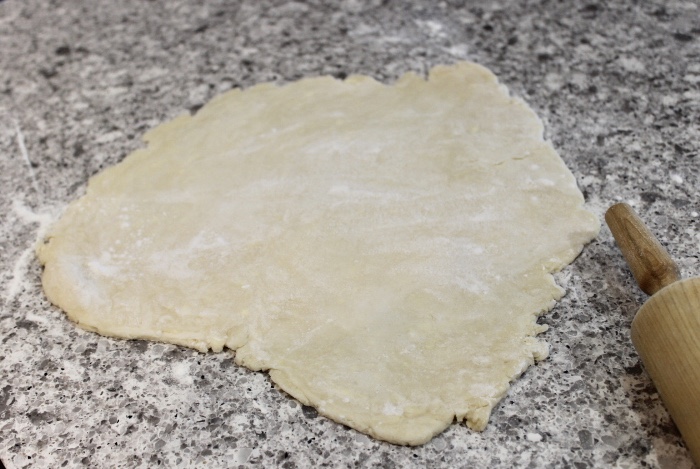 Roll the pastry over your rolling pin and carefully drape it over the pie plate. Lift the edges gently to allow it to drop into the plate. Now put it in the fridge while you make the filling. Make sure you leave the other half of the dough in the fridge while you're rolling the bottom.
Peeling peaches is much easier if you blanch them in boiling water, then drop into an ice water bath. 60-90 seconds in boiling water is about right. If you cut a little X in the bottom of each peach it gives you an easy place to start peeling.
A few peaches may give you some trouble but a small paring knife will work. Once they're peeled, slice them into about 10-12 slices per peach. I used 10 peaches for an eight inch pie to get about 6 cups of slices. They were fairly small peaches and very sweet. Drizzle lemon juice over top to prevent them from going brown.
You want to start the pie in a hot oven and turn down the heat after 15 minutes or so, so preheat the oven at this stage. The high temperature helps set the pastry. 425 degrees is best then lowering to 375 to finish.
Now mix up sugar, cornstarch, flour, salt and a tiny bit of nutmeg. The nutmeg flavour is not very distinct in this pie. The fresh peach flavour really shines through. Feel free to add a bit more nutmeg if you wish. I don't use cinnamon in peach pie, I think it overpowers the flavour of the peaches. I'm using a combination of cornstarch and flour. Just because. You can use all of either. There are multiple opinions on which thickener is better and some science behind it. I used a combination and it worked fine. Pour over the peaches and combine well. Pour into the pie shell. It should be slightly higher than the pie plate.
You want lots of filling because it cooks down but you don't want it to bubble over. It often does so put a baking sheet on the lowest rack of the oven. If you're lazy like me, cover the sheet with foil so you can just throw it out, then you don't have to scrub the baking sheet. Set another rack just above the lowest one. You need to bake pies in the lower part of the oven to ensure the bottom pastry cooks properly.
Now roll out the top crust using the same method as the bottom crust. Brush the outer edges of the bottom crust with a bit of water, then gently roll the top crust over using the rolling pin. The water acts as a glue to help the top stick to the bottom. Press down on the edges then trim with a knife. Crimp, pinch, fork or whatever method you want to finish the edges. Here's how my mom taught me. Make a V with two fingers, then using your other hand, push into the V with your thumb. Pretty fancy huh?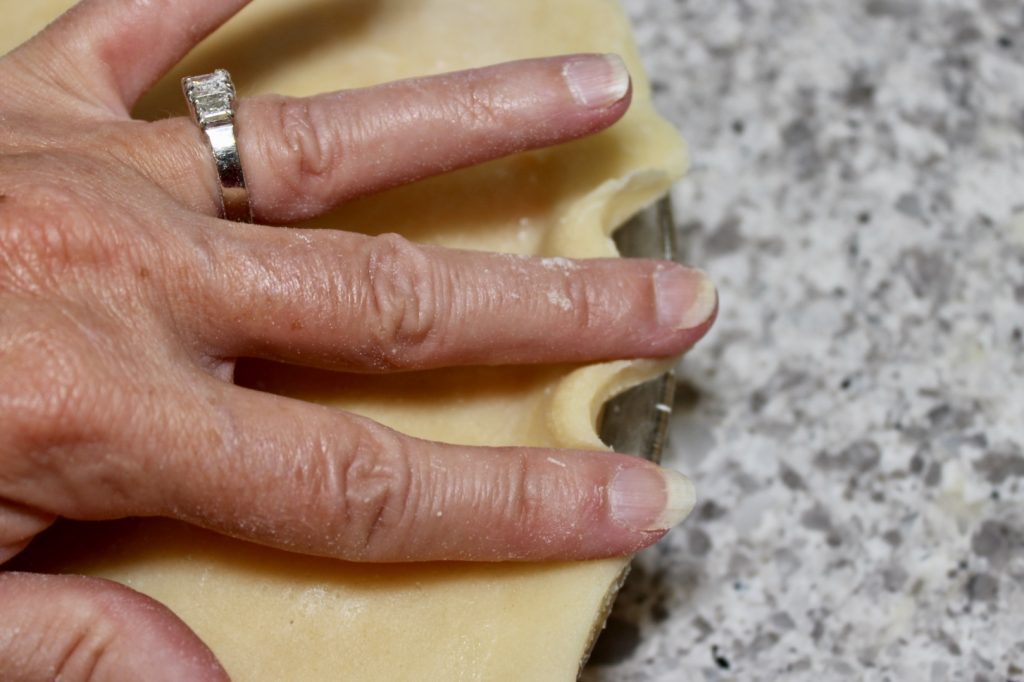 Brush the top of the pie with a bit of milk, then sprinkle some sugar on top. Just a bit. This does two things. The milk helps the pie top get a nice golden colour and it works like a "glue" to help the sugar stick to the top. You can also use an egg wash which basically accomplishes the same thing except you get a shiny top.
You need to allow steam to vent from fruit pies so use a sharp knife to cut some slits in the top, being careful not to cut through to the bottom. Have fun and make a creative design. Or not. I'm not much of an artist so this flower design is the best I can do. My father is an artist. He would be disappointed if he saw this.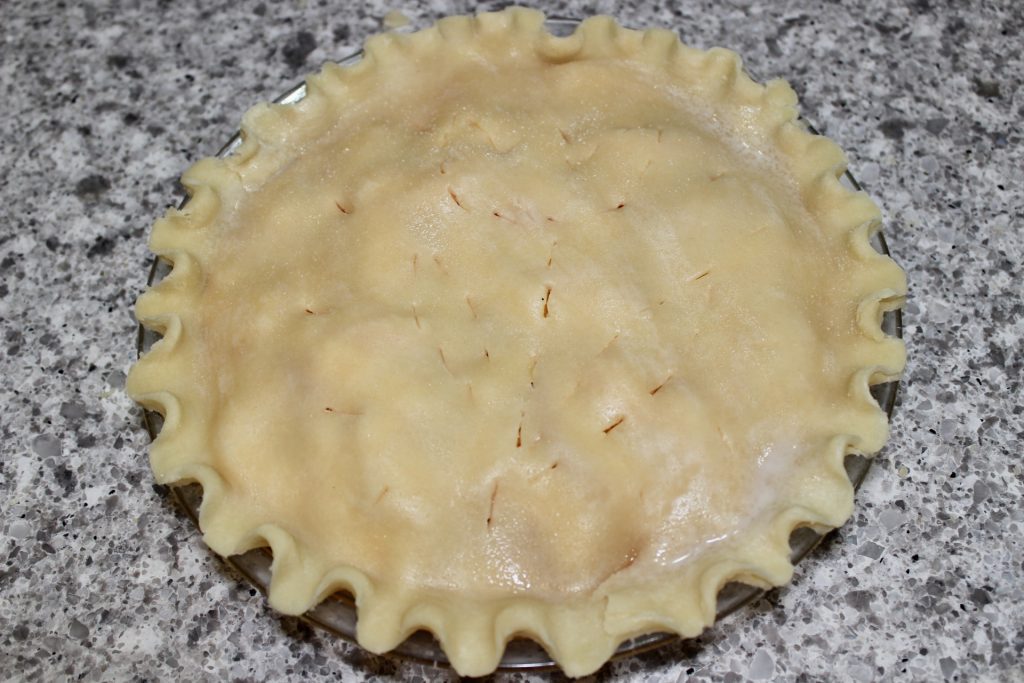 Bake on a lower rack in the hot oven, reducing the heat after 15 minutes to 375. Bake for another 45 minutes. Ish.
The pie filling will thicken as it cools.
Here's the recipe:
Peach Pie
Delicious homemade pie made with fresh juicy Ontario peaches.
Ingredients
Pastry for double crust pie

6

cups

peeled and sliced peaches

about 10 small peaches

1

Tbsp

lemon juice

1/2

cup

white sugar

2

Tbsp

cornstarch

1

Tbsp

flour

pinch of salt

1/4

tsp

nutmeg

1

Tbsp

milk

sprinkle of white sugar
Instructions
Prepare pastry for double crust pie. Refrigerate until ready to use.

Roll out bottom crust. Refrigerate.

Preheat oven to 425 degrees.

Cut a small X in the bottom of peaches and blanch in boiling water for 60 - 90 seconds. Remove to an ice water bath. Peel and slice into a large bowl. Drizzle with lemon juice.

Mix together sugar, flour, cornstarch, salt and nutmeg. Pour over peaches and stir well. Empty into prepared pie shell.

Roll out top crust and place over pie. Trim and seal edges. Brush with milk and sprinkle sugar over top. Cut vents in top crust to allow steam to escape.

Bake on the lower rack of the oven for 15 minutes, then reduce temperature to 375 and continue baking for 45 minutes or until top is browned and filling is bubbling.
Print Recipe
more summer desserts