When it's too hot to turn on the oven and even too hot to stand outside in front of a barbecue, the solution is Easy Thai Chicken Noodle Bowl. This Thai chicken soup is so easy it's ridiculous. It takes minutes to put together and that hit of heat is perfect for a hot day. You could call this a soup. Or a noodle bowl. That depends on how much or little broth you use in relation to the other ingredients. And you can customize it by using whatever vegetables you want.
You might also like Beef Noodle Pho. Very similar and super easy too!
What makes this recipe so easy is a new product I found called Thai Chicken Broth. It has a touch of heat and spice and is a perfect accompaniment to the veggies that came in my CSA share from Meadow Lynn Market Garden. This week's bounty had lots of green stuff that would be perfect for this recipe. One of the things in the box was arugula which tends to stump people. It's something that not everyone likes because of the hot peppery taste. Sarah suggested she likes to stir fry it so I added it to this noodle bowl along with 4 other items in my box, bok choy, spinach, green onions and pea shoots.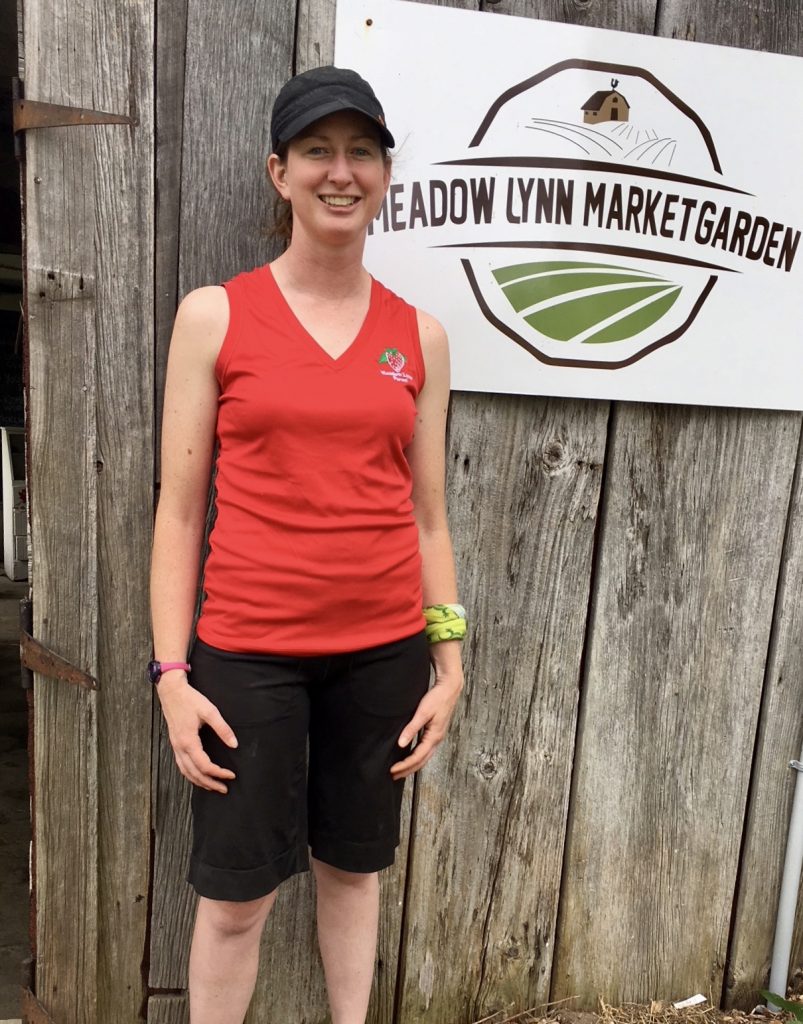 Meet Sarah.
Not only is this recipe super healthy, it's also very inexpensive to make. I used one boneless skinless chicken breast for 2 generous servings. And it doesn't take much time. In fact, you need to get your pots and pans ready, water boiling and broth heating all at the same time so get ready to multi task!
Jump to Recipe
Clean and chop bok choy, spinach, arugula and mushrooms. Feel free to customize the veggies to your liking and the season. You want about 6-8 cups of leafy greens and mushrooms in a loose pile.
Heat up your Thai Chicken Broth in a pot and let it simmer.
Fill a third pot with water and drop about a quarter of a package of rice noodles into boiling water and cook for the recommended time – depends on the size of the noodles. If you cook them in the broth they'll absorb lots of the liquid and you might not have enough. Don't be tempted to use too many noodles, just enough to slurp away with the broth. They don't take long to cook so if they're ready before it's time to serve, drain them and rinse with cold water to stop them from sticking together.
Heat a large heavy skillet and add a teaspoon of sesame oil and a teaspoon of olive oil. Sesame oil has a strong flavour, that's why I like to combine it with another oil. If you don't have any, just use olive oil. Chop up a chicken breast into bite sized pieces, season with salt and pepper and stir fry for about 3 minutes until they are browning. Add the vegetables and saute for about 4 or 5 more minutes, just until they're wilting but not soggy. Some vegetables take longer to cook than others so if you're using harder veggies like carrots, add them first.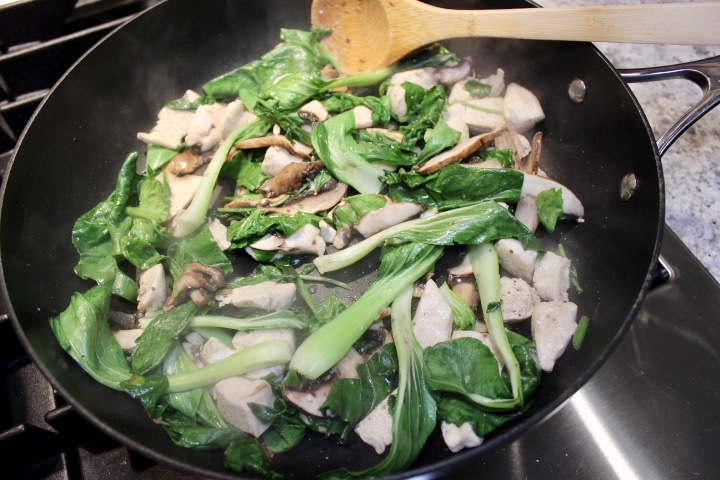 Next, get the garnish ready. Finely mince a few green onions and tear or chop up some pea shoots and cilantro. Cut a lime into quarters. Squeezing the lime juice into the soup at the end adds a nice acidity that works well in the dish.
How to assemble a Thai Chicken Noodle Bowl
To assemble the Thai Chicken Noodle Bowl, using tongs, divide the noodles between 2 bowls. Add chicken and vegetables and top with hot broth. Sprinkle green onions on top and garnish as desired with cilantro and pea shoots. Serve with Sriracha for added heat if desired. We call this rooster sauce in our house. It's a hot chili sauce with a rooster on the bottle.
This makes 2 huge servings.
Here's the recipe:
Easy Thai Chicken Noodle Bowl
A super easy and healthy bowl with fresh vegetables, chicken and noodles topped with a hot Thai broth
Ingredients
1

tsp

sesame oil

1

tsp

olive oil

1

boneless skinless chicken breast

salt and pepper

2-3

heads bok choy

regular sized

2

large handfuls spinach

1

large handful arugula

4

large mushrooms

1/4

package rice noodles

900

ml

carton Thai Chicken Broth

2

green onions

lime slices

pea shoots

cilantro

Sriracha sauce
Instructions
Clean and chop bok choy, spinach, arugula and mushrooms. Combined amount of vegetables should be about 6-8 cups in total.

Bring pot of water to a boil and cook rice noodles according to package directions according to size. Drain and rinse with cold water.

Meanwhile, heat Thai Chicken Broth to a simmer in a separate pot.

Chop chicken into bite sized pieces. Season with salt and pepper. Heat sesame oil and olive oil in large heavy skillet. Sear chicken pieces on medium-high until starting to brown, about 3 minutes.

Add vegetables and stir fry, lowering heat to medium, about 4-5 minutes until cooked but not soggy.

Prepare garnish by finely mincing green onions, roughly chopping cilantro and pea shoots, and quarter lime.

To assemble, divide noodles between 2 large bowls. Top with chicken and vegetable stir fry. Ladle hot broth over top and sprinkle with green onions, pea shoots and cilantro.

Serve with lime pieces for squeezing juice over and Sriracha for added heat if desired.
Print Recipe
more healthy eats
Spicy Thai Grapefruit Salad with Shrimp