Steak and Guinness Pie is the top of my list for comfort food. The beef is cooked slowly in a bath of dark beer and topped with pastry. It's pretty much that simple but the taste is rich and satisfying. There's no need to make your own pastry because store bought puff pastry is perfect for this. Add a few veggies to the stew and you've got a complete meal.
Stewing beef becomes very tender when cooked slowly. It's ideal for dishes like this. That being said, I do often buy a full beef tenderloin and once I've cleaned it and cut it into nice thick steaks, I'm left with some small pieces that are perfect for Steak and Guinness Pie. And I guess since it's made with tenderloin, then it really is a steak pie. But go ahead and use stewing beef or brisket for this recipe.
In spite of being made with tender meat, you still have to cook this for about 2 hours to get that rich flavour, then another 30 or 40 minutes with the pastry top.
How much alcohol is left after cooking?
If you're concerned about the alcohol, the lengthy cooking time will ensure most of it is cooked off. The beer has only 4% alcohol and after a few hours there will only be about 5% left so 5% of 4% divided by 4-6 servings equals…..almost none. Or, just use beef broth but then it's not Steak and Guinness Pie, is it?
Start making Steak and Guinness Pie by cutting your beef chunks into relatively the same size. Heat a heavy Dutch oven on the stove top to medium, add some olive oil, or, if you have a mug of bacon fat in your fridge like I do, add a tablespoon or so to the pot. Season the beef with salt and pepper and sear in batches, removing the pieces to a clean plate before adding the next batch.
If you put too much in at once they steam and don't get that dark caramelization on the outside. The beef chunks don't have to be fully cooked. Add some onion and garlic to the last batch to prevent them from getting over browned and bitter.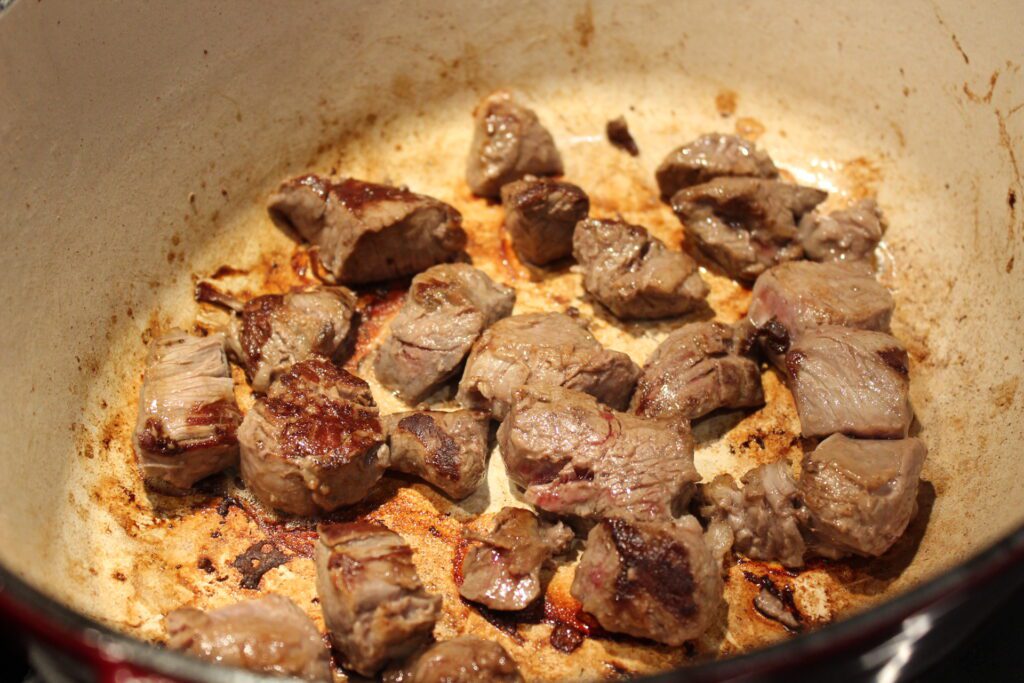 That dark colour left behind turns into amazing flavour.
When all the beef chunks are browned, add all the beef back into the pot and pour a full can of Guinness over top. Stir and scrape the brown bits off the edges of the pan to maximize the flavour from browning the meat. The mixture won't be entirely covered with liquid but don't worry.
The mushrooms add more liquid as they cook so don't be tempted to add more Guinness. Yet. But buy an extra can just in case and if you don't need it,  drink some with your Steak and Guinness Pie. Bring the mixture up to a boil to cook away the alcohol while you're prepping the rest of the ingredients.
Preheat the oven to 350 and slice your carrots and mushrooms, chop the rosemary and mix up the flour and beef broth or water for thickening. Make sure you use cold water or broth with the flour so it doesn't start to thicken until it heats in the stew.
Add the carrots, mushrooms, and rosemary. Season with salt and pepper and drop in a bay leaf or two. Then pour in the flour mixture and stir as it hits the hot liquid to prevent lumps.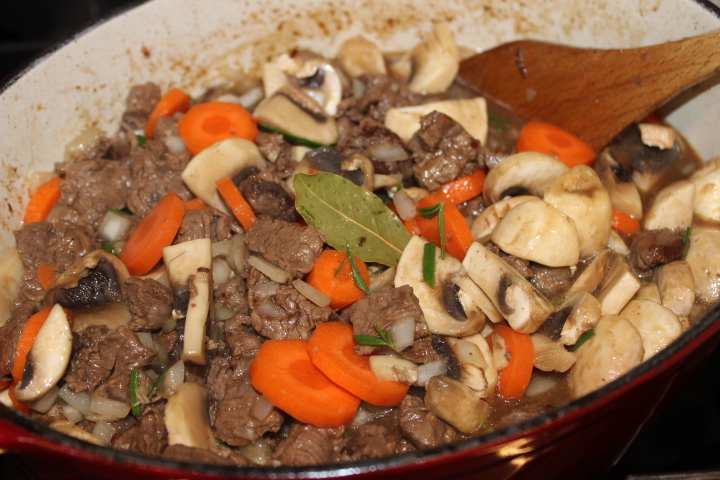 Cover and bake for about an hour. The stew will get darker as it cooks and the mushrooms will release some liquid but then it will reduce and thicken. Taste and season once more if necessary with salt and pepper. If the liquid is reducing too much, open the second can of Guinness and add some, not too much, maybe up to half a can. You don't want the liquid to be over the top of the stew.
Return the pot to the oven and bake another hour. Check after half an hour, depending on how much heat your baking dish retains, the stew may reduce and thicken faster than you expect.
You can make the stew in advance and finish the Steak and Guinness Pie later or the next day. Just heat up the stew slightly before you bake it with the top, otherwise it may not be heated enough when the pastry is cooked.
Puff Pastry Crust for Steak and Guinness Pie
When the stew is ready, roll out a sheet of puff pastry to slightly larger than the size of the baking dish you're using. I prefer to take the stew out of the cooking pot and finish in a smaller dish so the stew is almost to the top and the pastry isn't added to a hot dish. But that means another dish to wash. So go ahead and use the pot you made the stew in if you like. Or don't. Don't forget to remove the bay leaves.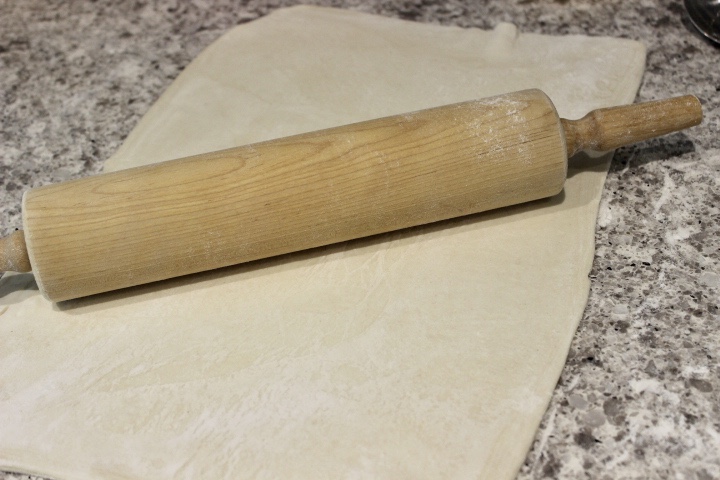 You can buy puff pastry that's already rolled out. You simply unroll it and place over the top, or you may have to roll it a bit larger. Or you can buy it in a block that needs to be rolled out. I used a package with 2 blocks and pressed them together to get a rectangular shape. The seam sticks together well after it's been rolled out.
Gently score crisscross lines in the pastry, being careful not the cut all the way through. This helps give it a nice finished look. This recipe and technique is based on Jamie Oliver's recipe.
Place it over the top of the dish and fold, squeeze or roll the pastry so it isn't overhanging and an edge is formed. There's no rules about how to do this. It's a rustic dish so it doesn't need perfectly fluted edges. I don't use a bottom crust. This is already pretty rich so I prefer not to have too much pastry.
Brush the top with a beaten egg that's been thinned with a bit of cold water.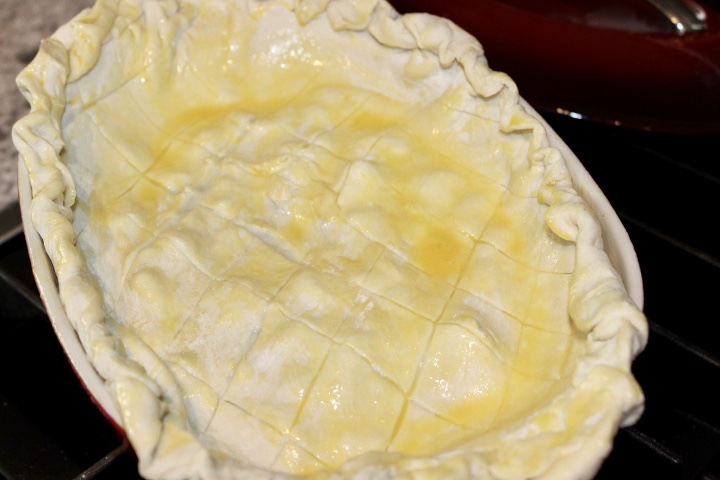 By doing this the top gets a shiny golden crust.
Bake at 350 for 30-40 minutes until golden brown and puffed up.
I like to serve this with fresh green peas. I don't put them in the stew because they don't have a really nice colour when cooked that long.
You can get really ambitious and make individual pots if you like.
Another popular pub dish is Chicken Pot Pie.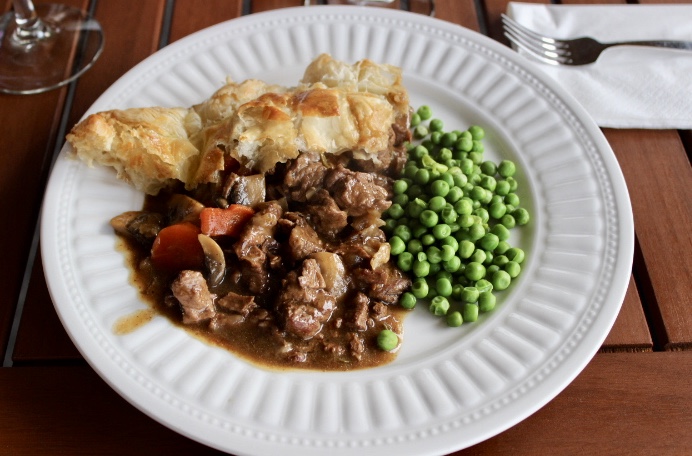 Here's the recipe:
Steak and Guinness Pie
Steak and Guinness Pie
Serves 4-6

Ingredients

2 lb stewing beef or tenderloin chunks
1-2 Tbsp bacon fat or olive oil
2 cloves garlic, minced
1 onion, chopped
2 Tbsp flour mixed with 1/4 cup water or cold beef broth
2 cans Guinness 440 ml draught stout beer
6 medium sized mushrooms, chopped
2-3 carrots, sliced
2 Tbsp fresh chopped rosemary
2 bay leaves
salt and pepper
1 package puff pastry and flour for dusting
Method

Season beef chunks and sear in small batches over medium heat in heavy dutch oven using bacon fat or olive oil. Add minced garlic and chopped onion to last batch. Return all beef to pot.
Open 1 can of Guinness and pour over top of beef. Bring to a boil, then simmer while prepping veggies and preheating oven.
Add chopped mushrooms, sliced carrots, chopped rosemary and 2 bay leaves. Season with salt and pepper. Mix flour with cold water or broth. Add all above ingredients to meat, stir, cover and bake at 350 degrees.

After first hour, check to see if stew is reducing and darkening. Taste and season with more salt and pepper if necessary.If liquid amount is reducing too much add more Guinness, not more than half the can.

Bake one more hour, or less if stew darkens and reduces well.
Pour stew mixture into a clean baking dish that is large enough to hold the contents without too much room left at the top.

Roll out puff pastry to slightly larger than the baking dish. You may need to dust with a bit of flour for rolling.

Gently score diagonal lines in the pastry with a very sharp knife, being careful not to cut right through. Lay over the dish and arrange to fit, folding, rolling or squeezing the pastry to form an edge.
Add cold water to a beaten egg and brush the entire top of the pastry, including the edges.

Bake for 30-40 minutes until the pastry is puffed and golden.