Freshly picked organic mixed greens pair perfectly with sweet local strawberries, mandarin orange sections and a tangy oniony dressing. Adding sunflower seeds adds that crunchy element that every salad needs, including Strawberry Mandarin Salad with Sweet Onion Vinaigrette.
This is actually based on a recipe of my mom's. She spent many years travelling with her curling team to bonspiels throughout the region. If you're not familiar with curling, it's more about the social part than the sport. The winning team always buys the drinks after the game. And there's always good food. This was a salad she had while being hosted out of town. She says she can't remember what else they had for lunch or if they won or not but she always remembered this salad.
Jump to Recipe
The dressing is a simple mixture of red wine vinegar, dry mustard or dijon, olive oil, sugar, salt and pepper and finely minced or grated onion. And since I hate to waste anything I used the juice from the mandarin oranges to sweeten the dressing and just used a small amount of sugar. Any vinegar will work but I chose red wine vinegar because it makes the dressing a nice pink colour. And you can blend the dressing until smooth and emulsified or just shake it in a jar. You'll have plenty of dressing, more than enough for a 4 salads.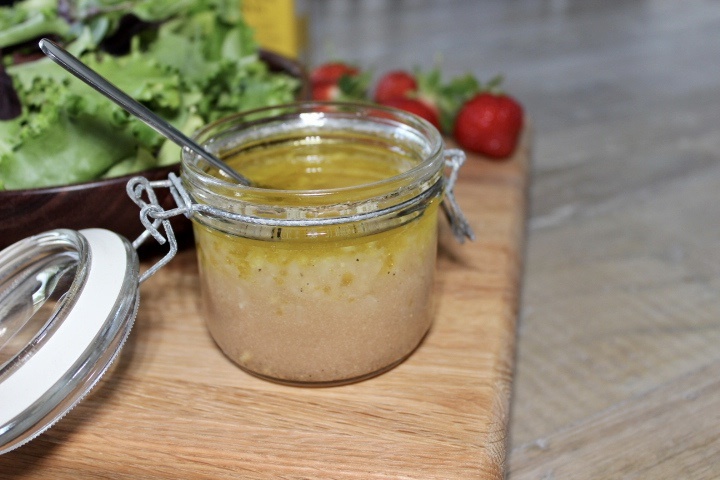 You can use canned mandarin oranges or these individual cups. If fresh mandarins are available you could use them, just increase the sugar to 1 tablespoon and make sure you peel off all the white stuff, the pith, because it can be bitter.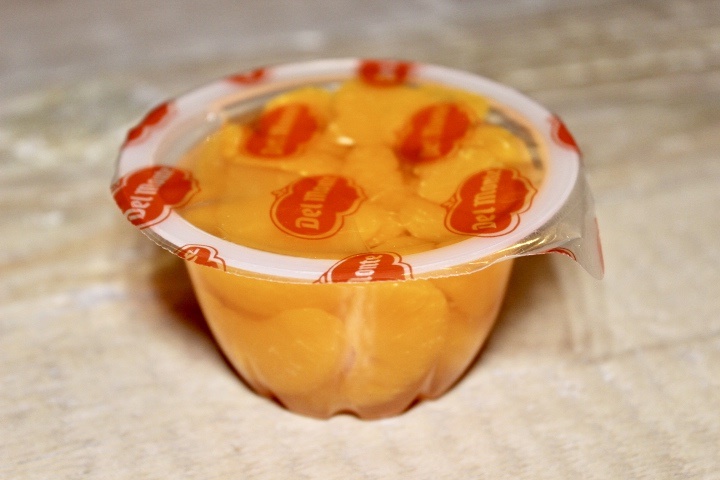 Once you've mixed up the dressing and topped the greens with sliced strawberries and halved mandarins, drizzle some dressing over top and finish with a spoonful of sunflower seeds.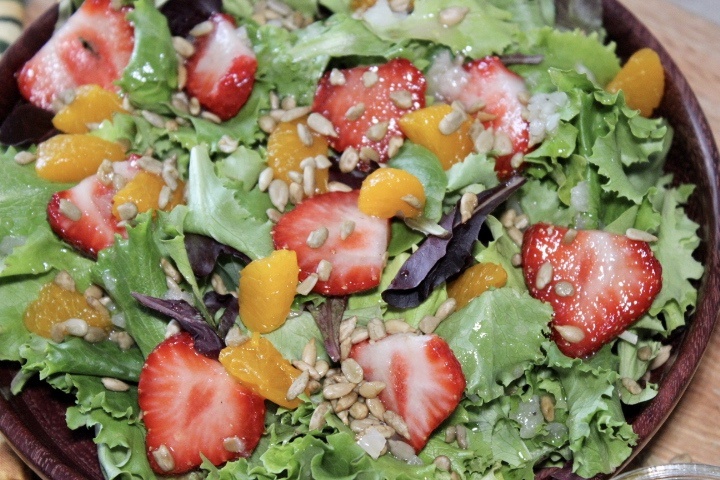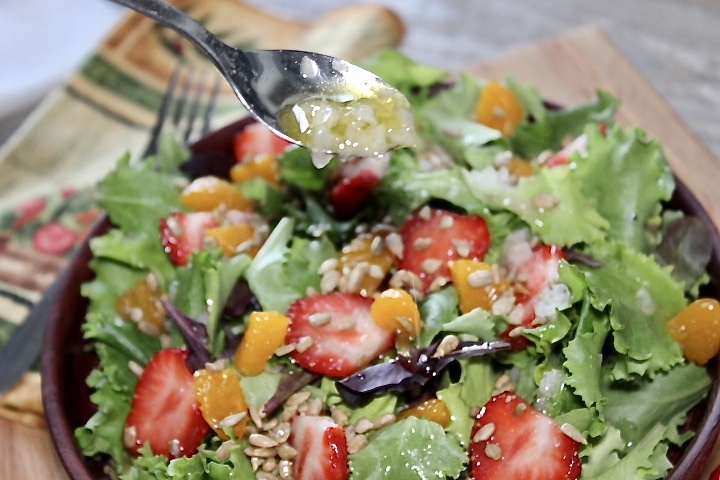 Here's the recipe:
Strawberry Mandarin Salad with Sweet Onion Vinaigrette
Fresh mixed greens tossed with seasonal strawberries and sweet mandarin oranges, with a tangy onion vinaigrette.
Ingredients
1

large bowl mixed field greens

16

sliced fresh ripe strawberries

1

small can mandarin oranges, drained, reserve juice

11 oz can or a few fruit cups

¼

red onion sliced into thin strips

2

Tbsp

unsalted sunflower seeds
Sweet Onion Vinaigrette
2

Tbsp

red wine vinegar

1

Tbsp

juice from mandarin oranges

if using canned

⅓

cup

extra virgin olive oil

½

tsp

dry mustard or dijon mustard

1

tsp

white sugar

1

Tbsp

very finely minced or grated sweet onion

salt and pepper to taste
Instructions
Combine dressing ingredients and whiz in a blender or shake until well mixed. If using blender, drizzle olive oil in last and let emulsify. If shaking in jar, dressing will be thinner.

Arrange rinsed and dried lettuce mix in a large bowl or individual serving sized bowls. Top with onion, fresh sliced strawberries and halved mandarin orange sections.

Drizzle dressing over top and sprinkle with sunflower seeds.

Dressing recipe makes a large amount, enough for a very large salad. It will keep for a few weeks in the fridge.
Print Recipe
more excellent salads
Grilled Halloumi and Asparagus Salad
Spicy Thai Grapefruit Salad with Shrimp
Spinach Salad with Maple Roasted Pecans and Maple Balsamic Vinaigrette