This is a recipe that's been passed down for generations in my family. Butter tarts are a Canadian favourite, made with a few common ingredients baked in a flaky pastry shell. Homemade butter pastry is best but if you're not a pastry maker, grab some ready made pastry or even frozen tart shells and you're good to go.
If you haven't had butter tarts before, the filling is similar to that of a pecan pie. It's basically butter, brown sugar and an egg with a few variations based on personal preference. My grandma's recipe included vanilla and my mom tweaked it to include some corn syrup which I also use. The original recipe was written like this: 1 egg, butter the size of an egg, a cup of brown sugar and vanilla. Fortunately for you, I played with the butter amount (in fact I played with the butter and shaped it into an egg) and came up with a measured amount.
Jump to Recipe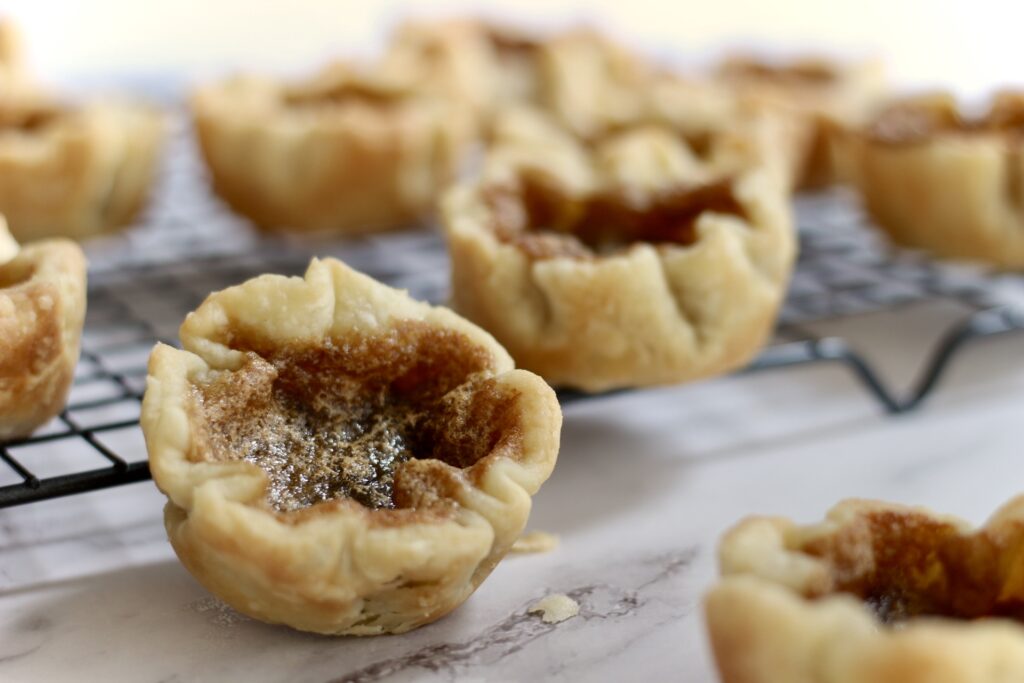 Do Butter Tarts have nuts or raisins?
We're all pretty particular about our Butter Tarts here in the great white north. Some people like the filling to be runny, while others prefer it to be set. Personally I don't like them runny, mostly because that adds a challenge when eating them. Tarts are too big to pop into your mouth all at once so I'm not on the runny team.
Some people put raisins or nuts like pecans or walnuts in theirs. The beauty of Butter Tarts is that you can make a few of each kind, simply by adding a few nuts or raisins or even currants to the filling of individual tarts. This recipe makes 12 large tarts in a muffin pan or 24 smaller tarts in a mini muffin pan. So you can please everyone.
I make the pastry with half butter and half lard or shortening. The butter gives the pastry a slightly golden colour. Like I said before, don't let pastry making scare you off. You can buy pastry already rolled out and just cut the tart shapes. Or you can buy the tart shells ready to bake in the frozen foods section. I've tried them, they're not terrible but they taste too salty to me and they break easily when pulling them apart.
How to make pastry for butter tarts
If you're making your own pastry, here's my favourite recipe. Roll it out, not too thick and get a biscuit cutter, glass or something round with a thin edge that's about an inch larger than your muffin tin hole. I have a martini glass that's the perfect size! Then lower the circle into each hole and pinch the edges to fit. Don't worry about perfection, you want people to know you made your own pastry! One recipe for a double crust pie (or one store bought package of 2 pie shells) is a little more than you need. Better to have a little too much than to try rolling pastry too thin or messing with re rolling out the scraps.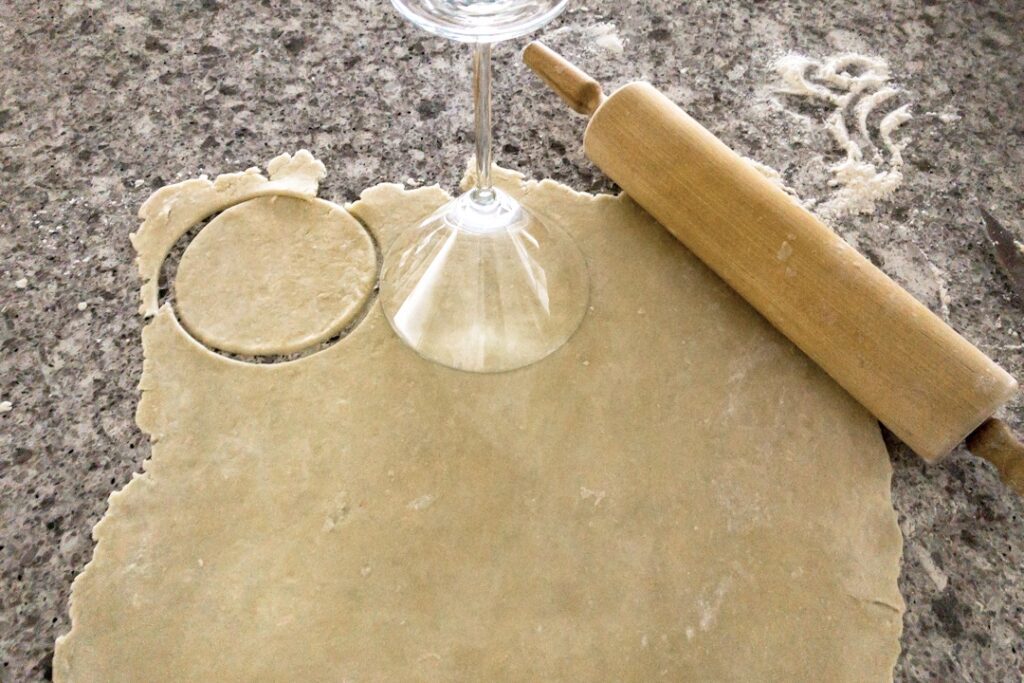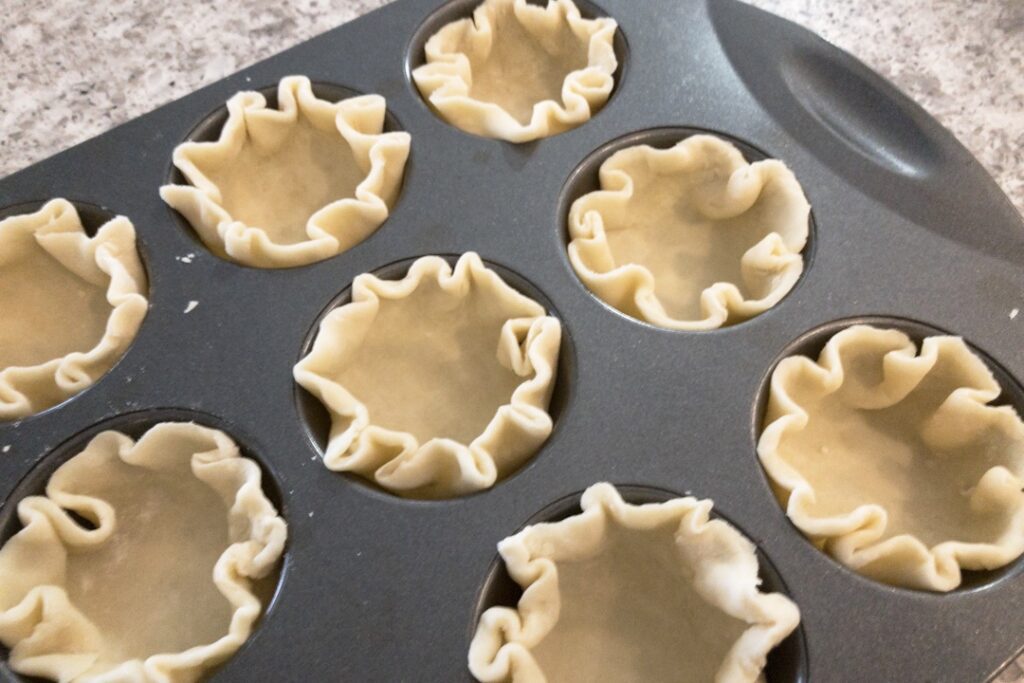 Mix up the filling with a hand mixer so it gets well blended and a little fluffy. Don't forget to take the butter out of the fridge in advance so it's room temperature. I usually bake with unsalted butter and add a bit of salt to the filling. My grandmother always referred to unsalted butter as "sweet butter." I'm not sure why but I often use unsalted in sweet recipes.
Is there maple syrup in Butter Tarts?
Not in my family. I use light or dark corn syrup, which makes the filling a little softer without being runny. Some people add maple syrup to their tarts but we don't. My grandmother lived on the family farm and didn't use any syrup in spite of having a sugar bush and making their own maple syrup. I guess if you did they would be called Maple Tarts.
You're probably thinking why would I buy corn syrup, what would I ever make with it. Well, there's always the caramel corn portion of Chicago Mix Popcorn. Or Spicy Thai Grapefruit Salad with Shrimp.
Don't over fill the tarts shells. The filling puffs and bubbles up during baking and will spill over the edge, resulting in your tarts sticking to the pan. It then deflates as it cools. It's so hard to resist eating the tarts right out of the oven but bubbling hot sugar will give you a serious burn.
Bake them in the lower portion of the oven. Pastry likes to be cooked from the bottom. My mom's version calls for 325 degrees but the last few times I made them the pastry wasn't quite browning so I increased the temp this time to 350 and they had the perfect golden colour. And the perfect soft centre!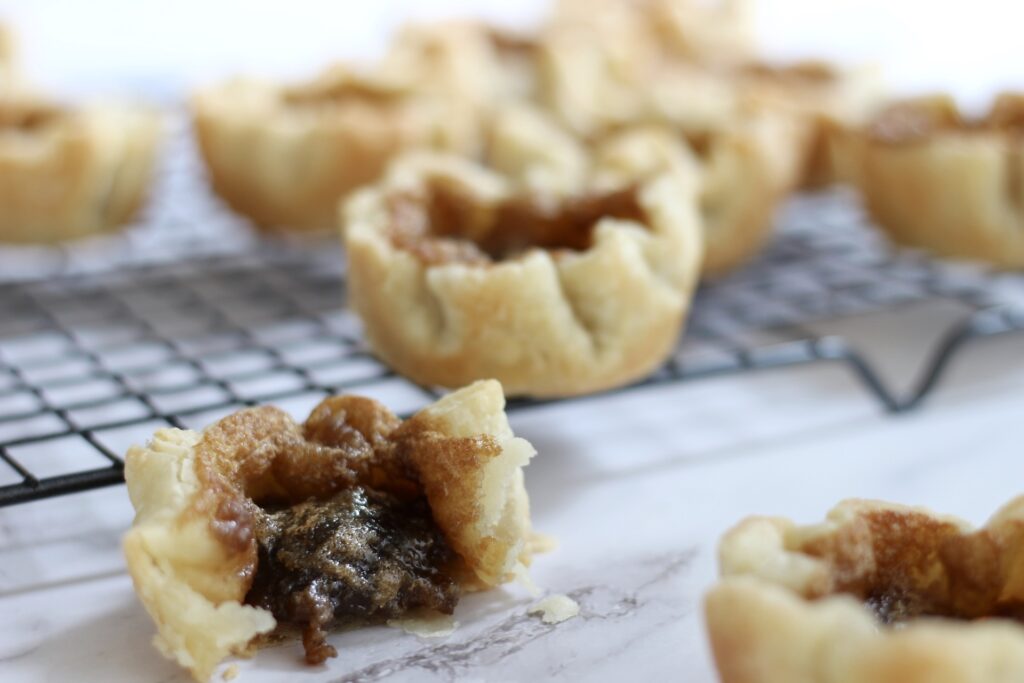 Here's the recipe:
Butter Tarts
Classic Canadian Butter Tarts with homemade butter pastry
Ingredients
Butter Pastry
2

cups

all purpose flour

½

tsp

salt

⅓

cup

cold unsalted butter

⅓

cup

cold lard or shortening

¼-⅓

cup

ice water
Butter Tart Filling
1

large egg

¼

cup

unsalted butter at room temperature

1

cup

brown sugar

lightly packed

1

tsp

vanilla

2

Tbsp

corn syrup

light or dark

pinch of salt
Instructions
Preheat oven to 350° and ensure rack is in lower part of oven.

Prepare pastry and allow to rest for 30 minutes before rolling. Roll half of dough into rectangle and cut out 6 tarts using a biscuit cutter or martini glass that is at least one inch large than muffin tin hole. Repeat with remaining pastry.

Lower pastry circles into tart tins, pinching and arranging into even circles.

Combine all ingredients in filling and beat on medium speed until well blended and slightly fluffy. Spoon evenly into tart shells, do not over fill.

Bake for 20 minutes until filling is bubbling and pastry is golden brown.

Allow to cool slightly before attempting to remove from the tins.
Print Recipe
More recipes to practice with pastry
If you've tried this recipe, consider leaving a comment or a rating. Or, you can share the post by clicking on the icons below.