What do you get when you cross a butter tart with rhubarb? Rhubarb Custard Pie. The ingredients in the custard are very similar to butter tart filling. When combined with rhubarb the end result is a creamy delicious sweet and tart pie.
Mr. H has been talking about this pie since I met him. His mom used to make it. I wasn't sure what ingredients to use so I asked my mom but she only made regular rhubarb pie. I tried a few experiments over the years but he always said it wasn't the same. Then recently our neighbour Diana mentioned her mother in law made it so she sent me the recipe. It turned out great!
If you wish to make your own pastry, here's a Perfect Pie Pastry recipe.
You can use store bought but if you've never made your own it's not as hard as you think.
Jump to Recipe
The secret to the filling in Rhubarb Custard Pie is to whip the eggs until they're foamy, thick and light yellow.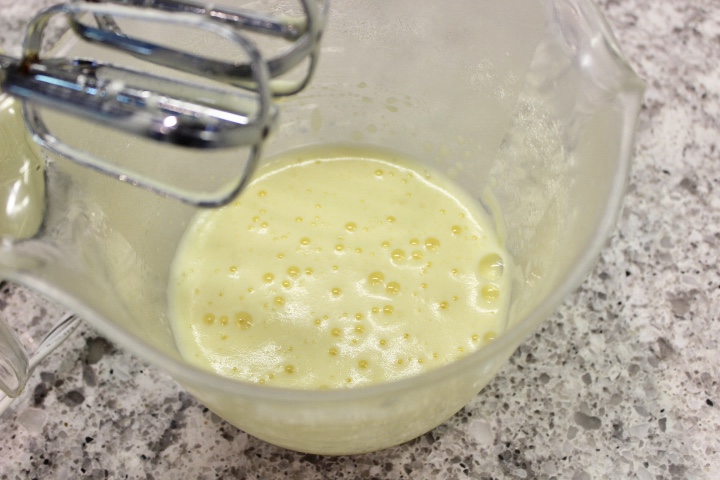 Then stir in the rest of the ingredients.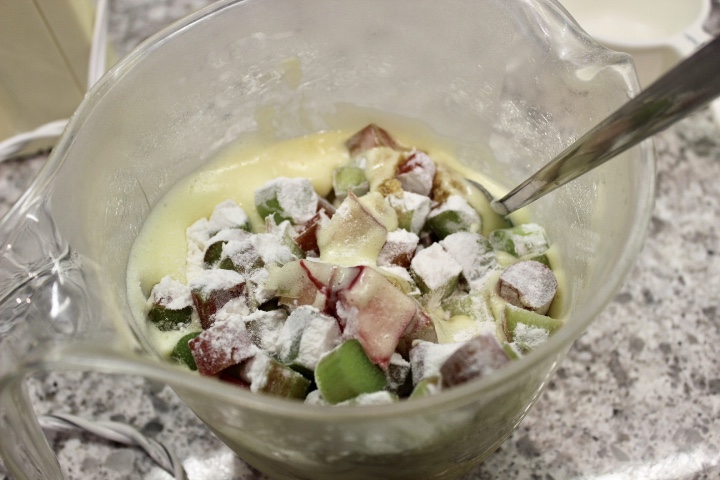 Pour in an unbaked 8 inch pie shell and bake. You can leave the top completely open and the custard browns slightly like a butter tart. Or, like I did, you can add a lattice top. It looks impressive but it's really easy.
Make enough pastry for a double crust pie and divide in half. Wrap the other half and keep it in the fridge until you're ready to make the top. Roll out the bottom half, place in the pie plate untrimmed and refrigerate while you make the filling.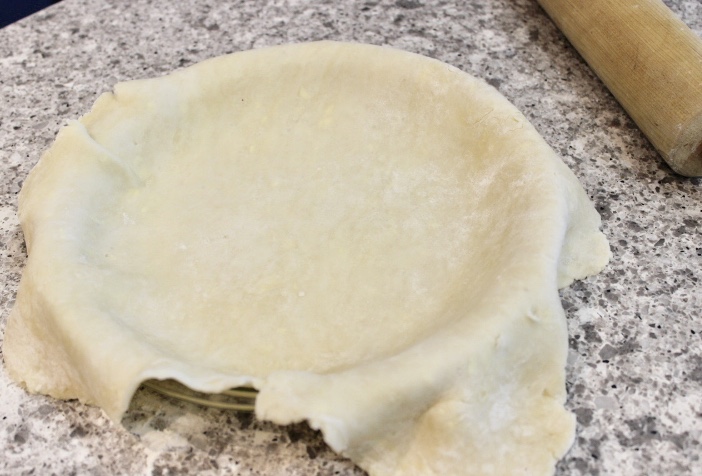 How to make a lattice top pie crust
Roll out the second half of the pastry dough into a rectangle. Using a sharp knife or, even better, a pizza cutter, cut into strips about half an inch wide.
Pour the filling into the refrigerated pie crust and brush cold water around the top edge of the pastry.
Now, starting with the longest pieces, place strips across the widest part of the pie, spacing about an inch apart.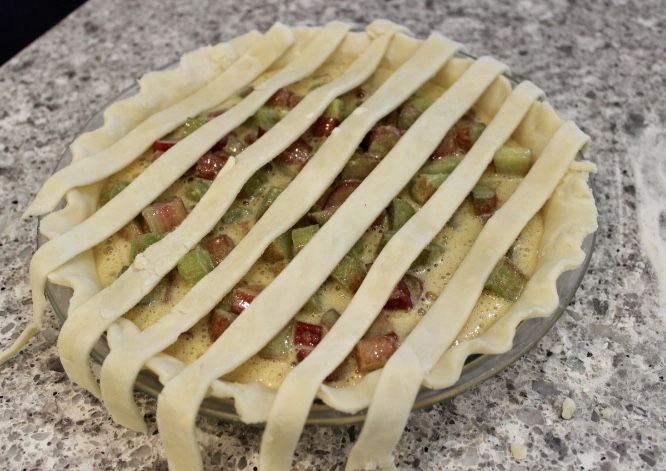 To create the lattice effect, fold back every other strip and place one strip across the plate. Fold strips back into place, then fold back the opposite strips. Place another strip across and fold back. And so on. You end up with a basket weave type of pattern.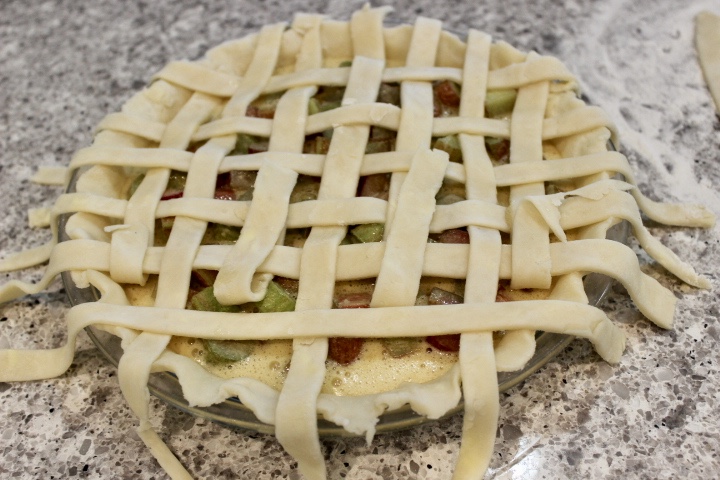 Press gently on the top edge to help seal the crust pieces together.
Crimp or seal the edge with any method you like. Using a fork is a good beginner technique but here is how I do it. Place two finger in a V, the using the other hand, push the dough into the V. Like this.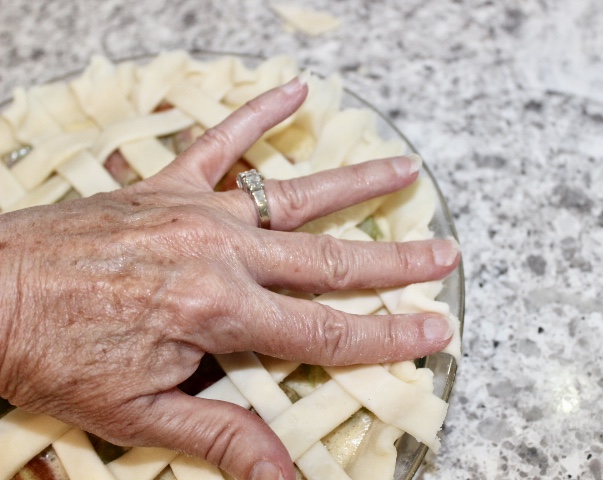 Don't worry if it's not perfect. It will still taste the same in the end.
Pies should always be baked in the lower third of the oven. This ensures the bottom of the crust is cooked completely. Bake your Rhubarb Custard Pie at 400 degrees for 10 minutes then turn the oven down to 350 and bake another 35-38 minutes.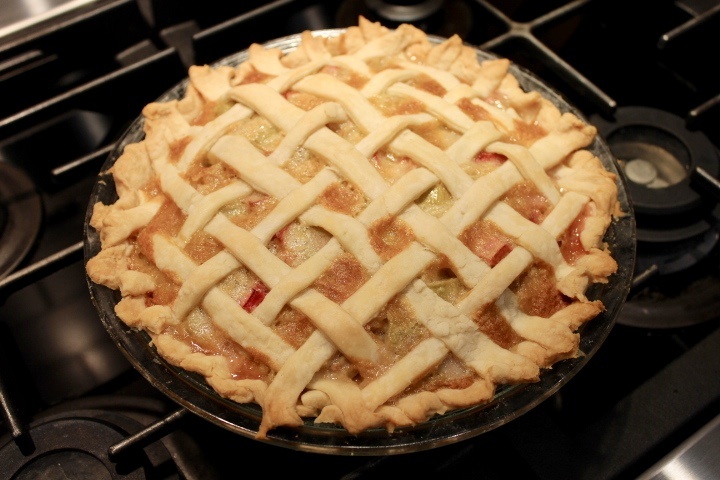 Cool on a rack.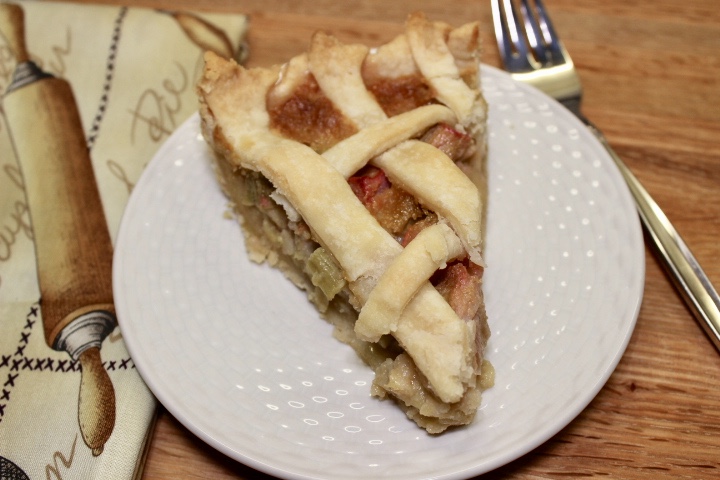 Here's the recipe:
Rhubarb Custard Pie
Delicious Rhubarb Pie meets butter tart.
Ingredients
Pastry
2

cups

all purpose flour

1/2

tsp

salt

1/3

cup

shortening, cubed

1/3

cup

unsalted butter, cubed

1/4-1/3

cup

ice water
Filling
2

cups

chopped rhubarb

3/4

cup

packed brown sugar

2

Tbsp

melted butter

2

Tbsp

flour

2

eggs, well beaten
Instructions
Make pastry by pulsing flour, slat, shortening and butter in food processor until course lumps. Slowly add water with quick pulses between additions until just holding together. Press into a disk and wrap tightly in plastic wrap. Refrigerate at least 30 minutes to chill.

Divide dough in half. Return half to the refrigerator, wrapped in plastic. On a well floured surface roll first half of dough into a circle about 2 inches larger than the pie plate outer edge. Turn and flip dough as needed while rolling to prevent sticking.

Using a rolling pin, gently roll pastry over top and unroll over pie plate. Adjust as necessary to fit evenly in pie plate. Do not trim edges yet. Refrigerate while preparing filling.

Preheat oven to 400 degrees and ensure rack is in lower setting.

To prepare filling, beat eggs very well until they are very frothy, expanding and light yellow. Add all other ingredients and pour into pie shell.

Roll out second half of dough into a rectangular shape using same turning and flipping method as for bottom shell. Using a sharp knife or pizza cutter, slice into even strips approximately half inch wide. Brush water on outer edge of bottom crust. Arrange half of the strips over top of pie, using longest strips across the widest part of the pie.

Create lattice top by folding back alternate strips in each row and placing strips across diagonally. Fold strips back in place, fold back alternate strips and lay second row of strips, repeating until entire pie top is covered evenly in lattice pattern as shown above in photos.

Press edges of pie crust to seal pastry in place. Trim excess from edges and crimp to seal and finish edge.

Bake on lower rack of preheated oven for 10 minutes. Reduce heat to 350 and bake for 35-38 minutes until top is browning and filling is bubbling.
Print Recipe
more homemade desserts