Maybe you don't have a barbecue. Or maybe it's just too cold or windy or rainy to tend to ribs cooking on the grill. Whatever the reason, you can still get that barbecue flavour by cooking ribs on a baking sheet. And no, this is not one of those trendy sheet pan recipes. It was given to me in the 80s by a sweet lady I worked with who was brought up in Missouri and Sheet Pan Barbecue Ribs was how her mama prepared ribs at home.
Back in the days when I was a novice in the kitchen, I struggled to find a method that resulted in ribs that were tender without being a pile of mush in the bottom of a slow cooker. I sometimes boiled the ribs for a while in Coke before finishing them on the grill. They weren't terrible but it was messy, labour intensive and resulted in just ok ribs. And a big pot to wash.
Now that I'm older and wiser (and have a bit more cash on hand) I've got more equipment, or should I say "toys" to play with around food. If you've got a smoker, you can make Smoked Pork Back Ribs. But if not, or even if you're just curious, try making them the way Edith did.
Jump to Recipe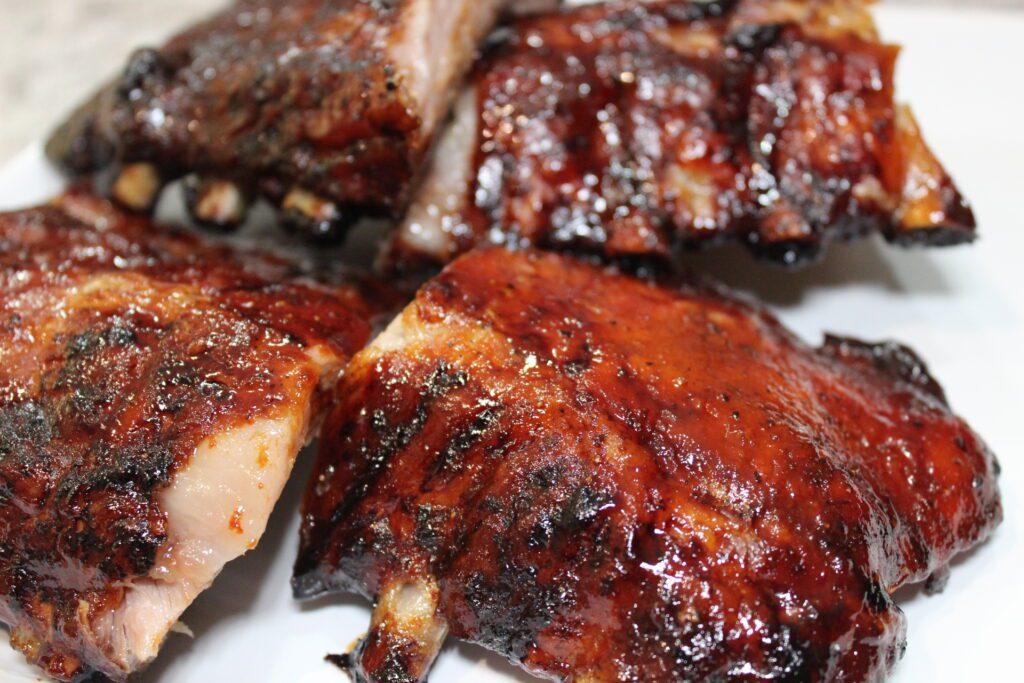 What are the best ribs for barbecue?
Pork back ribs are great for the grill or for Sheet Pan Barbecue Ribs because they have the right ratio of meat and fat. And they're slightly curved so they have their own built in roasting rack! Don't be tempted to buy the ribs that have that extra layer of meat on them. They may look like you're getting more for your money but in fact they can be a bit tough.
You can place a roasting rack on the sheet pan if you like but honestly, only the tips of the ends of the rib bones are on the surface if you place your ribs bone side down. Turn the oven to 225 degrees and let them bake for 2 hours. Low and slow is the way to go. For simplicity sake I'm not using any dry rub on the ribs, just some salt and pepper. Edith's method did not include a dry rub but of course if you like, feel free to add some. You can buy pre made rubs or make your own.
Depending on how many people you're feeding you may need more than one baking sheet. You can fit 2 racks on one sheet which will feed 4-6 people.
Sheet Pan Barbecue Ribs don't look their best at this stage but wait until they're done!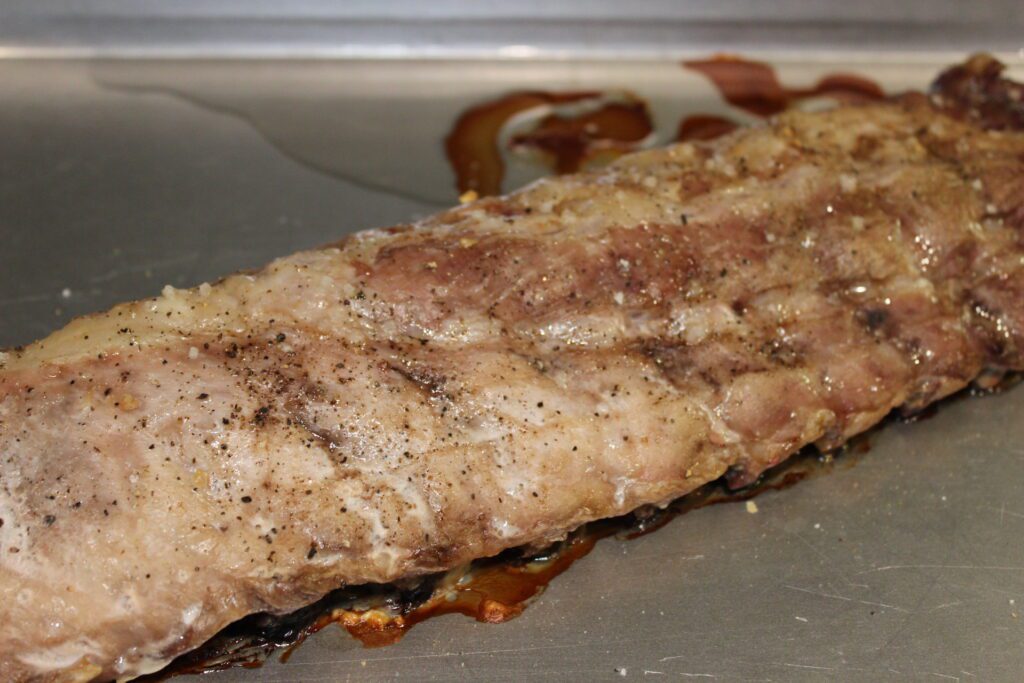 There are so many good rib sauces on the market it's kind of crazy to make your own but if you've got the time and the ingredients, why not? I can't find Edith's recipe but I remember some of the ingredients. I'll work on duplicating it and update this post some time but for now, just use one that sounds good and doesn't have too many strange ingredients. If you find one that says "smokey" you'll have more of that barbecue flavour. Or, you can add a few drops of liquid smoke to your sauce for that extra barbecue flavour.
After 2 hours the ribs are lightly browned but best of all, most of the fat has rendered off the meat so you can tilt the pan and remove it with a spoon.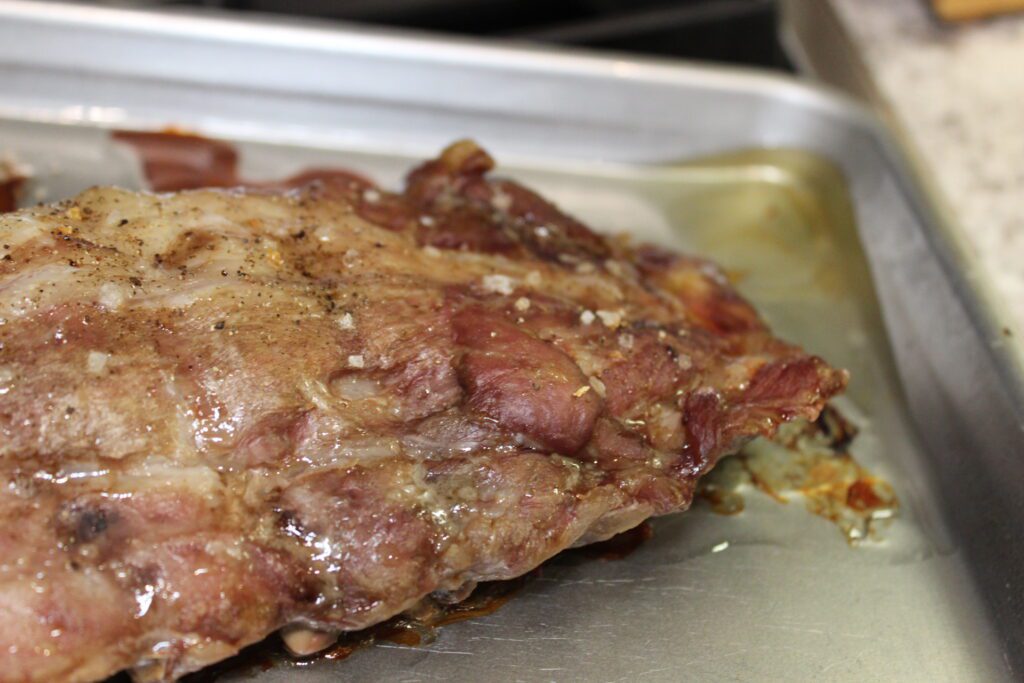 Then slather on the sauce. You can use lots of sauce if you like finger licking ribs or less sauce if you prefer them less messy. Put sauce on both sides of the ribs but continue cooking them bone side down. Turn the heat up to 300 for half an hour. Then 350 for the last half hour, or until the meat is darkening and sizzling.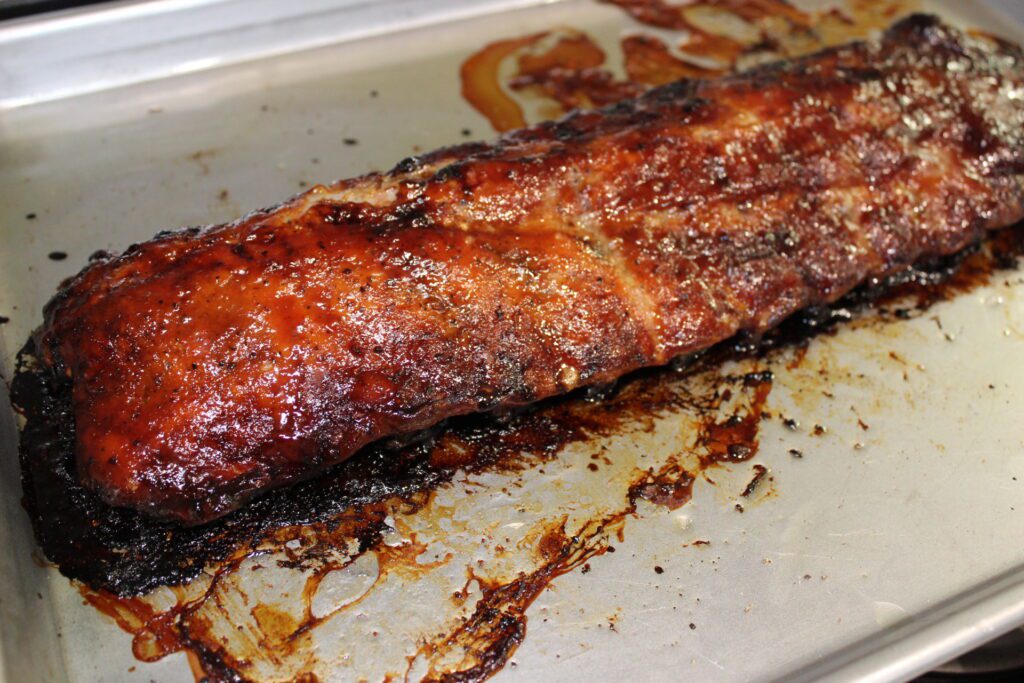 Some sauces have more sugar than others so the last hour may be reduced if the meat starts to scorch. The more sugar in the sauce the more likely it is to burn.
Cooking ribs without a barbecue?
The resulting ribs are pretty darn good, even without a barbecue. The upside of cooking them in the oven is you can really control the temperature which can sometimes be tricky on a barbecue or smoker. And you have only one pan to wash.
You can see how moist and juicy these ribs are! Make sure you let them rest a few minutes before cutting the racks into serving sized pieces or you'll lose some of that important juiciness.
Was that easy or what?
Here's the recipe:
Sheet Pan Barbecue Ribs
Barbecue pork back ribs baked on a sheet pan
Ingredients
2

racks pork back ribs

salt and pepper

½

cup

barbecue sauce

use up to 1 cup for extra saucy ribs
Instructions
Season both sides of ribs with salt and pepper.

Lay rib racks bone side down on a sheet pan. Bake at 225° for 2 hours.

Tip pan on an angle and spoon out fat that has drained from ribs.

Slather barbecue sauce over ribs on both sides. Use more sauce if you like extra saucy finger licking ribs.

Return to oven and increase heat to 300° for 30 minutes.

Increase heat again to 350° and cook up to 30 minutes longer until ribs are sizzling and well browned.

Let ribs rest at least 5 minutes before cutting into serving sized pieces.
Print Recipe
If you've tried this recipe, consider leaving a comment or a rating. Or, you can share the post by clicking on the icons below.
More easy oven roasted meat