If you're looking for an easy chicken recipe that's budget friendly and includes ingredients you likely already have on hand, Spicy Mustard Chicken is for you. The secret is the sweet, spicy and tangy glaze.
If spicy isn't your thing, you can still enjoy this recipe without the heat. You will get a tanginess from the mustard but you can simply skip the Sriracha. Or, if you like it hot, use more!
Spicy Mustard Chicken isn't saucy. You'll have a little glaze in the bottom that mixes with the liquids from the chicken but it's probably not enough to serve over rice. This chicken is meant to be eaten with a knife and fork, or, even better, with your hands. The term "finger lickin' good" has already been spoken for but you'll know what I mean.
Jump to Recipe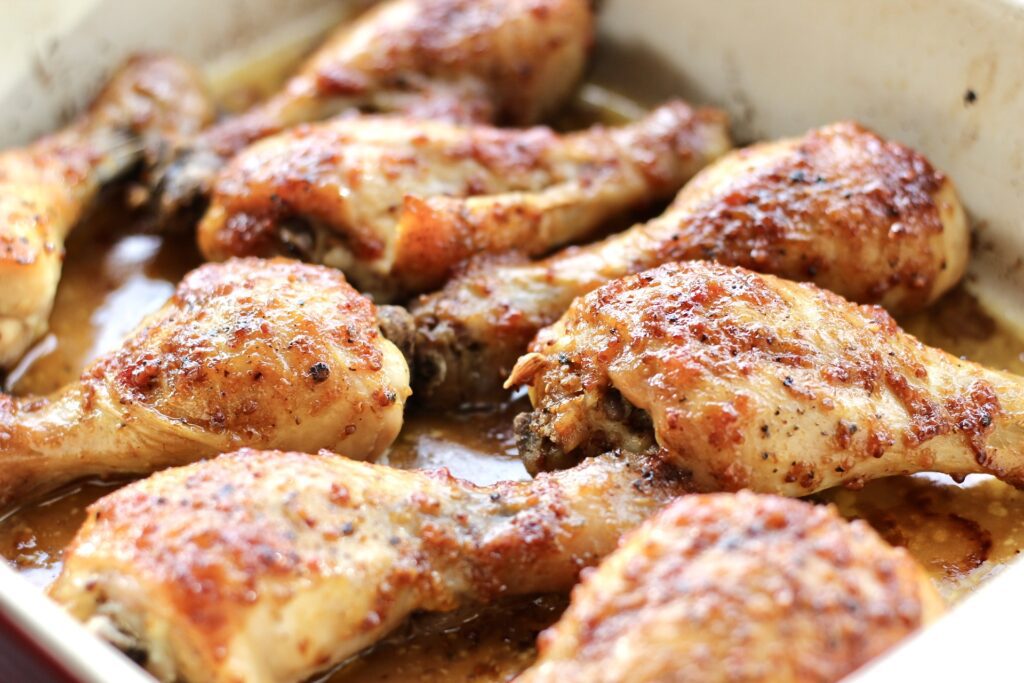 I'm aware that many people avoid bone in skin on chicken. Yes, boneless skinless is very convenient but it can easily dry out if over cooked. And, if you're worried about rubbery or fatty skin, Spicy Mustard Chicken starts with a dry roasting process that quickly solves that problem. It's just enough time to make the glaze. Once the skin has crisped up and browned slightly, brush on the glaze and bake. Don't worry, the chicken doesn't dry out. At all.
Pre crisping chicken skin is something I do often. In fact, when I make Cantonese Chicken Wings, I actually blacken the skin under the broiler. You could do this with Spicy Mustard Chicken as well but I prefer this recipe with just browned skin.
One word of caution that I've unfortunately learned from experience. There are baking dishes and then there are roasting dishes. Like me, you probably don't read the "instructions" on something like glazed bakeware. What's there to know? But after discovering some of my bakeware had cracks in the glaze, I realized there's a reason to read that stuff. Once the glaze develops cracks, certain flavours and oils set in. You might even detect an odour, even after washing. That means it's time to replace that item.
So pay attention to the maximum temperature instructions. Some can withstand higher temperatures so are great for roasting meat, browning potatoes, etc. Others are just meant for baking. Otherwise you'll be buying new bakeware. Because all bakeware is not created equal. Even the higher priced stuff.
How to avoid rubbery chicken skin
Back to pre crisping the skin. It's a simple but genius step actually. Season the pieces with just salt and pepper and lay them in a heat safe dish large enough that they they aren't overlapping. Arrange the chicken so that most of the skin is facing up. Then, roast uncovered in a hot oven for about 15 minutes. The roast setting is perfect because the heat comes from the top. Otherwise, use the bake setting but switch to broil for just a few minutes at the end and watch them carefully. Most of the fat will be rendered from the skin. It won't be "fried chicken" crispy but I guarantee the skin won't be rubbery.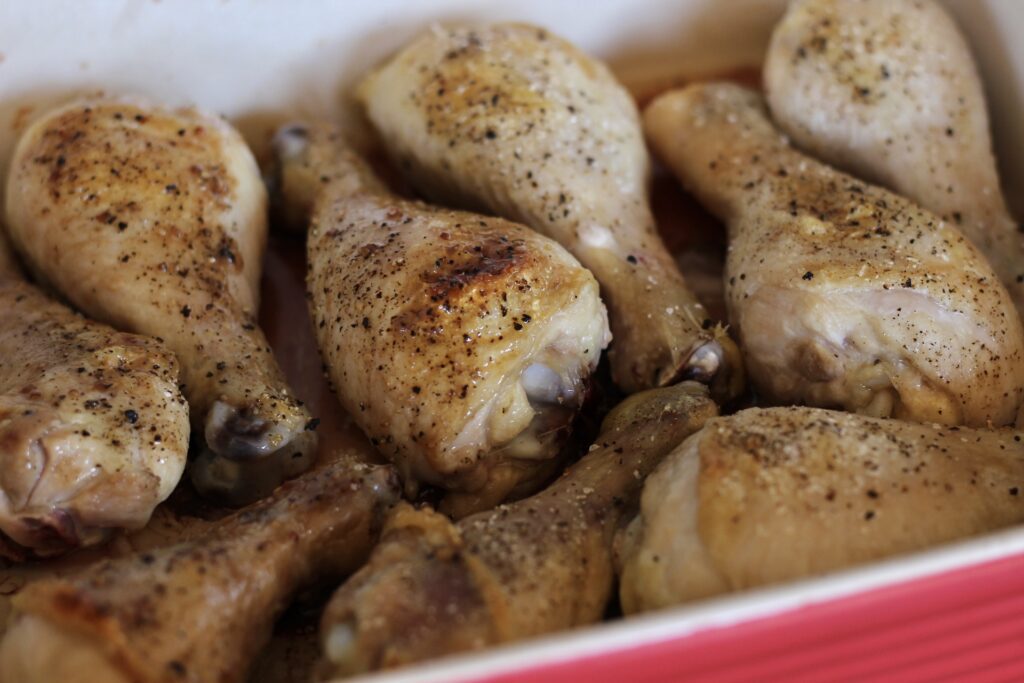 And of course it's your choice when it comes to chicken. For the most budget friendly version, choose drumsticks or thighs. Dark meat. My favourite. But breasts are perfectly fine. Just remember larger pieces of chicken will need a little more time baking.
The concept of mixing jam and mustard together to make a glaze isn't new. In fact, one of my most popular recipes, Roasted Peameal Bacon, has a similar glaze. This one, however, is heated and simmered to reduce so it's thick enough to stick to the chicken. So many combinations of jam and mustard work well together. My top pick is raspberry jam with grainy dijon. Second pick would be orange marmalade with plain dijon and using orange juice instead of lemon. You could really use any jam and even plain yellow mustard. But wait, if you have hot pepper jelly, that would be awesome too and even add a little more heat. So many options!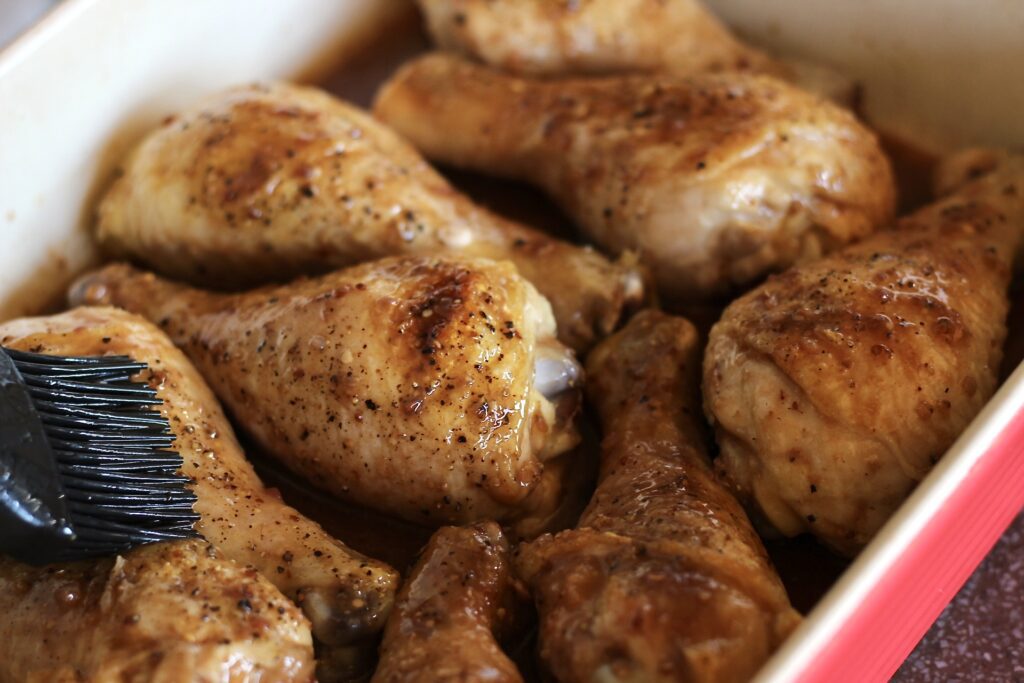 Brush about half the glaze over the chicken and turn the oven temperature down. Cover and bake for 15 minutes, enough time for the chicken to reach a safe internal temperature. Then, remove the foil (or lid) and brush the rest of the glaze on top. No need to turn the pieces over. Let them cook about 10 or so more minutes so the glaze caramelizes on top.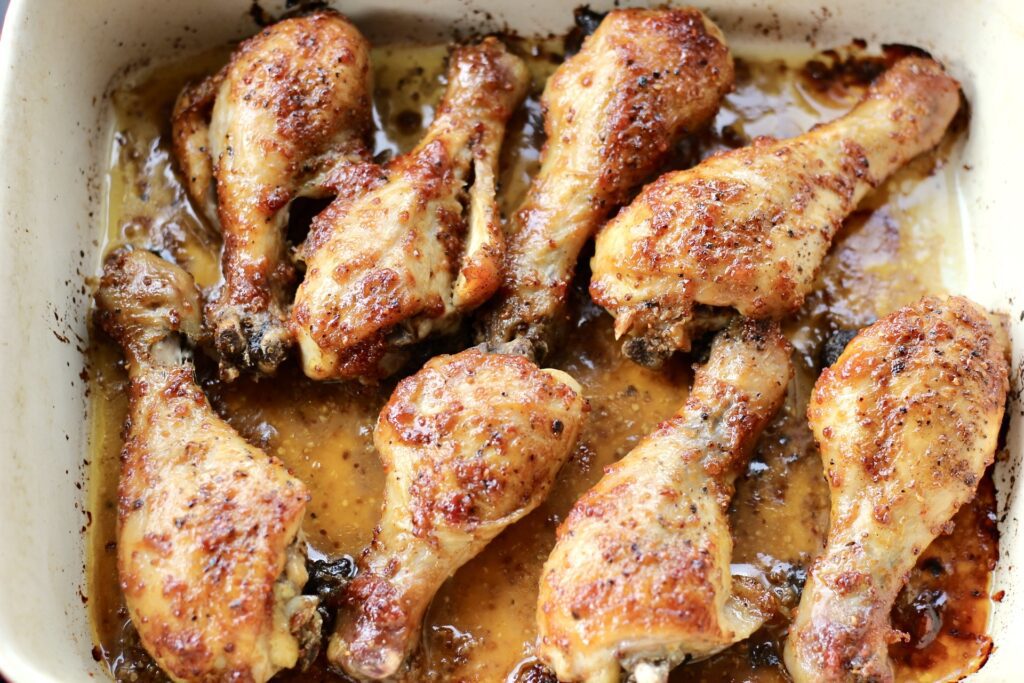 You'll have a messy dish to wash but Spicy Mustard Chicken is worth it.
Here's the recipe:
Spicy Mustard Chicken
Budget friendly baked chicken with a sweet, spicy and sticky glaze
Ingredients
1

kg

chicken drumsticks

2.2 lb, 8-10 drumsticks

salt and pepper

2

Tbsp

butter

1

Tbsp

Worcestershire sauce

2

Tbsp

grainy dijon mustard

2

Tbsp

lemon juice

approx half a lemon, juiced

1

Tbsp

seedy jam

ie raspberry jam

1-2

tsp

Sriracha sauce

adjust for heat tolerance

½

tsp

salt

¼

tsp

pepper
Instructions
Arrange chicken pieces with most skin facing upwards. Do not crowd in pan. Use a high heat safe baking or roasting pan. Season generously with salt and pepper.

Roast uncovered at 450° for 15 minutes until skin is browning and crisping.

Meanwhile, prepare glaze by combining remaining ingredients in a small saucepan. Bring to a simmer until slightly reduced and thickened.

Reduce oven temperature to 350°. Brush half of the glaze over top of chicken pieces. Cover and return to the oven for 20 minutes.

Remove foil or lid and brush remaining glaze on top of chicken. Roast uncovered for 10 - 15 more minutes until glaze is caramelizing on top.
Notes
Chicken thighs are an excellent substitute. If thighs are fairly large, add 5 minutes to covered baking time.
Use any variety of mustard and jam, marmalade or pepper jelly for a custom combination.
Adjust amount of Sriracha for heat tolerance.
Print Recipe
more easy chicken recipes
Creamy Chicken and Mushroom Rotini
Easy Chicken Thighs in Peanut Sauce with Green Beans
If you've tried this recipe, consider leaving a comment or a rating. Or, you can share the post by clicking on the icons below.