This is a brilliant combination of ingredients that work perfectly together. The fresh hint of lemon mixed with the richness of bacon and feta is a marriage made in heaven. And with asparagus season just wrapping up, Pasta Salad with Asparagus, Bacon and Feta is a great way to use up the last of the harvest. And if asparagus season is over you can easily substitute other fresh green veggies like green beans or snow peas.
I would love to take credit for this recipe but I can't. My friend Marilyn brought this salad to a barbecue and it was so good, we were fighting over the leftovers. In fact, my poor little Potato Salad was hardly touched. She found the recipe online at marlameridith.com. I've tweaked it ever so slightly and updated the ingredient amounts for Canadian sourced ingredients. You know, the metric system?
There's something about bacon, cheese and asparagus. I can't explain it but Prosciutto Wrapped Asparagus is a popular way to serve asparagus around here. And everyone loves asparagus with cheese sauce. I guess that's the magic of this easy pasta salad. It takes no time at all to make and if you can wait long enough for it to cool, you'll be in pasta salad heaven.
Jump to Recipe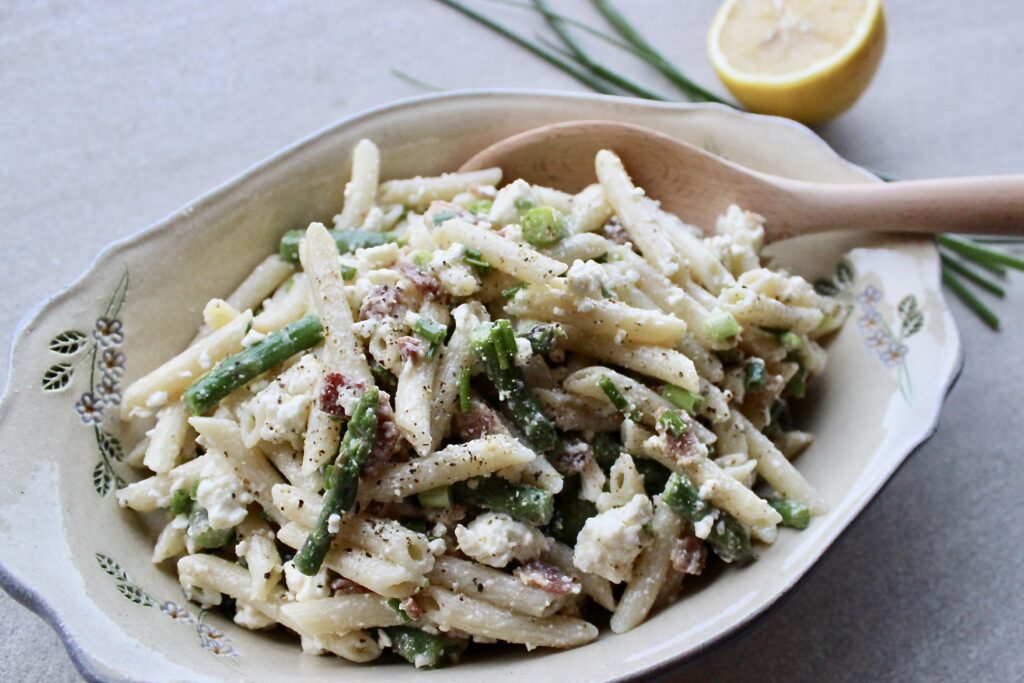 You can use any type of pasta for pasta salads. In this case I chose Pennine Rigate which is a smaller version of penne. Remember that pasta absorbs the liquid in the salad as it cools so you need more dressing than you think. Especially if your pasta shape is hollow, where dressing goes to hide. If you add the oil and juice as soon as the pasta is drained, it prevents the pasta from sticking together while you prepare the other ingredients.
For best flavour use a real lemon. I've increased the amount of lemon juice and olive oil from the original recipe and added some lemon zest for a hit of added freshness. To get the most juice from a lemon, make sure it's room temperature and roll it around, pressing with your hand before squeezing.
Why blanch asparagus for pasta salad?
Blanching the asparagus then plunging them in ice water before adding the chopped spears to the salad ensures it keeps a fresh green colour and flavour without losing the crunchy consistency. It only takes a minute but makes a huge difference. Make sure to snap off the woody ends and cut the spears into similar sizes as the pasta you're using.
I like to sauté the bacon in a pan instead of baking it like the recipe says, simply so you can keep a close eye on it and remove it as soon as it's browned but not too crispy. Drain it well on paper towel before adding it to the salad.
Once your ingredients are all assembled, toss everything together and chill the salad. Right before serving, check to see if you need to add a touch more ranch if the pasta has become a bit dry. And a hit of fresh cracked black pepper is recommended.
Here's the recipe:
Pasta Salad with Asparagus, Bacon and Feta
A delicious combination of rich and fresh ingredients in a simple summer pasta salad
Ingredients
2

cups

dried small pasta such as pennine rigate

2

cups

fresh chopped asparagus

cut to similar size as pasta

6

strips

bacon

200

grams

feta cheese

½

cup

diced green onion

or chives

2

Tbsp

lemon juice

fresh squeezed if possible

2

Tbsp

extra virgin olive oil

½

tsp

lemon zest if using real lemon

¼

cup

ranch dressing

plus more if needed before serving

salt and cracked black pepper
Instructions
Prepare pasta according to package directions, being careful not to over cook. Drain well.

Zest outside of lemon before squeezing. Squeeze juice into container and remove any seeds. Add olive oil and zest. Pour over drained past and stir.

Meanwhile, snap woody ends off asparagus spears and chop into pieces similar to chosen pasta size. Blanch for 2 minutes in boiling water. Drain immediately and plunge into ice water bath. Drain when cooled.

Slice bacon into thin strips. Sauté in large skillet until browned but not too crispy. Drain well on paper towel.

Mince green onion and crumble feta.

Mix all prepared ingredients with pasta, add ranch dressing and season with salt and pepper to taste. Chill well. Add more ranch before serving if needed.
Print Recipe
click HERE for a free downloadable collection of asparagus recipes
check out these other pasta salad recipes