If you've never had Risotto, it's an Italian dish made with a specific type of rice – Arborio. Risotto is like an artist's palette. A basic mixture of rice and broth is the starting point, then you can add any ingredients you like. Shrimp and Asparagus Risotto includes protein and vegetables so it's a complete meal in one pan. And, this one is a winner because it's one of my most popular posts!
The key to making perfect Risotto is to add hot liquid in small amounts. If you don't heat the broth, you'll reduce the temperature each time you add cool liquid, thus increasing the cooking time. There are lots of opinions about heating versus non heating and there is probably some science involved in the debate but really, it's not that much trouble to warm your broth in a pot on the stove top or even microwave it, so why not?
Jump to Recipe
But I'm getting ahead of myself. You need to use Arborio rice for best results.
What does Arborio rice look like?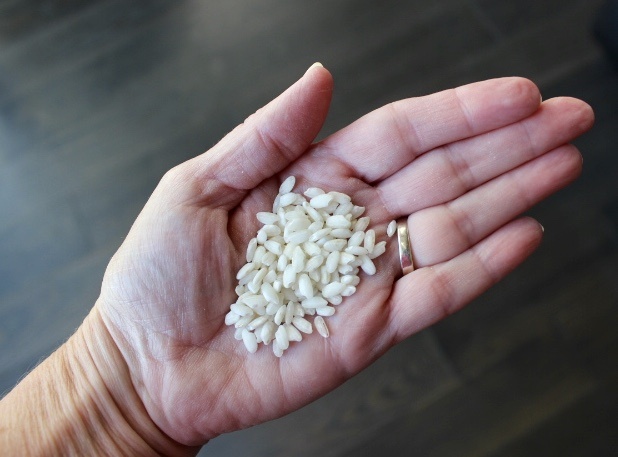 Pretty much the same as regular rice only a bit shorter and thicker. It has a starchy exterior which, when mixed with the broth, helps give Risotto that creamy consistency. That's why you don't rinse it before cooking. And Arborio rice can absorb lots of liquid without getting mushy. A ratio of 4 cups liquid to 1 cup dry rice is a good standard to follow.
How to make Risotto
The first step is to toast the Arborio rice in a hot skillet with some sautéed shallot (or onion but I prefer the more gentle flavour of shallots in many dishes), garlic and a little bit of pancetta in olive oil. This is the flavour base for the dish and toasting the rice before adding liquid will start to heat the grain and absorb some of that flavour.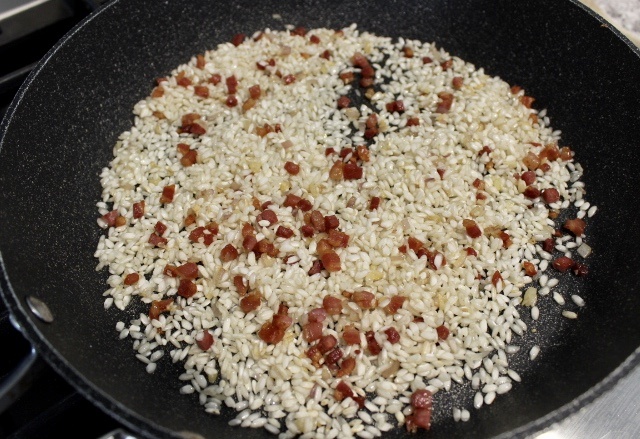 Pancetta is a salty cured salami. You could substitute bacon or even prosciutto. You don't need much, it's not meant to overpower the dish, you just want a flavour base. Because it's so salty you might not even want to add any salt to this dish. As always, taste as you go.
Add some white wine. Don't heat the wine, just the broth. Stir often until the wine is absorbed, then start adding the broth in small amounts, stirring often but not constantly, over a medium-low simmer, adding more after each amount is absorbed. For this particular recipe you really need to use reduced sodium broth or it will be too salty.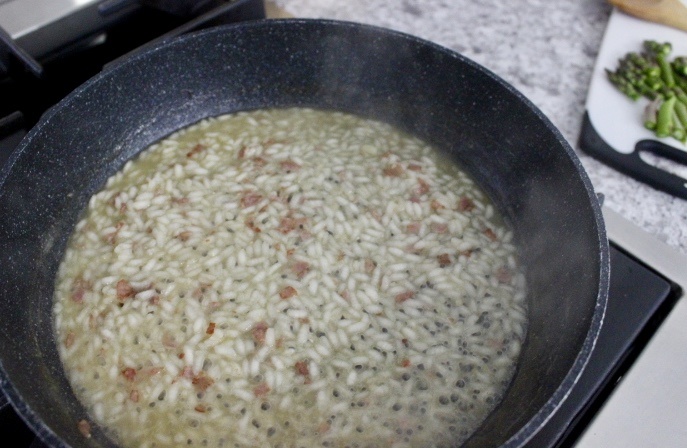 When most of the liquid has been added, start testing for doneness by tasting a few grains of the rice. Perfect Shrimp and Asparagus Risotto will have a very slight el dente texture. It will take about 30 minutes to get to this point. Reserve some liquid to add at the end.
When do you add shrimp and asparagus to risotto
Adding raw shrimp and asparagus at the very end ensures they don't over cook. You can pre cook them and add them right before serving if you're nervous about them being cooked through but remember, if shrimp are cooked they look like a "c" but if they form a circle, like an "o" they're overcooked. And, asparagus can quickly get mushy so steaming them in the Risotto with the last addition of liquid should give you the best results. And colour.
Use any size shrimp you like but preferably not too small, not too large and peeled and deveined make it easy. Frozen are perfectly fine, just make sure they're defrosted according to package directions. For this recipe, use uncooked shrimp.
When you're ready to add the shrimp, push the rice to one side of the pan, add the shrimp to the open area and move the pan so that side is over the heat. Turn the heat up slightly, just to give the shrimp a quick sear on one side. Maybe 30 seconds or so. Turn them over and sear on the other side. Then add the asparagus and the remainder of the broth, stir everything together, set the pan back to the centre of the burner, turn the heat back to medium-low and cover with a lid. After about 5 minutes test the asparagus with a fork. It should be fork tender but not mushy. The timing may differ if you have quite thin or thick stalks. Medium stalks cut into one or two inch pieces are best.
You can also use cooked shrimp, just add them at the end and make sure they're heated through before serving.
Remove from the heat and stir in some freshly grated parmesan and parsley. Save some of both for garnish and top with fresh cracked black pepper if desired.
Here's the recipe:
Shrimp and Asparagus Risotto
A creamy Italian one dish dinner made with Arborio rice, fresh local asparagus and shrimp
Ingredients
1

shallot

or 1/2 small onion

1

clove

garlic, minced

1

Tbsp

extra virgin olive oil

1

slice

pancetta, finely cubed

or prosciutto or bacon

1

cup

Arborio rice

do not rinse

1

cup

white wine

or broth

3

cups

chicken broth

use reduced salt

340

gram

uncooked, peeled, deveined shrimp

or about 6-8 shrimp per person

2

cups

fresh asparagus, cut into bite sized pieces

about ½ pound

¼

cup

freshly grated Parmesan cheese

plus more for garnish

fresh chopped parsley

cracked black pepper if desired
Instructions
In large skillet, heat olive oil to medium-low and sauté finely minced shallot and garlic. Add finely cubed Pancetta and continue to sauté until meat is browning.

Add dry unrinsed Arborio rice and mix with other ingredients until rice is heated, about 1 minute.

Add ½ cup white wine. Simmer and stir often until most of liquid is absorbed. Add another ½ cup wine, continuing to simmer and stir until absorbed.

Meanwhile, heat broth in pot or microwave. Add in ½ cup increments, simmering and stirring often between additions until absorbed. Save ½ cup broth for the end. Taste and season mixture if necessary with salt, although it may not need any.

When rice is cooked with a slight el denté texture, move rice mixture to side of pan, increase heat to medium and add shrimp. Sauté, turning shrimp over after about 30 seconds to cook for approximately 1 minute.

Add chopped asparagus pieces and mix everything together to combine. Add last ½ cup broth, cover and simmer on medium-low to complete cooking of shrimp and asparagus, about 5 minutes.

Once asparagus is just fork tender, remove from heat, stir in Parmesan and fresh parsley.

Garnish with additional Parmesan, fresh parsley and cracked black pepper if desired.
Notes
It will take about 30 minutes of simmering time for the Risotto to absorb all the liquid.
Print Recipe
If you've tried this recipe, consider leaving a comment or a rating. You can share the post on social media by clicking on the icons below.
click HERE for a free downloadable collection of asparagus recipes
more shrimp recipes