Creamy pasta recipes are always very popular. But a creamy pasta recipe in one pan? With lots of chicken and mushrooms? Wait, it gets better. Creamy Chicken and Mushroom Rotini is made without pre cooking the pasta so it literally is a one pan meal. If you're intrigued, read on.
There are so many more good things about this recipe. You can serve 4 people with 2 chicken breasts. It's creamy but not full of high fat ingredients. There are vegetables as well as protein and starch so it's a complete meal. And, best of all, you don't have to babysit Creamy Chicken and Mushroom Rotini while it's cooking. Once the main ingredients are combined, the cooking is finished in the oven.
The concept of making a meal with uncooked pasta isn't a brilliant idea I just came up with. Remember Hamburger Helper? Well, I wanted to come up with something almost as easy but with fresh ingredients and much better flavour. Creamy Chicken and Mushroom Rotini was exactly what I was hoping for. You might also like Chicken and Rice with Tomato Skillet Dinner.
Jump to Recipe
Speaking of food from a box, I was told once by the 2 guys in my home that I put too much emphasis on meals and that they didn't need to have all these nice dinners. So, I decided I'd teach them a lesson by making Hamburger Helper. They both said it wasn't too bad. I really showed them. Backfire. They have since admitted they do appreciate the meals we have at home.
How to make Creamy Chicken and Mushroom Rotini
Using the right amount of liquid to dry pasta is the secret to this recipe. You know when you cook pasta the water left behind is starchy. In fact, many recipes call for adding some of the cooking water to the sauce to help thicken it. So in this case the starchy liquid contributes to the creaminess of the sauce. And there's enough liquid with the broth and wine to allow the pasta to absorb just enough, without being too dry or soupy.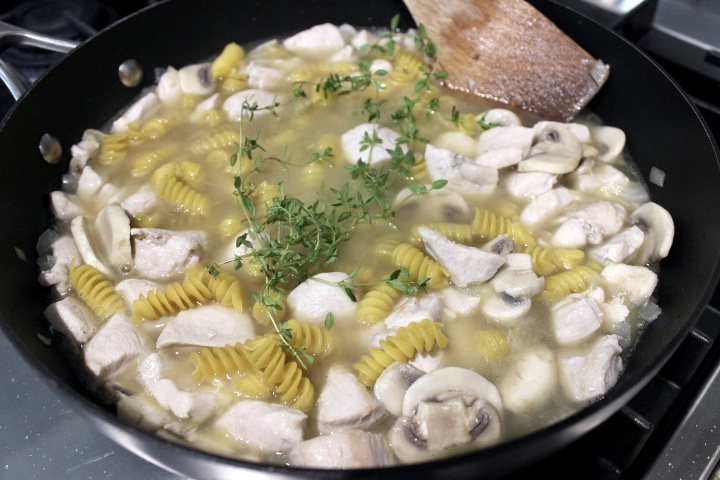 Use a good quality chicken broth or, even better, homemade. And I love a little Dijon. You will have to taste and season accordingly depending on how much sodium is in the broth. The pasta will absorb some of the salt so make sure you taste as you go and add salt if it needs some.
Non stick cookware isn't the best choice because you tend to get less "fond" which is the brown bits left behind from searing the chicken, which turns into flavour. You don't have to cook the chicken entirely, just make sure it has a chance to brown. Start with the onion, mushroom and garlic first, then move them to the side and sear the chicken pieces on high heat. Deglazing the pan with wine incorporates all that flavour left behind. Don't worry about the alcohol content. Once it's brought to a simmer, most of the alcohol is cooked off and the wine is reduced to almost nothing.
Feel free to substitute a little extra chicken broth if you aren't comfortable with the wine. And chicken thighs are great in this too!
My first version of this recipe included a package or cube of chicken bouillon. Unfortunately the bright yellow colour of the finished dish wasn't that appetizing. My niece was a tester of this recipe and she confirmed that it was perfectly tasty without the bouillon. That's why it's important to sauté the chicken and veggies first. Yes, she did use wine and fed it to her kids. And, she was the one who suggested adding the spinach. Good call!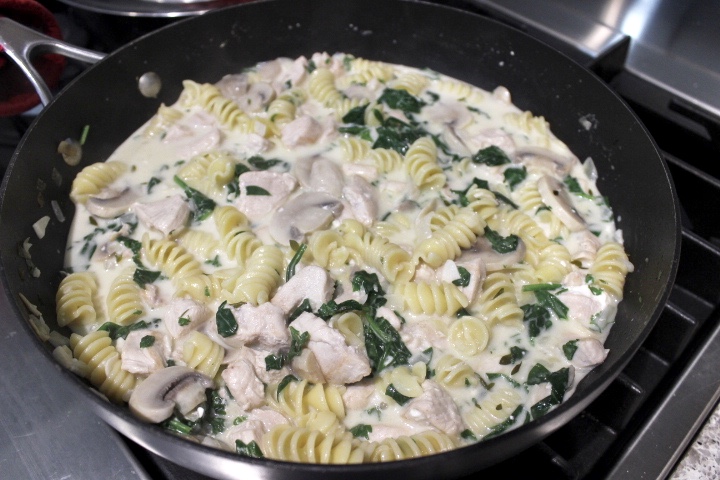 What herbs are best in chicken and mushroom pasta?
I intentionally am not using Italian flavourings in this recipe. I chose thyme instead because it really compliments chicken and mushrooms. You don't even need to worry about stripping the tiny leaves off the stems, just toss a bunch of full sprigs right into the pan. The flavour will infuse into the sauce, then you just pick the stems out before serving. The tiny leaves come off the stems during cooking. Save some for adding at the end though, along with some fresh parsley. A perfect match for chicken and mushrooms. The easiest way to get those tiny thyme leaves off the fresh sprigs are to pull down from top to bottom. If you can't find fresh thyme it's ok to use dried thyme leaves. You don't need much. Dried herbs are always stronger than fresh.
Stir in room temperature cream cheese and cream as soon as the pan comes out of the oven, along with fresh chopped spinach. If your spinach leaves are small you don't even have to chop them. None of the last ingredients need to be cooked, the heat from the pan is all you need to incorporate them nicely. The sauce will thicken slightly and reduce after a few minutes resting. Add some fresh parsley and thyme and dinner is ready.
You won't believe how quick and easy Creamy Chicken and Mushroom Rotini is to make. There's just the right amount of sauce and the perfect combination of creamy, flavourful and fresh ingredients. If you're wondering what to do with the rest of the block of cream cheese, make some Warm Artichoke Dip.
Here's the recipe:
Creamy Chicken and Mushroom Rotini
One pan recipe with no need to pre cook the pasta
Ingredients
2

boneless skinless chicken breasts

1

medium onion

2

large cloves garlic

or 3-4 small

3

cups

sliced mushrooms

6-8 medium-large mushrooms

1

Tbsp

extra virgin olive oil

¼

cup

white wine

sub extra chicken broth if desired

2 ½

cups

homemade or good quality chicken broth

1

tsp

Dijon mustard

6-8

sprigs

fresh thyme, plus extra for garnish

sub ½ tsp dried thyme leaves (not ground)

2

cups

dried uncooked rotini pasta

or other similar size with same cooking time on package

¼

block

cream cheese

full fat is best, at room temperature

¼

cup

cream

10 or 18% is best

2

cups

fresh baby spinach

¼

cup

fresh chopped parsley

1

tsp

salt

adjust as necessary depending on sodium content in chicken broth

½

tsp

fresh black pepper
Instructions
Preheat oven to 350° and set rack in the middle of the oven.

Dice onion. Clean and slice mushrooms. Peel and finely slice or mince garlic.

Heat large oven safe skillet with lid on stovetop and add olive oil. Sauté onion, garlic and mushroom mixture until mushrooms are browning and onions are golden and softening.

Chop chicken into bite sized pieces. Season with salt and pepper. Move vegetable mixture to side of pan, increase heat and add chicken pieces. Allow to sit without stirring for a minute to start browning. Stir contents of pan together.

Add white wine and allow to simmer and reduce, while stirring chicken mixture.

Add chicken broth, Dijon mustard and rotini and season with salt and pepper. Top with thyme sprigs. When mixture returns to a simmer, cover pan and bake in oven for 17 minutes.

Chop spinach and parsley. Reserve some parsley for garnish, along with extra thyme.

Remove pan from oven and stir in cream cheese, cream, spinach and parsley. Stir until incorporated and spinach has wilted.

Allow to rest 2-3 minutes before serving, sauce will thicken slightly.

Garnish with extra parsley and thyme if desired.
Notes
The amount of salt required depends on the sodium level in the chicken broth. Taste and season as desired.
Print Recipe
more main dish pasta recipes
Baked Pasta with Sausage and Peppers
If you've tried this recipe, consider leaving a comment or a rating. Or, you can share the post by clicking on the icons below.