An easy vegetable dish flavoured with chili powder and hot pepper cheese, Chili Cheese Cauliflower is not your average roasted vegetable side dish. Choose your preferred amount of heat with a mild or spicy cheese.
My friend Wendy was a taste tester for this one. She called it "cauliflower crack." She then ate seconds, then finished what was left in the pan. My son tried some and said it tasted like a Mexican Fiesta! Lots of two thumbs up for Chili Cheese Cauliflower around here.
If you like vegetable side dishes that are far from boring, you might also like Brussels Sprouts Gratin with Spinach and Leeks or Aloo Gobi.
Jump to Recipe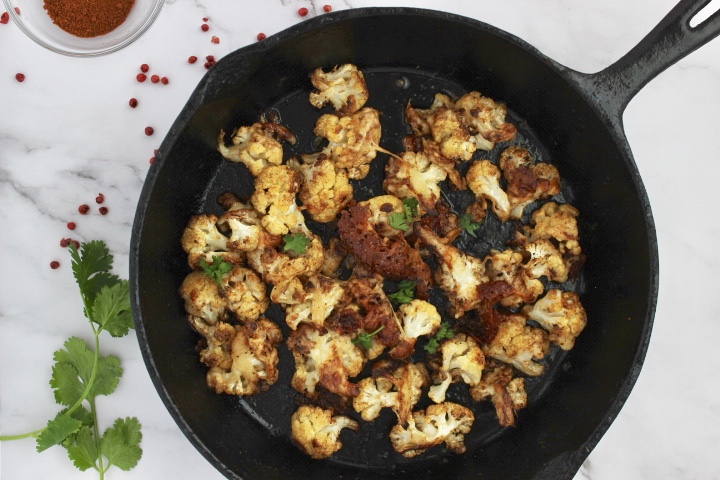 How to make Chili Roasted Cauliflower
Normally I would break cauliflower into florets but for Chili Cheese Cauliflower I like to slice the pieces so there's a flat side. Then, when they're laying in the hot pan you get lots of browning and caramelization. Just add the cut pieces to a bowl with some extra virgin olive oil, salt and pepper and give them a good toss. Then lay them in a cast iron pan flat side down.
You're probably wondering why you don't add the chili powder to the cauliflower together with the olive oil, salt and pepper. I actually did this for the first version of the recipe. Sadly about half of the chili powder was left behind in the bowl, stuck to the sides. So, in order to get the maximum chili flavour, sprinkle it over the cauliflower after you've spread it out in the pan. It looks like a lot but trust me, it's not. It's the perfect amount of chili powder to give you some flavour and even a little bit of heat.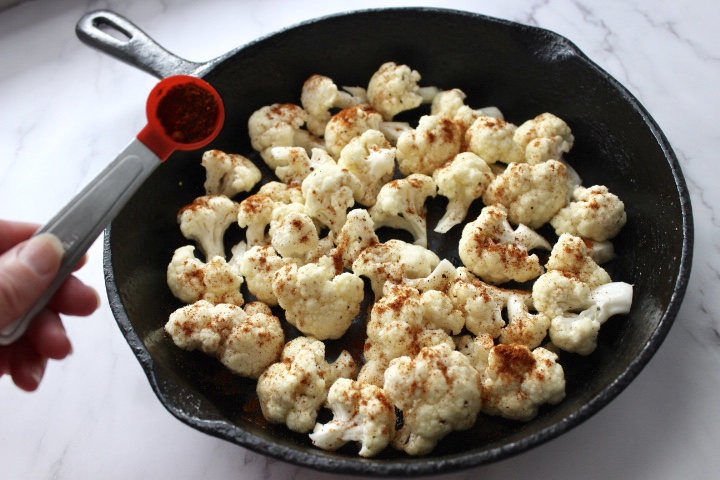 Speaking of the pan, cast iron is a great way to get lots of browning and caramelization on your cauliflower. Heat the pan on the stove top to medium high and walk away. Don't be tempted to toss the cauliflower around, it needs to stay put for a few minutes to get browned on the bottom. In fact you might think the pan is too hot at first. It might even smoke a bit. But that's ok. Then roast the cauliflower in the oven for about 10 minutes before adding shredded cheese for the final 10 minutes of roasting. The heat comes from the top of the oven when it's set to roast so you don't even need to stir the cauliflower.
What's the best kind of cheese for roasted cauliflower?
The best kind of cheese for this recipe is one that melts easily and has the right amount of heat. And one that doesn't have an orange colour to compete with the beautiful intense red of the chili powder. Think Jalapeno Havarti if you don't like it too hot. Or Pepper Jack if you like to turn up the heat. Use your imagination. Some hot pepper cheeses aren't very hot but have a nice flavour anyway.
There are so many awesome cheeses out there other than the ones you see in the grocery stores. My favourite local cheese shop, The Dover Cheese Shop has a huge selection and some really interesting cheeses! If you have a cheese shop near you, make sure you stop in and see what's new.
If you don't have a cast iron pan, well, just go buy one. Seriously. But you can make Chili Cheese Cauliflower on the barbecue in a disposable foil pan or with a regular oven save heavy skillet.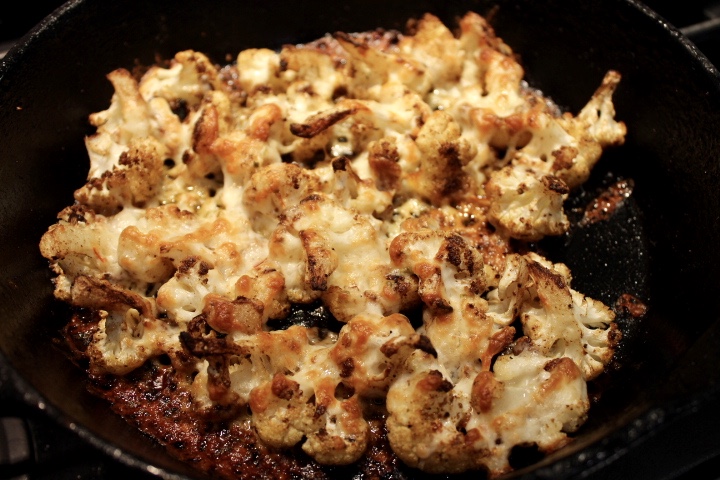 But those crispy bits of cheese. Some of the cheese slides off the cauliflower during roasting which is the star of the show. You can see it on the bottom of the pan. Since cast iron is so naturally non stick the cheese just slides right out when you put it in a dish for serving. That's if you don't eat the Chili Cheese Cauliflower right out of the pan. Like we did.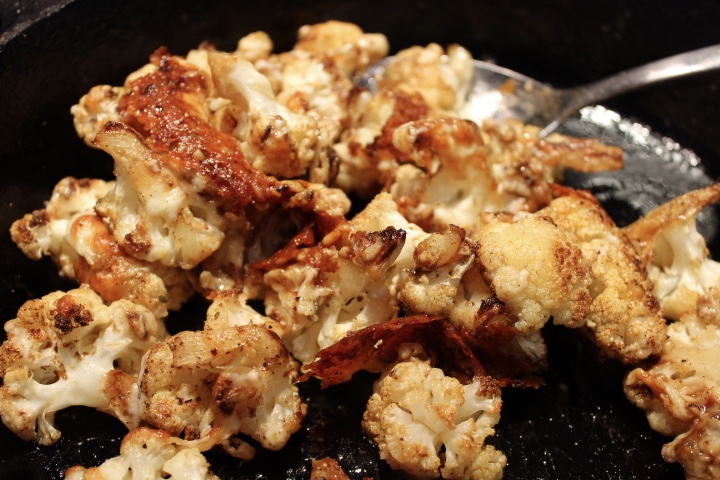 Here's the recipe:
Chili Cheese Cauliflower
Roasted cauliflower with chili powder and hot pepper cheese
Ingredients
½

medium cauliflower

2

Tbsp

extra virgin olive oil

½

tsp

salt

¼

tsp

pepper

1

tsp

chili powder

1

cup

shredded Jalapeno Havarti or Hot Pepper Monterey Jack cheese

choose milder or hotter for your taste

fresh chopped parsley or cilantro

for garnish if desired
Instructions
Preheat oven to 400° set to roast.

Rinse cauliflower and cut into pieces, ensuring each piece has a flat side.

Toss cauliflower in a bowl with olive oil and season with salt and pepper.

Lay pieces flat side down in a cast iron skillet. Sprinkle evenly with chili powder. Heat to medium-high and let sit undisturbed for 3-4 minutes until undersides are browning.

Place pan in oven on middle rack and roast for 10 minutes. Sprinkle with cheese and roast another 10 minutes until cheese is melted and bubbling in the bottom of the pan.

If desired, sprinkle with fresh chopped parsley or cilantro for garnish.
Print Recipe
more recipes with the same flavours
Beef and Black Bean Enchiladas
If you've tried this recipe, consider leaving a comment or a rating. Or, you can share the post by clicking on the icons below.