Notice I didn't call this "Sausage and Pepper Penne?"  That would be plagiarism. What makes this version better than those served at popular Italian chain restaurants is, well…several things. It's far less expensive to make it at home. You can make it as hot or mild as you like. And, this recipe is loaded with meat and vegetables and light on pasta. Here's my favourite version of Baked Pasta with Sausage and Peppers.
Obviously restaurants are in the business of making money so they will fill your plate with the cheap stuff like pasta and peppers and rip you off on the amount of meat. That's the beauty of making this at home. That being said, this sausage and pepper baked pasta has only 2 sausages and serves 4. If you're lucky you can find sausage meat that's not in the casing but it's really no big deal to squeeze it out of casings. Choose hot or mild Italian sausage, or, like I sometimes do, one of each. Got leftover cooked sausage? No problem, just slice it up and stir it into the mixture before baking.
Jump to Recipe
How to make Baked Pasta with Sausage and Peppers
Start by sautéing some onion in olive oil just until it's softening. Add the sausage meat and cook until it's starting to brown. Then add some garlic, chopped peppers and mushrooms. Remember that mushrooms really shrink so use lots. Garlic can burn easily so adding it along with the vegetables will prevent that.
I like to use various colours in recipes so any combination of red, orange, yellow and green peppers looks great in Baked Pasta with Sausage and Peppers. Once the vegetables are slightly softened, add a chopped tomato and some jarred pasta sauce. Use any kind of sauce you like but something simple like marinara or sweet basil works well because there's lots of flavour in the sausage meat. A little dried oregano and basil helps boost the flavour.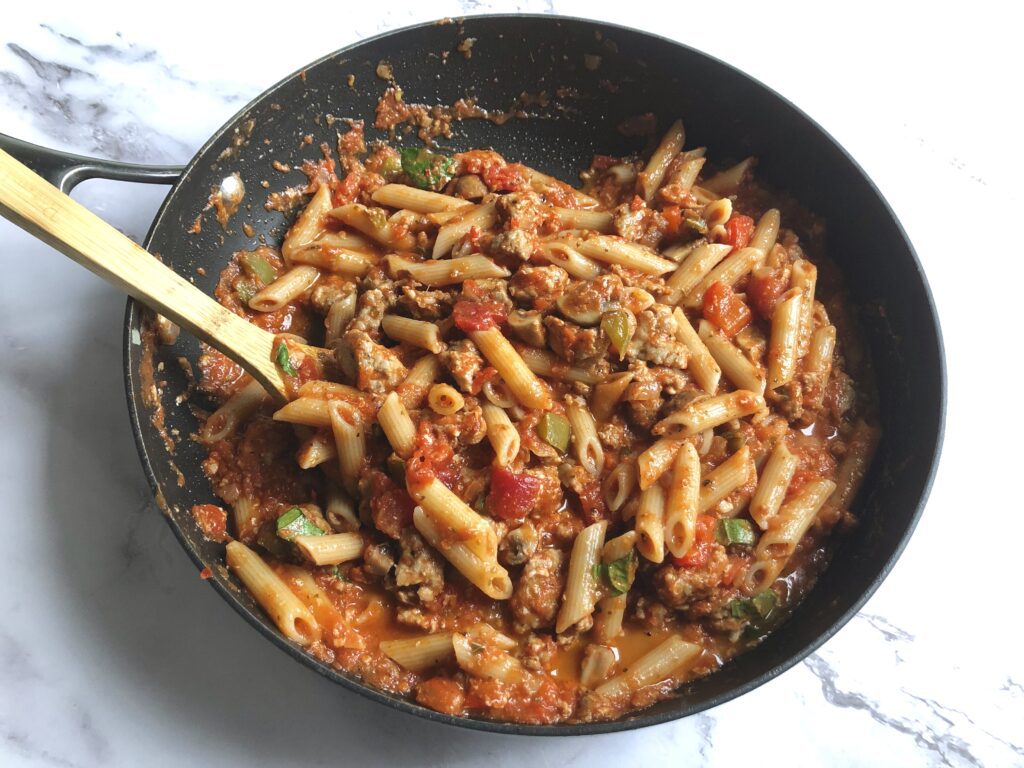 You can make your own sauce for Baked Pasta with Sausage and Peppers. I often do. In fact, I revised this recipe because it originally was made with homemade sauce but let's be honest, most of us would rather have a quicker and easier version with an option to make your own. So, if you're feeling it, and you have some nice ripe tomatoes, skip the jar and substitute 7-8 Romas or San Marzano tomatoes, some red wine and a spoonful of tomato paste. And increase the amount of dried herbs. Otherwise adding one chopped tomato to jarred sauce is A-OK to me!
How much pasta goes in a baked pasta dish?
Now, bring a pot of salted water to a boil and add 2 cups of dried pasta. It doesn't sound like a lot but when mixed with everything else it's the right amount, otherwise you get a dried up dish heavy on the pasta. You can use any medium sized pasta you like. You want something that's bite sized. I typically use fusilli or penne because they're easily found at any grocery store.
Cook the pasta a little less than directed on the package – it should be al dente, not perfectly cooked. Maybe one minute less than directed. Otherwise you'll get mushy pasta and, like in my house, someone might comment on it. Using a slotted spoon, add the pasta to the meat and sauce mixture. Don't worry about some of the cooking water getting in there. In fact, you might want to add a bit to the mixture, like about 1/4 cup or so. It helps thicken the sauce, especially if you've made your own.
Shred 2 cups of cheese, using a combo of mozzarella for the melty oozy part and a sharper cheese like cheddar for a stronger taste. Mix the cheeses together and add about 1/3 to the pasta. Add some fresh chopped basil at this point too if you have any. Stir, then pour into a baking dish. Top with the rest of the cheese. A wider shallow dish is best so you can maximize the cheesy topping area.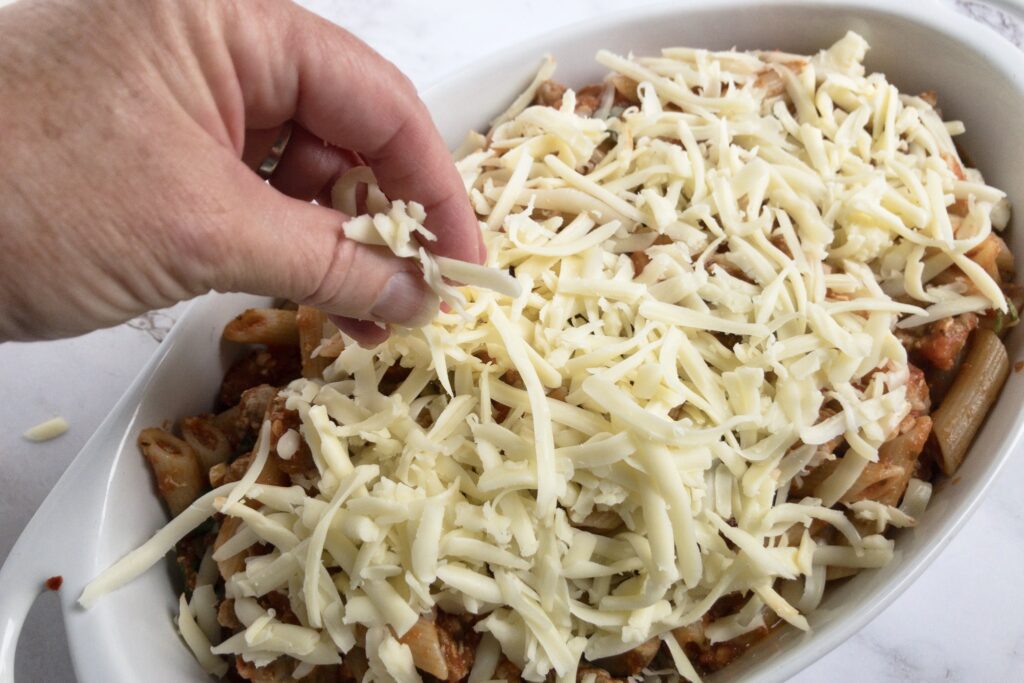 Bake at 350 in the centre of the oven for about 30 minutes until bubbly and slightly brown on top. You can make this in advance and bake later, just increase the time to about 40 -45 minutes to ensure it's heated through.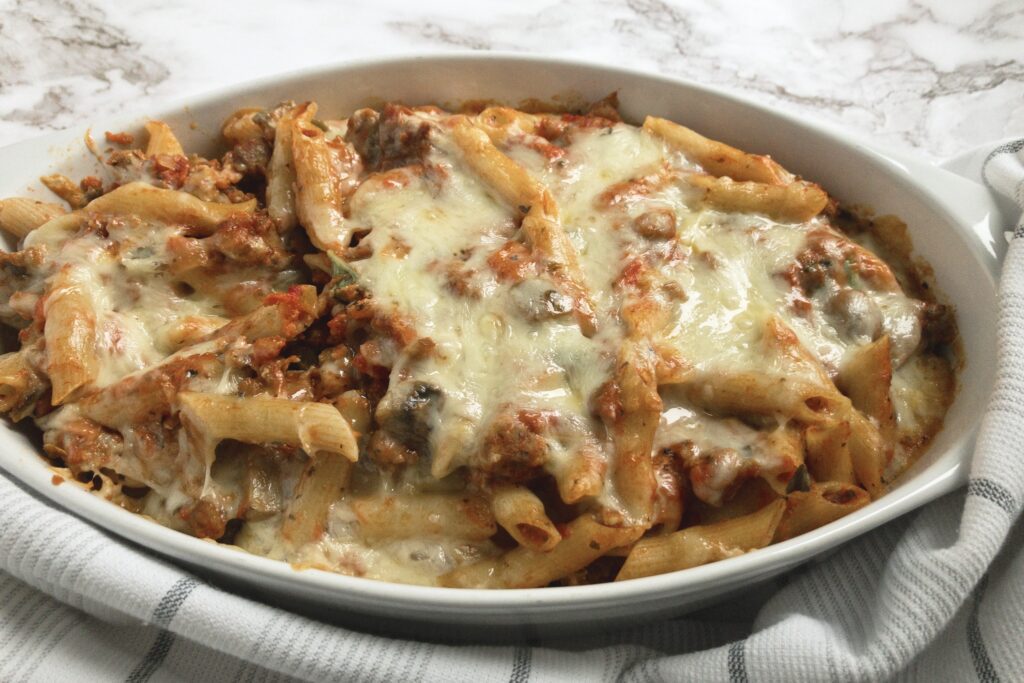 Here's the recipe:
Baked Pasta with Sausage and Peppers
Delicious homemade version of the baked pasta dishes served at Italian restaurants using fresh local ingredients.
Ingredients
1

Tbsp

extra virgin olive oil

1/2

cup

chopped onion

about half regular onion

2

hot or mild Italian sausages

2

large

garlic cloves, minced

8

mushrooms, sliced or chopped

1

cup

red, yellow or orange pepper

about 1 regular pepper

1

tsp

dried oregano

1

tsp

dried basil

1

handful

fresh basil

optional

1

large

tomato

2

cups

pasta sauce

something fairly plain like marinara or sweet basil

2

cups

dry small pasta like fusilli or penne

1

cup

shredded mozzarella cheese

1

cup

shredded sharp cheddar cheese

salt and pepper to taste only if necessary
Instructions
Heat olive oil in large wide skillet. Finely chop onion and saute to soften.

Squeeze sausage from casings into pan and cook for about 5 minutes, breaking up lumps into smaller bites.

Finely mince garlic, slice mushrooms and chop pepper. Add to pan and cook for about 5 minutes.

Chop and seed tomato and add to pan. Add basil and oregano. Simmer for about 5 minutes until tomato is softening.

Meanwhile, bring large pot of salted water to a boil and cook pasta for 1 minute less than directions on package. Drain, reserving some pasta water. Add pasta to pan along with pasta sauce and stir well. Add a few ladles of pasta cooking water to the mixture along with fresh basil if using.

Shred cheeses and add about 1/3 of each cheese to the pasta mixture and combine. Pour into large shallow baking dish. Top with remaining cheeses.

Bake at 350 degrees in the centre of the oven for about 30 minutes until the top is browning slightly and bubbling.
Print Recipe
more pasta recipes