My sister and I used to take the train to Toronto when we were teenagers and we'd shop at the Eaton Centre. Then, when our money ran out we would head up to Mr. Greenjeans and have a bowl of our favourite menu item, Mushroom Cheddar Chowder. It's been a long time since I've been there but I've never forgotten this delicious soup!
I love making soup, as you can see from the numerous soup recipes I've posted. This one is thick and rich and satisfying yet it doesn't take long to make. No simmering bones for hours this time. I set out to recreate the recipe from memory and you know what? I think I nailed it! The "golf girls" were over for lunch and I served Mushroom Cheddar Chowder. Maybe it was the wine or maybe it was because we weren't golfing, which none of us are really good at, but it received a two thumbs up from everyone!
Jump to Recipe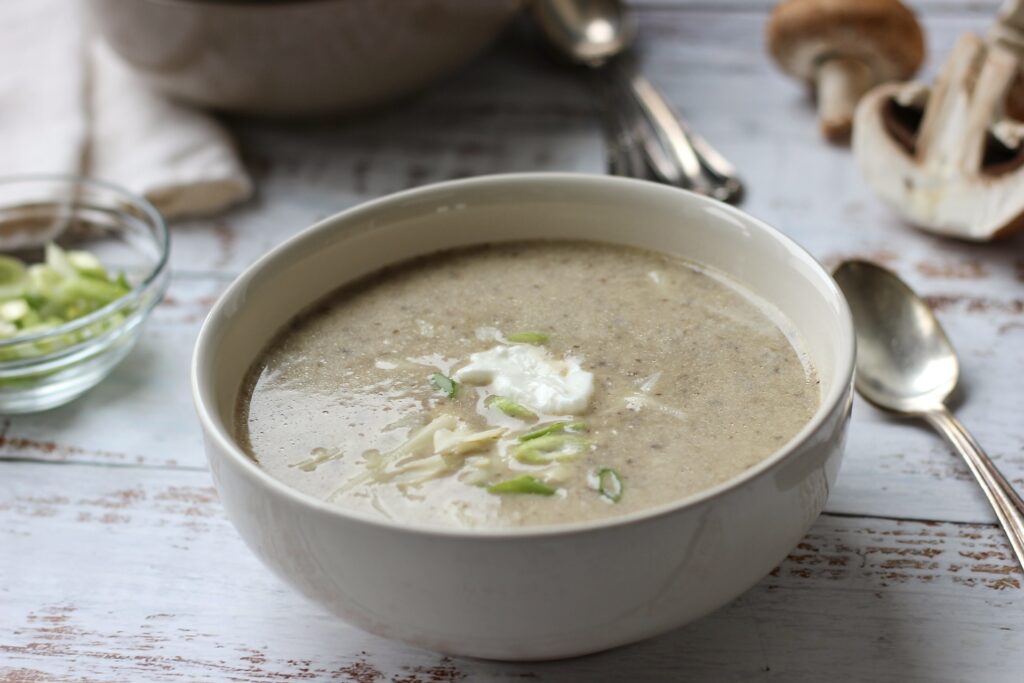 Many chowders start with bacon. There's no bacon in this soup but if you happen to have some bacon fat, add a bit to the butter to sauté the mushrooms. It adds just a touch of flavour without overpowering the mushrooms. I actually keep a container in my fridge. After cooking bacon, just pour the clear fat into a mug, leaving behind the dark bits. It keeps for months in the fridge and adds great flavour to soups and stews.
This chowder is thickened with flour. It needs the starch to get that nice thick consistency. There's only 2 tablespoons but if you're looking for a gluten free option you can toss in about half a potato instead. You might think it's not going to be thick enough but once you purée the mixture and stir in the cheese it will be perfect.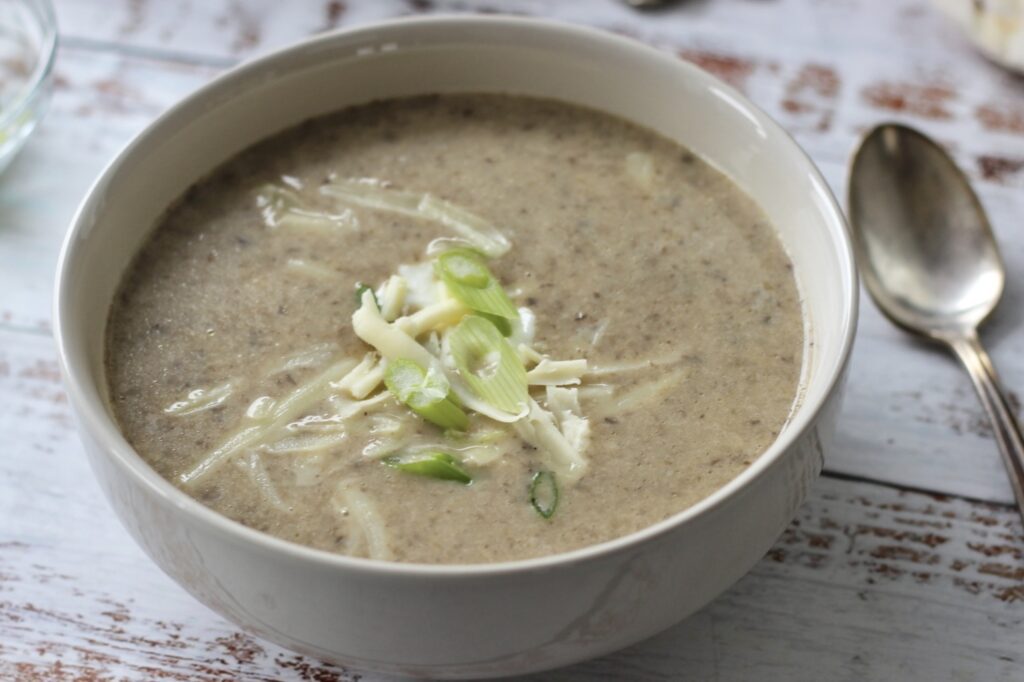 What are the best mushrooms to use for soup?
You want the mushrooms to be the star of this recipe so choose a variety with good flavour.  Cremini mushrooms are a great choice because they have a more mature flavour than regular white button mushrooms without costing a lot of money like some of the more unique varieties. Did you know Cremini mushrooms are baby Portobellos? Now you do. They're also great because they have a deeper colour than regular white mushrooms so your soup looks best.
You can use other varieties of mushrooms if you prefer but I wouldn't suggest going foraging in a forest. Some mushrooms are poisonous. This soup is really good (OK, it's GREAT!) but it's not worth dying for.
Clean and chop up the mushrooms and sauté them until the liquid is mostly gone and the mushrooms are browning slightly. Then add the onions and garlic and continue to cook until the liquid has evaporated and the onions and garlic are fragrant and soft. Adding them after the mushrooms are mostly cooks help prevent them from getting too brown which leaves a bitter flavour.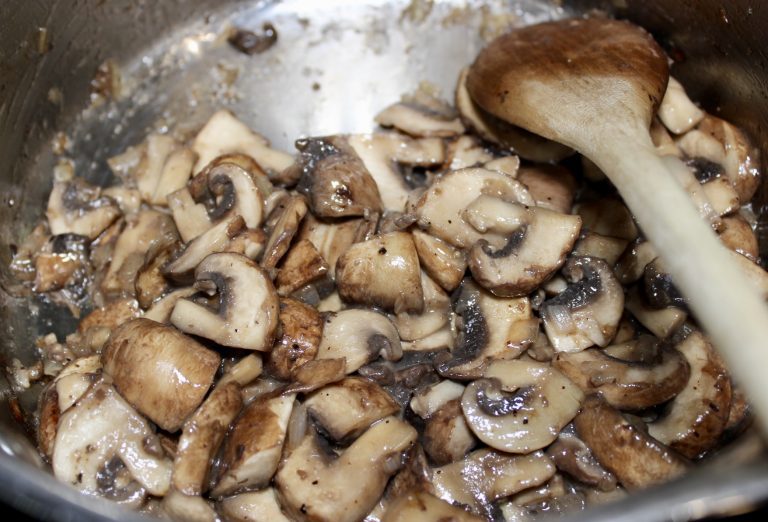 Then add butter and flour. The flour and butter create a roux which is what thickens the soup. You need equal amounts of each so adding some butter ensures you have the right ratio of fat to flour. Cook the roux for a minute or so, to make sure it doesn't taste floury, then add chicken stock, worchestershire and a bay leaf. Let it come to a full boil then reduce to a simmer for 15-20 minutes to allow the flavours to develop fully. You can let the mixture simmer for longer if you like, just keep an eye and make sure you don't have too much liquid evaporate.
Add the milk and let the mixture heat without boiling. Remove the bay leaf and purée with an immersion blender. If you prefer to skip this step you can chop up the mushrooms quite fine at the beginning and leave them in small chunks. I prefer it puréed.
It's important to use a very old sharp cheese in Mushroom Cheddar Chowder. I highly recommend a well aged Cheddar for the best flavour.  And stick to a non coloured cheese otherwise it will result in an odd coloured soup. Shred the cheese and add most of it to the soup, remove from heat and stir it in until it's melted.
Serve the soup with some minced green onions, a dollop of sour cream and the reserved shredded cheese. Add fresh ground black pepper if desired.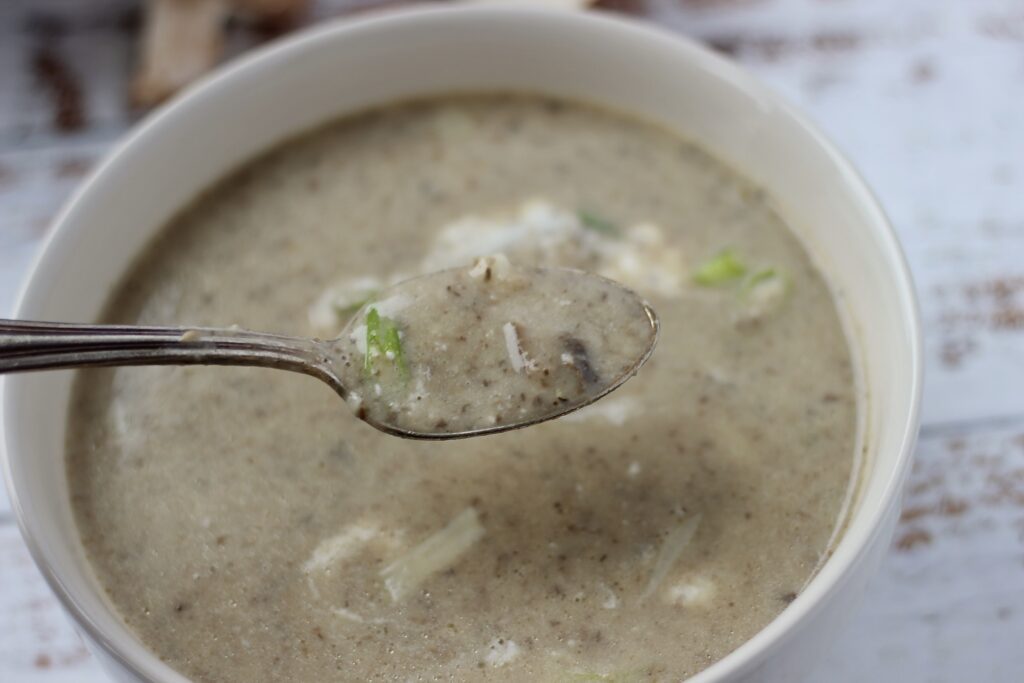 Here's the recipe:
Mushroom Cheddar Chowder
A thick and delicious soup loaded with earthy mushrooms and sharp cheddar cheese based on the soup served at Mr. Greenjeans at the Toronto Eaton Centre.
Ingredients
1/2

onion

1

clove

garlic

1

Tbsp

butter

or bacon fat or half of each

4

cups

chopped cremini mushrooms

about 8-10 large mushrooms

2

Tbsp

flour

1

Tbsp

butter

3

cups

chicken broth

1 1/2

cups

milk

2

tsp

Worcestershire sauce

1

bay leaf

2

cups

shredded sharp white cheddar cheese

reserve some for garnish

salt and pepper to taste
Garnish
minced green onion

sour cream

cracked black pepper

shredded old cheddar
Instructions
Clean and chop mushrooms. Add to a large pot along with 1 Tbsp butter or bacon fat or a combination of both. Sauté over medium heat until mushrooms are cooked and most of the liquid has evaporated.

Finely dice onion and garlic. Add to mushrooms and continue to sauté until garlic and onion is fragrant and softened.

Add butter and flour and stir until combined well with the mushrooms.

Pour in chicken broth and bring to a boil. Add broth, bay leaf and Worchestershire and simmer for 15 or 20 minutes. Add milk, Worcestershire, bay leaf and salt and pepper to taste. Simmer on low for about 15 minutes, stirring occasionally.

Add milk and heat without boiling. Taste and season with salt and pepper. Remove bay leaf and purée until desired consistency is reached.

Shred cheese. Remove soup from heat and stir in 1 1/2 cups of cheese, reserving the rest for garnish.

Garnish with green onion, sour cream, cracked black pepper and shredded cheese if desired.
Notes
If reheating, take care not to boil the soup. Gently heat to a simmer only, otherwise the soup may curdle.
Print Recipe
hungry for more hearty soups?
Curried Squash Soup with Crispy Sage