As kids we loved when our mom made Coq au Vin. Because we got to say cock out loud. For the same reason, we were also mesmerized by the musical stylings of Engelbert Humperdinck. But seriously, this classic French dish that translates simply to Chicken in Wine is a delicious slowly braised stew. Surprisingly, the wine used in this recipe is red.
This is a slightly modified version of my mom's recipe. I added some bacon which is used in most traditional Coq au Vin recipes. And what isn't better with bacon anyway? Once you crisp up some strips of bacon you'll have that amazing fat and flavour to help brown your chicken pieces. And one other trick I added is a cube or package of chicken bouillon which will help add a little something to the broth.
Jump to Recipe
What kind of chicken do you use for Coq au Vin?
Traditional Coq au Vin is made with a whole chicken cut into pieces. I've had it this way but I prefer it made with all dark meat. It stands up better to longer cooking times. And who wants to cut up a whole chicken anyway? Most people don't. And guess what else? Dark meat is usually cheaper than chicken breasts so it's a win win for this thrifty girl!
You'll want to wear an apron or an old shirt when you're making this. The bacon splatters a bit but the chicken splatters more. Start with the bacon, then remove it and add the chicken. There's quite a bit of fat by the time you've browned all the pieces but you drain most of it off. Pro tip – if you sear the thighs first the legs have a better chance of getting evenly browned because there's a deeper layer of fat.
You need to sear the chicken skin well to render off as much fat as possible. If you don't, you'll end up with fatty inedible chicken skin. I like to use 4 legs and 4 thighs. Don't be tempted to turn them too soon or move them around much. Just let the fat do its magic.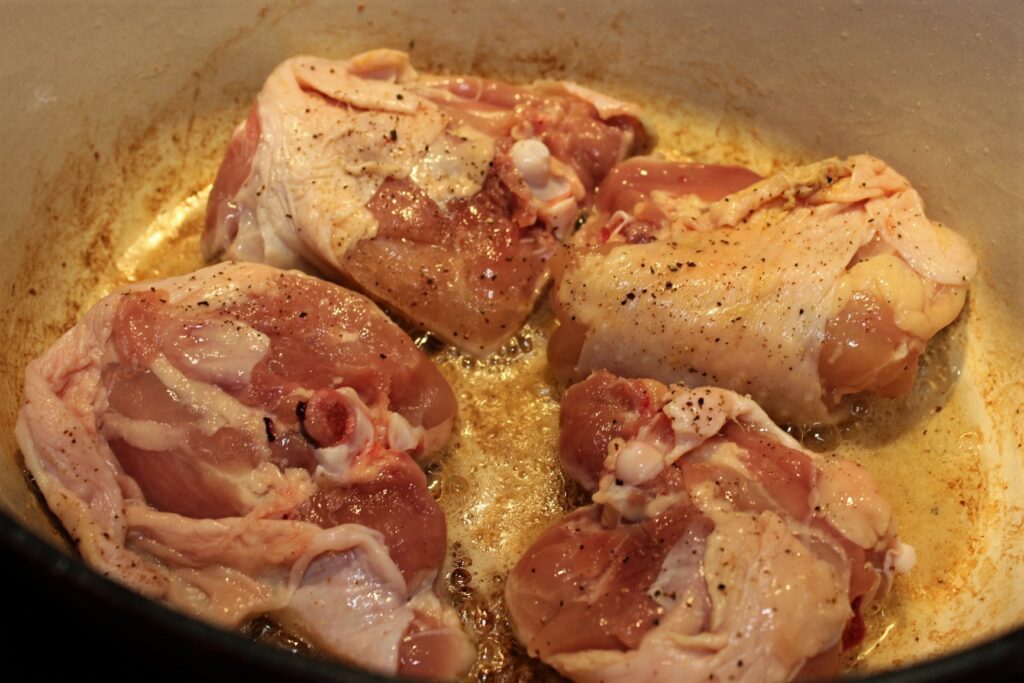 Sear the chicken in batches if they don't all fit in the pan. A large heavy dutch oven works best.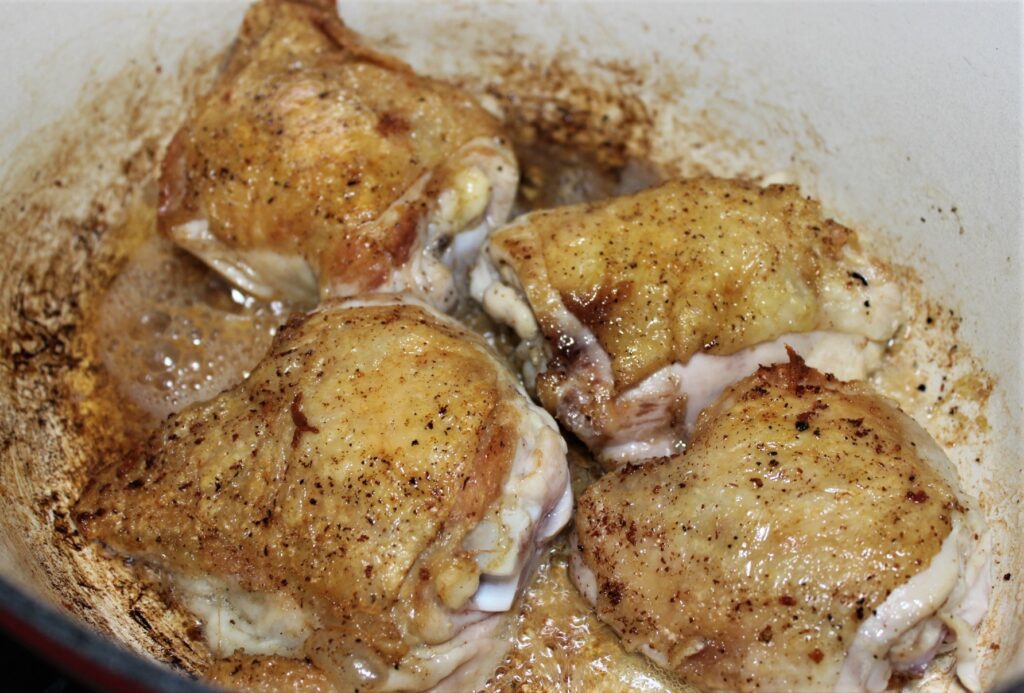 Once the chicken is well browned on both sides, drain most of the fat from the pan and add the garlic, shallots, mushrooms and carrots. You can substitute regular onion for shallots, but I like the milder slightly garlic flavour of shallots. Sauteing the vegetables in the fat adds another dimension of flavour to the dish by slightly sweetening them. And when the liquid releases from the mushrooms you can scrape down the sides of the pan to incorporate that extra flavour left behind from browning the chicken. It's called fond.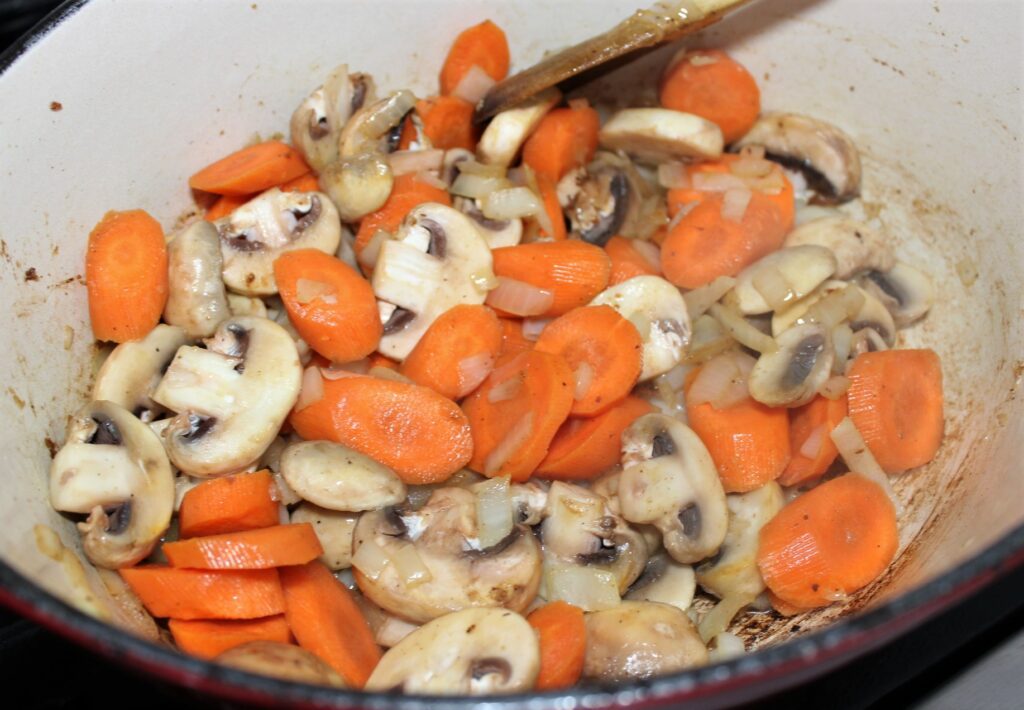 Maybe you're thinking why not use boneless, skinless chicken. Here's the thing. Bones and skin add flavour to the meat and they also keep the meat intact in full pieces which is how it's traditionally served.
Add the chicken and bacon back to the pan. Pour red wine and chicken broth over top and add a few sprigs of rosemary and thyme. Drop in a cube or package of chicken bouillon and a bay leaf. Some Coq au Vin recipes include brandy or cognac but I know most people probably don't have any in their pantry so don't worry about it. But if you do, a splash or two will add even more richness to the sauce. There's a lot of red wine in this, more than you think you need but it really works, trust me! A wine from the Burgundy region is traditional but any red wine you would drink will work. You need about half a bottle or around 2 cups.
How long do you cook Coq au Vin?
Coq au Vin needs to be cooked low and slow. You can do this in the oven or on the stove top. Cover the pot and turn the heat to a simmer or place in the oven at around 325 degrees. Cooking on the stove top is my preference because it uses much less energy. Meaning the hydro bill.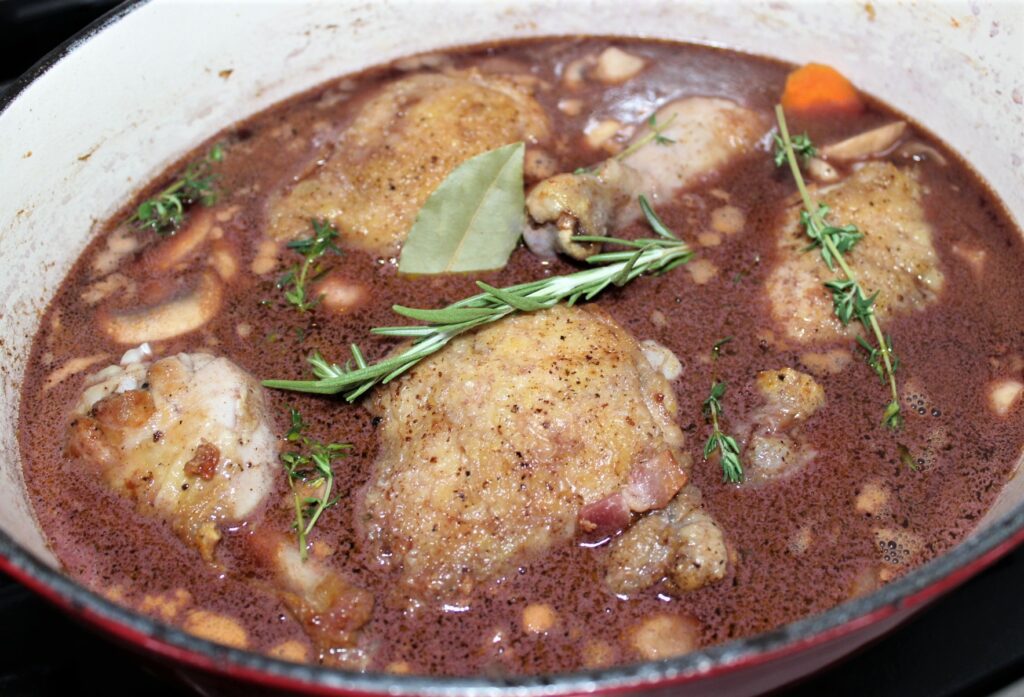 The colour at first is quite red but after cooking for an hour or so it darkens. Taste the liquid and add salt and pepper if it needs it. It may not depending on how salty the bacon is and how much sodium is in the chicken stock. Add some peeled pearl onions and cook another hour. If you add them too soon they fall apart and then it wouldn't be worth all the time it took to peel them.
You want to thicken the stew slightly near the end of the cooking time. Using a paste of flour and butter is a great way to do this. You don't get any lumps and you aren't watering down the flavour. The butter adds a richness and shine to the juice too. Just drop in a few spoonfuls of the paste and let it simmer another half hour or so. It should be perfect.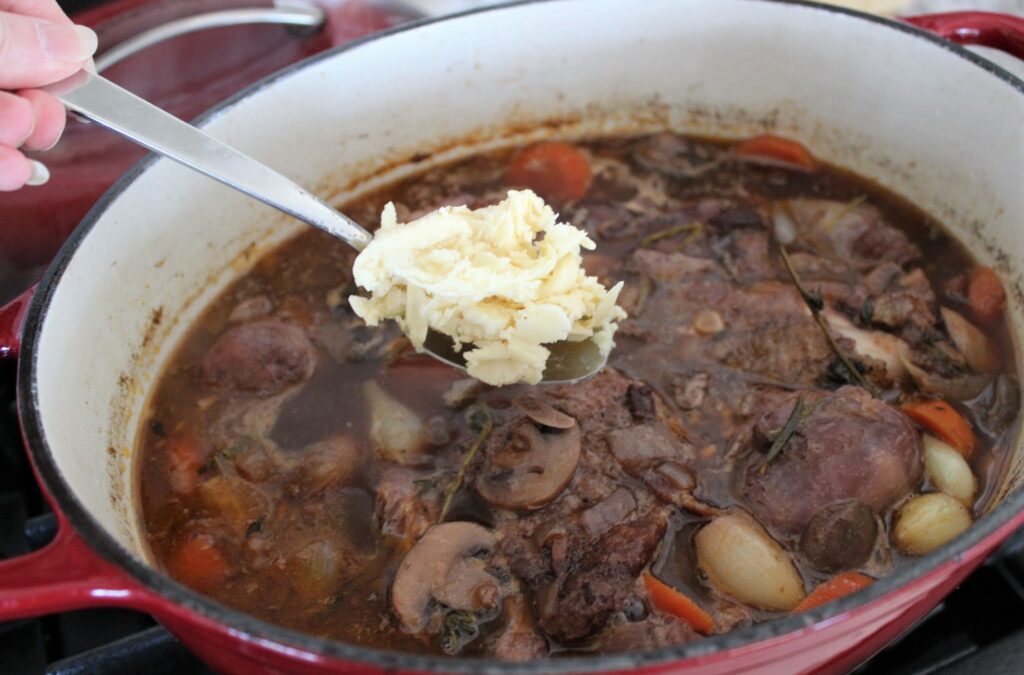 Serve over mashed potatoes, garnish with fresh parsley and add a green vegetable to balance the colour and richness.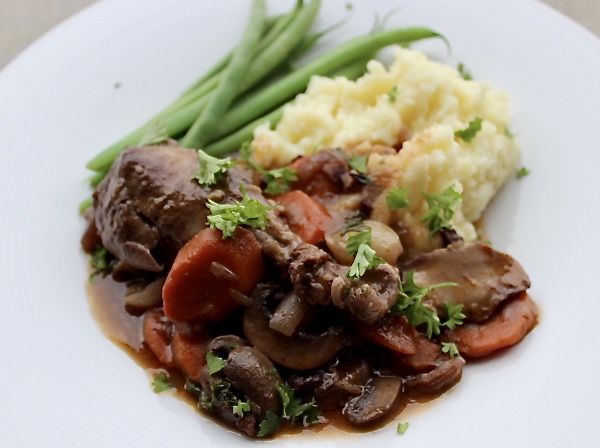 The meat falls off the bones so you don't have to work hard for a perfect bite.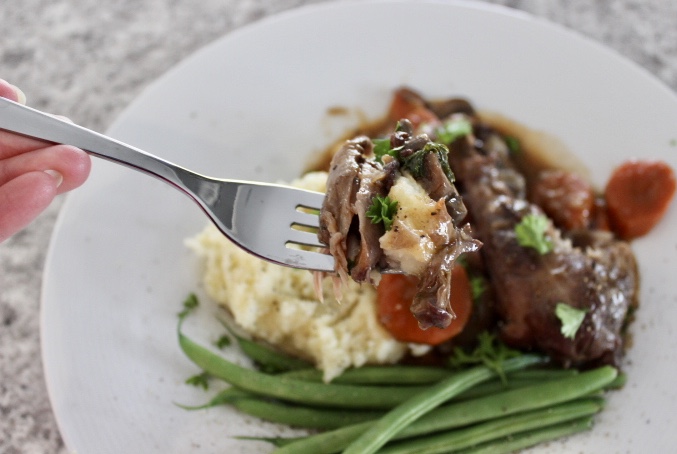 A very similar dish is made with beef and is called Beef Bourguignon. Another favourite in our house.
Here's the recipe:
Coq au Vin
A traditional French stew of chicken in red wine
Ingredients
8

pieces

chicken, dark meat preferred

or 1 whole chicken cut into pieces

4

strips

bacon, diced

2

large carrots, sliced

8-10

mushrooms, sliced thickly

1

large shallot, minced

or 1/4 cup onion

2

cloves

garlic

12-16

pearl onions, peeled

2

cups

red wine

1 1/2

cups

chicken broth

1

cube

chicken bouillon

or 1 package

1

bay leaf

3

Tbsp

butter

3

Tbsp

flour

salt and pepper to taste
Instructions
Slice bacon into thin strips and saute in large heavy dutch oven until browned. Remove from pan and reserve.

Season chicken pieces with salt and pepper and sear, skin side down till well browned and most of fat is rendered from skin. Turn and brown other side. Remove to a plate. Drain most of fat.

Slice mushrooms and carrots into bite sized pieces. Mince shallot and garlic. Add to dutch oven and saute until starting to brown. Scrape sides of dish to remove fond.

Add chicken pieces and bacon back into pot and pour wine and chicken broth over top. Add a cube of chicken bouillon and a bay leaf.

Simmer on stove top for one hour or bake in oven. Taste and add salt and pepper if needed.

Peel pearl onions and add to pot. Return to oven or stove top and simmer another hour.

Mix together flour and butter into a paste. Drop spoonfuls into stew and stir. Simmer or bake for 30 more minutes until thickened.

Serve with mashed potatoes and green vegetables. Garnish with fresh chopped parsley.
Print Recipe
Here are more chicken dinners to try
Sweet Chili Thai Chicken Thighs