We're going old school using charcoal and making Smoked Pork Back Ribs in a Weber Smoker. This will definitely be a learning curve. Luckily our friend Gar is coming to help. He's a smoker expert. A pit master if you will. The process takes 6 hours, 3 with a dry rub, 2 wrapped in foil, 1 finished with barbecue sauce. As easy as 1, 2, 3? We will see!
I bought a smoker for Mr. H for Christmas but I secretly wanted it for myself. It's a Weber. Not the fancy kind that uses pellets and has temperature controls. The good old fashioned kind that uses charcoal.
I bought pork back ribs and I'm using my custom dry rub recipe. I keep a container of it in my spice cupboard with the recipe taped to the top so I can add to it as needed. Feel free to use a store bought rub but it's fun to experiment with different ingredients and customize it to your liking.
Jump to Recipe
Before adding the rub, peel off the membrane that covers the back of the ribs. If you use the tip of a knife to get under it at the narrow end of the rib, you can peel it off easily. This is a debatable step. I do it because it can make the ribs a bit tough to cut apart. However when you're cooking them this long, it's not a big deal if you don't. You decide.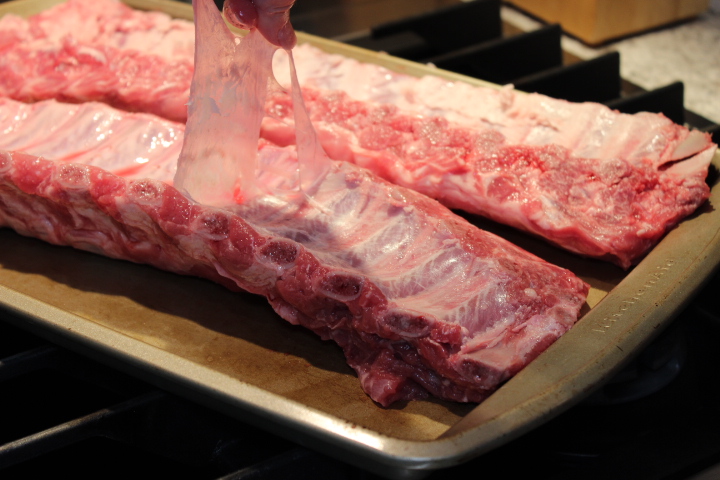 Add about a teaspoon of dry rub to each side of the rib so for 2 full racks I used about 4 teaspoons. Sprinkle it all over and rub it in with your hands. Yes, on both sides. My rub doesn't contain sugar because barbecue sauce is sweet enough if you ask me. If you like lots of heat you can modify the amount of cayenne pepper to suit your taste. This is fairly mild.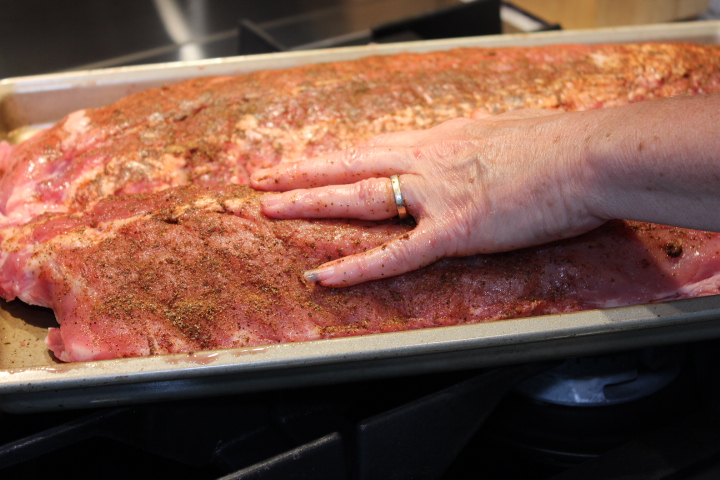 Yes, I wash my hands well after this step, including my ring.
Now get the smoker going. This guy looks like R2-D2.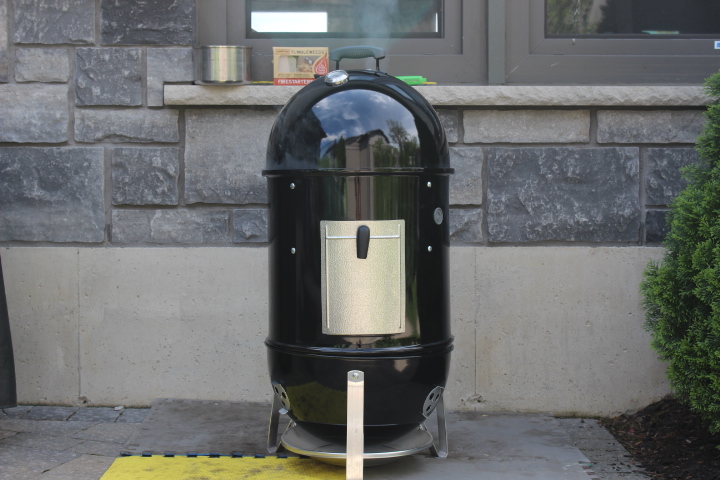 The Weber Smoker has a temperature gauge so once it reaches the ideal temperature, the ribs go in and it stays within the range easily by just adding a bit of charcoal a few times. You don't want to take the top lid off if possible because it lets out a lot of heat. The side door easily allows you to add charcoal. We soaked some hickory chips and added them to the coals to make the smoke. Gar suggested we put them in a foil pan on top of the coals.
Add them periodically when you're checking the coals. Otherwise, just keep an eye on the temperature.
Meet Gar.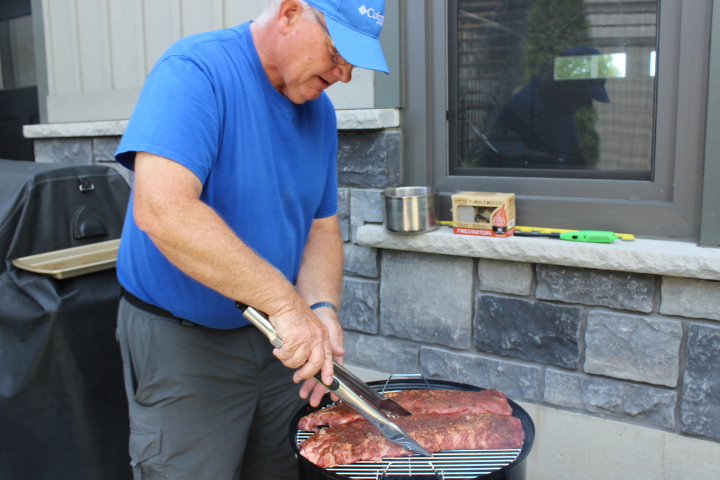 Once they're smoked on a low temperature for 3 hours, wrap them in foil and return to the smoker for 2 hours.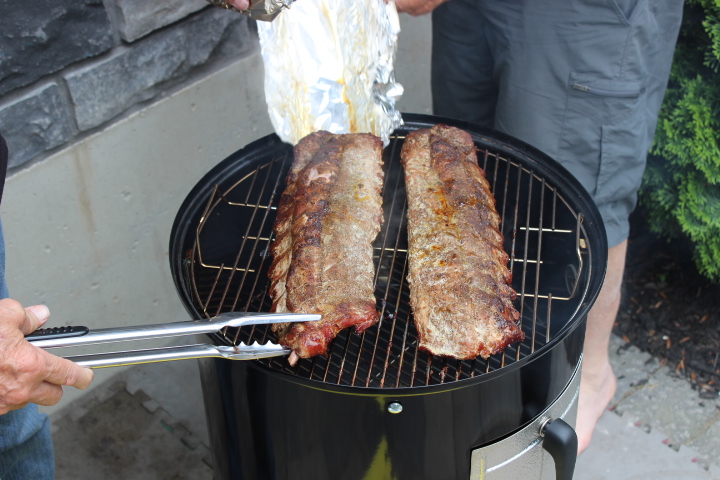 Then unwrap, slather or lightly brush with barbecue  sauce. Your choice, saucy or not too saucy. We like not too saucy. I used a store bought sauce. There are so many great barbecue sauces out there and this was all about learning how to use the smoker, not making a mess in the kitchen.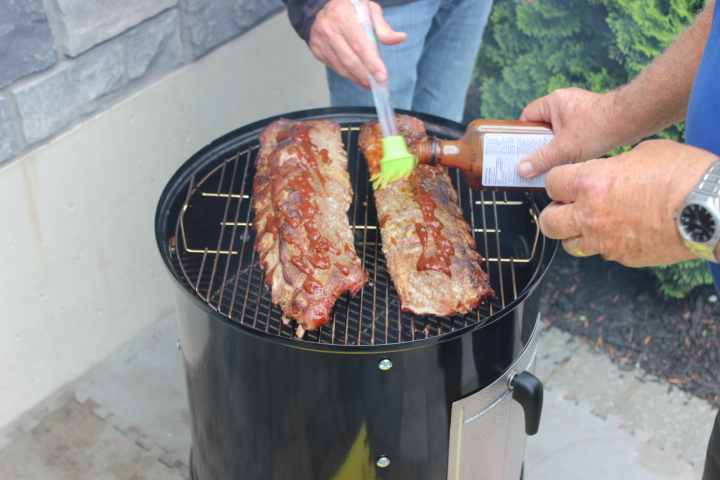 The important thing is to keep the temperature in the zone during the entire cooking time. Between 200 and 275 is indicated on our smoker. It was surprisingly easy to keep the temperature steady.  I was worried it would involve constant adjusting of vents and charcoal but it didn't.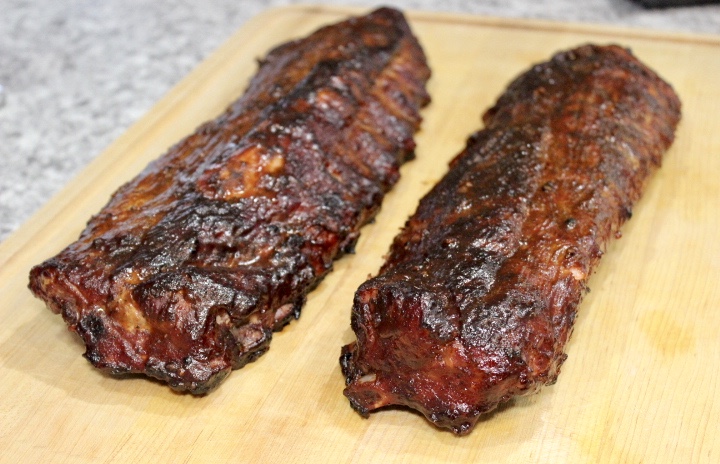 These were totally worth the 6 hours of prep.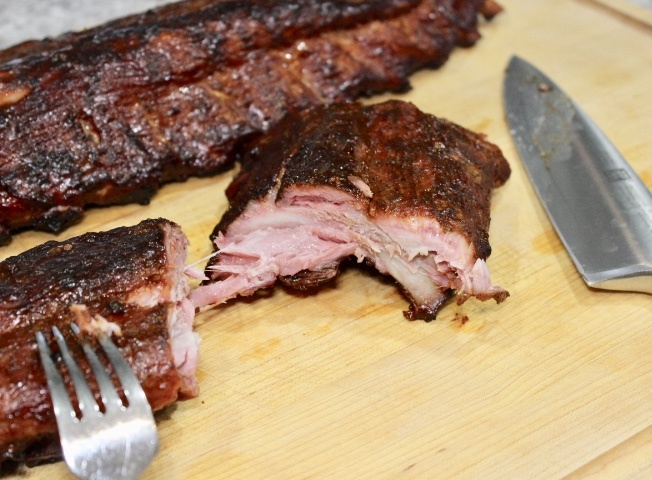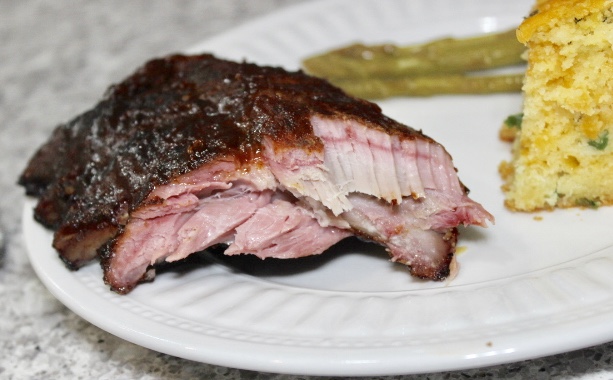 You can see that the meat is pink and there's a distinct line called the smoke ring.
Yup, that's Jalapeño Cheddar Cornbread on the plate.
If you decide to make your own dry rub, here's my recipe:
Dry Rub for Ribs
A mixture of spices to rub on ribs or other meat before barbecuing
Ingredients
½

tsp

cayenne pepper

½

tsp

white pepper

1

tsp

onion powder

1

tsp

garlic powder

1

tsp

dry mustard

1

tsp

salt

2

tsp

smoked paprika

or regular if you're using a smoker

2

tsp

celery seed

4

tsp

chili powder
Optional
1

Tbsp

brown sugar

for a sweeter dry rub or if not using BBQ sauce
Instructions
Mix all ingredients together and store in an airtight container. Can be stored for ages.

Makes ¼ cup of dry rub, enough for about 6 racks of ribs.

Add brown sugar if you are not adding BBQ sauce to the meat or if you prefer a sweeter dry rub.
Print Recipe
make it a meal