Meatless Monday doesn't have to be tasteless Monday. This ooey gooey Roasted Vegetable Lasagna is so packed full of healthy vegetables, you won't even miss the meat. The secret is to roast the vegetables first which intensifies the flavours and reduces any liquid so you don't end up with a watery bottom.
I've never had much luck with no cook noodles so I don't use them. But, if you happen to have a pasta maker, you can make wide sheets of fresh pasta and use them uncooked as long as your sauce has a little extra liquid. I find that if I let the lasagna rest at least an hour before cooking, the fresh pasta comes out perfectly! You can roll the sheets fairly thin and use 2 layers with a bit of plain sauce between them at the top and bottom. Otherwise use regular store bought lasagna noodles and use only one layer between every component.
Jump to Recipe
What are the best vegetables for Roasted Vegetable Lasagna?
Use any veggies you like, based on what you have on hand and what's in season. I like to use any combination of onions, mushrooms, sweet peppers, eggplant, summer squash and of course tomatoes. You can use chopped tomatoes or halved cherry tomatoes or both. The smaller tomatoes typically have the best flavour, especially when roasted but when tomatoes are in season, any kind will work. And toss in some peeled cloves of garlic too. You need about 8 cups of chopped vegetables or about a full baking sheet for a full sized lasagna. It seems like a lot but the veggies reduce quite a bit so you'll end up with about half the amount.
Drizzle lots of olive oil over top, season with salt and pepper and roast for about 45 minutes. I add some dried herbs after 15 or 20 minutes, just so they don't burn. Basil and oregano are the best for Italian recipes. Scrape the roasted veggies, including any juices into a bowl and stir in some pasta sauce. Any sauce works but Marinara is my favourite for Roasted Vegetable Lasagna.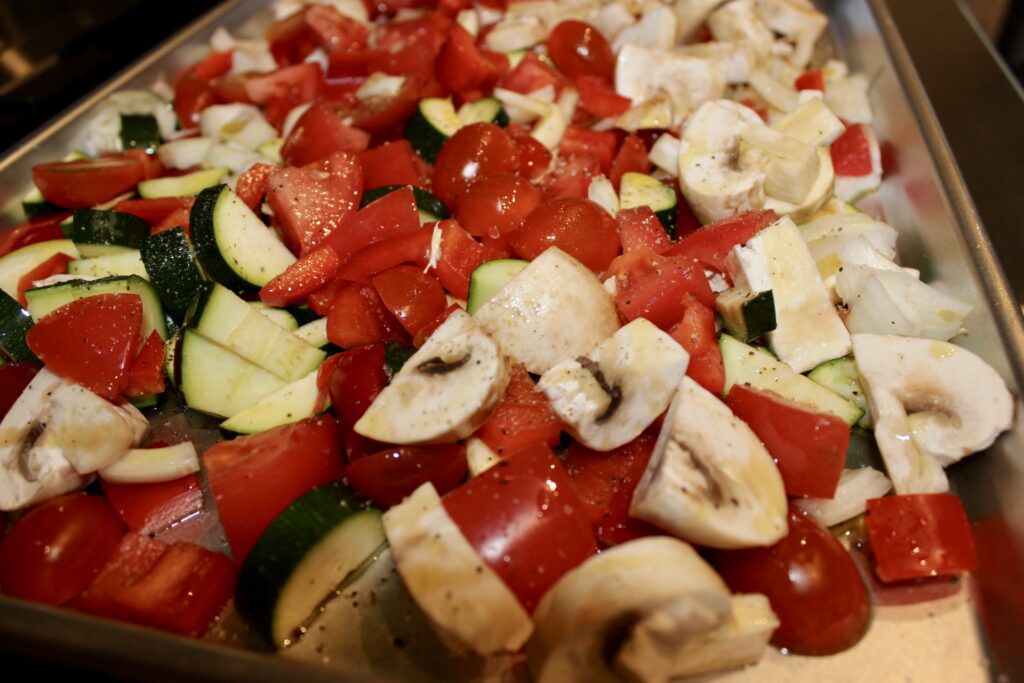 If you have any fresh herbs on hand you can add them to the veggie mixture once they're roasted. I love the flavour of fresh basil in Italian dishes.
In another bowl combine cottage cheese and an egg. You can use ricotta instead of cottage cheese if you like. The egg helps to bind the layer and also gives it a more fluffy texture so it's not too heavy. Then grate your mozzarella and add half to the cottage cheese mixture, saving the rest for the top. Please don't use low fat cheese. Ever. It doesn't melt properly and the top of your lasagna ends up looking like melted plastic.
Bring a large pot of water to a boil and add a bit of salt. Lay a kitchen towel on the counter and cook 6 noodles at a time until al dente. By not crowding them you can ensure they all cook evenly and can remove them quickly before they overcook and start tearing. Cook the next batch while you're assembling the first few layers.
Spoon a very thin layer of sauce in the bottom of a pan that has the dimensions to hold 3 lasagna noodles by length and width.
Place 3 noodles side by side in the first layer. Spoon half of the vegetable mixture evenly over the noodles. Cover with 3 more noodles. Spread the entire contents of the cheese and egg mixture over top. Cover with a layer of spinach if you like. This will help sneak some extra veggies into the lasagna. They reduce so much they almost disappear.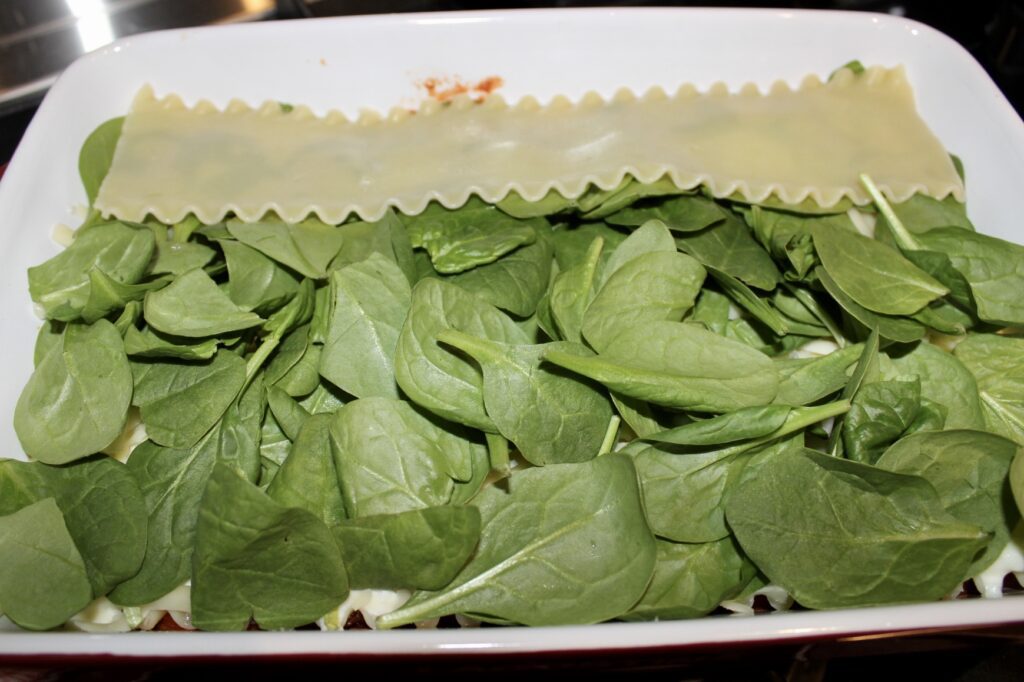 Lay a third layer of noodles and spread the remaining vegetable mixture evenly over top. Top with the last 3 noodles and spread about a cup of sauce over top. Cover with the rest of the shredded mozzarella.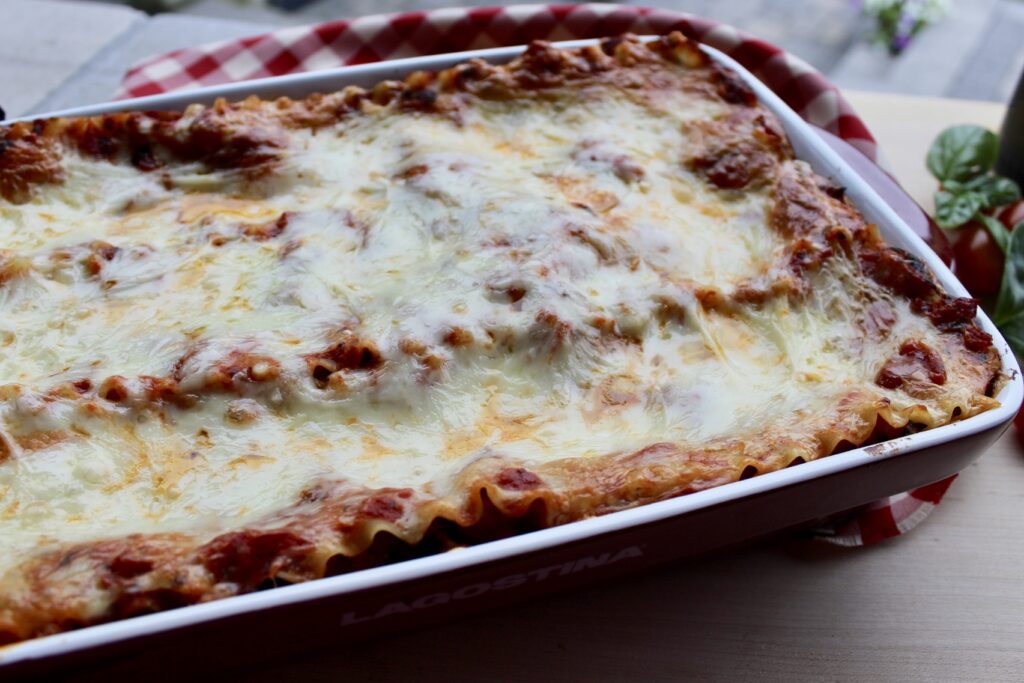 Generously rub or spray a sheet of foil with oil. This is important because otherwise when you remove the foil the cheese will stick to the foil and peel off. Cover the lasagna lightly and bake in the centre of the oven for 30 minutes. Try to make a tent shape with the foil to help it not stick to the top of the lasagna. Remove the foil and bake 30 more minutes until the top is brown and bubbling. Let it rest at least 15 minutes before serving so the pieces stay together.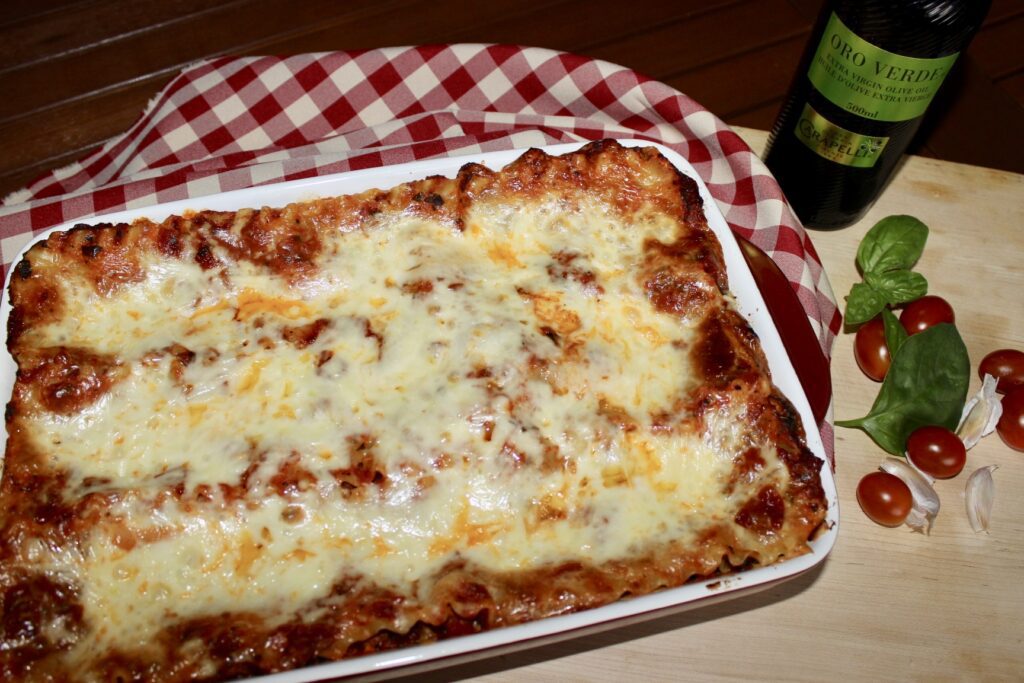 Here's the recipe:
Roasted Vegetable Lasagna
A rich and delicious lasagna without meat but bursting with flavour
Ingredients
12

lasagna noodles

650

ml

jarred pasta sauce

or about 2½ cups

2

cups

cottage cheese

450-500 gram container

1

large egg

8

cups

chopped vegetables such as tomatoes, eggplants, summer squash, sweet peppers, onions, mushrooms, shallots, garlic cloves, etc.

¼

cup

extra virgin olive oil

salt and pepper

1

tsp

dried oregano

1

tsp

dried basil

1

handful fresh chopped basil

4

cups

loosely packed spinach

chop if not using baby spinach

3

cups

shredded mozzarella cheese
Instructions
Chop vegetables into bite sized pieces. Toss in olive oil and season well with salt and pepper. Scatter on large baking sheet and roast at 350 degrees for 20 minutes.

Add dried herbs, stir and continue to roast another 20-25 minutes until vegetables are soft, reduced and beginning to caramelize.

Scrape vegetable mixture into a large bowl, including any liquid and dark bits. Add 1 cup of pasta sauce. Chop fresh basil and stir into roasted vegetable combination.

While vegetables are roasting, bring a large pot of salted water to a boil. Cook lasagna noodles in batches of 6 until al dente. Drain on clean kitchen towel.

Stir 1 egg into container of cottage cheese. Add half of the shredded mozzarella.

To assemble, spread a thin layer, approximately ½ cup of sauce in the bottom of a rectangular baking dish. Lay 3 cooked lasagna noodles side by side, then cover with half of the vegetable mixture.

Add 3 more noodles and top with the cottage cheese mixture. Lay fresh spinach evenly over top if desired.

Add 3 more noodles and spread remaining vegetable mixture over top. Top with last 3 noodles. Spread remaining pasta sauce over top evenly.

Top with remaining shredded mozzarella cheese.

Spray or wipe a sheet of foil with oil to prevent the cheese from sticking. Loosely cover lasagna with foil oil side down and bake in the centre of preheated oven at 350 degrees for 30 minutes. Remove foil and cook 30 more minutes or until the top is browning and bubbling.

Let rest at least 15 minutes before cutting.
Print Recipe
more yummy pasta dishes
Baked Pasta with Sausage and Peppers