You won't believe what gives Spaghetti Carbonara that creamy sauce. It's not cream. There are just a few quality ingredients in this popular Italian dish that, when combined properly, magically turn into the most delicious creamy pasta dish you've ever tasted.
The fat from the pancetta combines with the starchy pasta water, egg and parmesan cheese to create a creamy sauce. Like I said, good quality ingredients are the key to success here. Fresh eggs and real parmesan cheese are mandatory. No exceptions. That dry grainy parmesan ish stuff won't cut it.
Jump to Recipe
I attempted to make this years ago and I was really worried about making sure the egg was cooked. So I added the egg to the hot pan and cooked it and cooked it, resulting in a nice scrambled egg and bacon pasta. Now, I do love breakfast for dinner but it wasn't what I had in mind. And it certainly wasn't the creamy Spaghetti Carbonara I was expecting.
How to make Spaghetti Carbonara
With a bit of practice I've mastered the technique which is really simple actually. You just have to trust that the egg won't be raw. But you HAVE to remove the pan from the heat before you add it. The residual heat will cook the egg . And since you're adding boiling hot pasta water to the pan, that's all the heat you need to safely cook the sauce.
You can see the steam coming off the pan so you know there's enough heat here.
It's a good idea to take your eggs out of the fridge first. Eggs mix up better when at room temperature, although to be on the safe side don't leave them out for longer than an hour. They don't actually refrigerate eggs in Europe but there's a whole lot of science around the difference between the way they're raised and processed here in comparison to overseas so let's not test that theory. You can learn lots about egg farming in Ontario by visiting Get Cracking.
In the time it takes to cook the pasta to a perfect al dente doneness, you'll have everything prepped and ready to toss together. The amount of pasta in this recipe is slightly more than the recommended serving size indicated on most packages. But let's be honest, this Spaghetti Carbonara is so good you'll eat more than you should.
You may want to go easy on the salt in your pasta cooking water. Usually you would salt your water liberally when you're cooking pasta but in this case, the pancetta and parmesan are already quite salty so don't over do it. Follow the directions on your package to cook the spaghetti to al dente.
While the pasta is cooking, crack your eggs into a bowl and whisk them well. Then grate the parmesan cheese and add it to the egg. Chop up a big handful of fresh parsley, then peel a big garlic clove and give it a smash with the side of a knife. You're going to add the garlic to the fat while the pancetta is cooking but keep it in one piece so you can remove it before it starts burning. I like to do this instead of adding chopped garlic because it can burn easily and will taste bitter.
You can buy pancetta already diced or in slices at the deli counter. Pancetta shrinks as it cooks just like bacon. You want fairly small pieces though so you get some in every bite! Add them to a large cold skillet, then turn the heat to medium and let the fat render out of the meat. Some pancetta is saltier than others so make sure to taste the sauce before serving in case it needs more salt.
What's the difference between bacon and pancetta?
If you're dying to try Spaghetti Carbonara right away and don't have any pancetta, you can substitute bacon. Both pancetta and bacon are made from pork belly but bacon is smoked and pancetta is not. And bacon comes in strips and pancetta is cured in a roll but you're chopping it up anyway so who cares? If you use thick cut bacon it's a really good substitution for pancetta in Spaghetti Carbonara.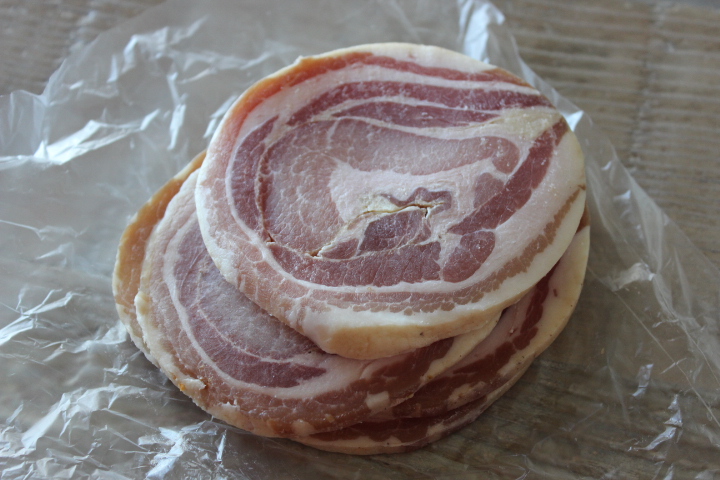 Cook the pancetta until it's browning well but not too much. Make sure to remove the clove of garlic when it starts to brown.
When the spaghetti is al dente, use tongs to add it to the pan. Don't drain the pasta. You need the starchy cooking water for the sauce. Mix the spaghetti around well in the pan to ensure it's well coated with the fat from the pancetta. Now remove the pan from the heat. Don't just turn off the burner, move the pan off the stovetop. This is the most important step.
Pour the egg mixture into the pan and stir it well. Add about a ladle of the cooking water and stir. You will see the creamy sauce start to develop. Add another ladle or so and stir. You'll see a beautiful creamy sauce developing. This isn't a saucy pasta dish, you just want enough to coat the spaghetti well without being soupy. You might need another ladle or 2 of pasta water. It will thicken slightly as it cools. And taste at this point to see if you need to add some salt.
Add most of the chopped parsley and toss well.
Fresh cracked black pepper and a bit more fresh parsley and Parmesan are all you need to finish this simple but spectacular Spaghetti Carbonara.
Mangia!
Here's the recipe:
Spaghetti Carbonara
Rich and creamy pasta dish with pancetta, eggs and fresh parmesan cheese
Ingredients
2

thick slices of pancetta or 1 package chopped pancetta

or thick sliced bacon

1

clove garlic, peeled and smashed

3

large fresh eggs

1

cup

freshly grated real Parmesan cheese

plus more for garnish

400

g

spaghetti

reserve cooking water

fresh chopped parsley

fresh cracked black pepper
Instructions
Bring large pot of water to a boil with a little salt. Cook pasta according to package directions for al dente.

Meanwhile, crack eggs into bowl. Whisk well, add freshly grated Parmesan cheese.

Chop parsley. Peel and smash garlic clove.

Dice pancetta into small cubes. Add to large cold skillet. Turn heat to medium and cook until starting to brown. Add garlic to pan while cooking to flavour the oil, then remove when starting to brown.

When spaghetti is al dente, add to skillet with tongs. Do not drain water. Stir and toss well to coat pasta with fat from pancetta.

Turn heat off and remove pan from stove top. Pour egg mixture in and toss well. Add a ladle of pasta water. Toss. Add another ladle and toss again. Check to see if creamy sauce is developing. Add a little more pasta water if necessary until a creamy sauce is coating the pasta well.

Add most of chopped parsley, reserving some for garnish. Toss well and serve immediately while still warm.

Top with more fresh parsley, parmesan and cracked black pepper if desired for garnish.
Print Recipe
If you've tried this recipe, consider leaving a comment or a rating. Or, you can share the post by clicking on the icons below.
Want more pasta recipes?
Baked Pasta with Sausage and Peppers