I have not a single German cell in my body, however I do love German Potato Salad. I'm not quite sure if this recipe is an authentic version but at the very least it's good. Really good. Warm golden potatoes with loads of bacon, what's not to love?
I've always made German Potato Salad with fingerling potatoes. I like their size, shape and yellow flesh. Also, their skin tends to be fairly thin so you don't have to peel them. You could make this with red skinned potatoes too which would add a bit of colour, but I prefer the fingerlings in that they're soft and they have almost a buttery flavour. And yes, they're called fingerlings because they look like fingers. Chubby fingers.
Jump to Recipe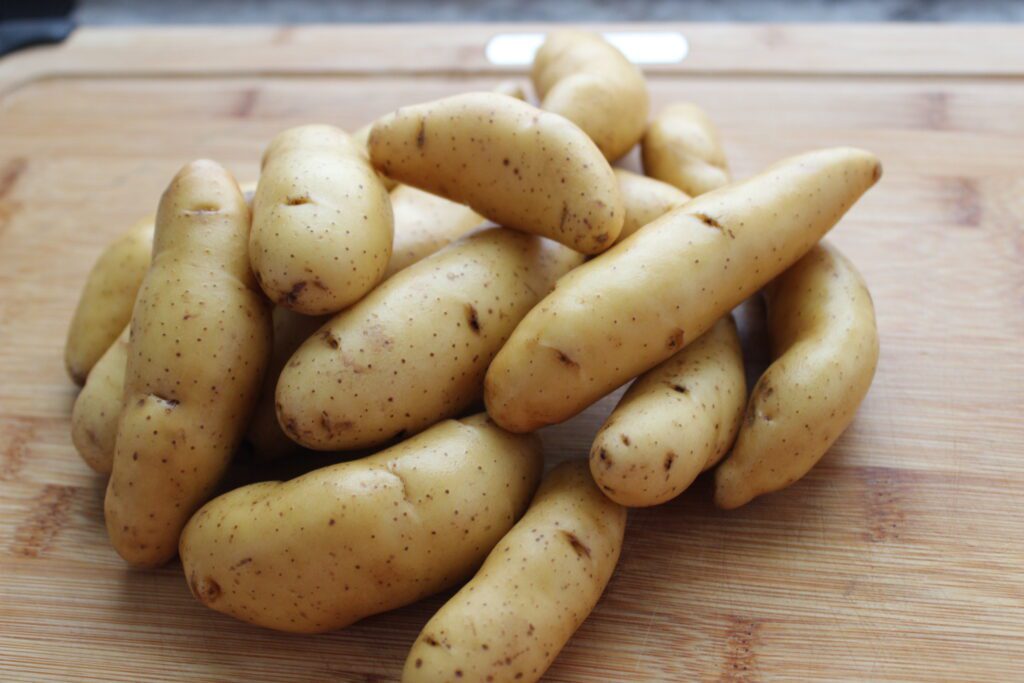 What makes German Potato Salad so great? Probably the bacon. This isn't just some cooked potatoes tossed with bacon though. The dressing is made from the bacon as well as the grease left behind after frying some cut up pieces and diced onion. Then vinegar is splashed in, along with a bit of sugar and celery seed. Pour that over top of the par boiled potatoes and now you're talking flavour. It sounds like a lot of vinegar but it needs that zesty kick to balance with the bacon fat.
Do you cook German Potato Salad?
But you're not done yet. Now you roast the potato mixture so the potatoes drink up all that flavour and get browned and delicious. Fresh herbs are tossed in at the very end for a fresh green element. Parsley and dill are perfect companions to potatoes so they're the obvious choice in German Potato Salad.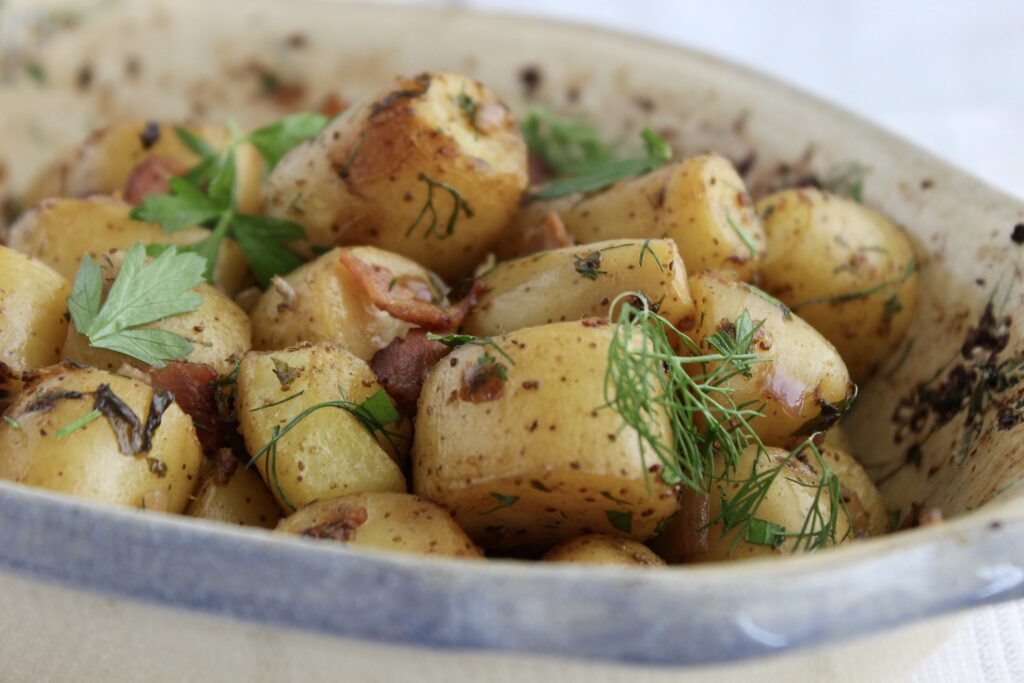 What's even better about this recipe is you can make it in advance and roast right before serving. It even lasts for a few days after cooking so you've got leftovers that are just as good as the day before. Heading to a pot luck or picnic? German Potato Salad is pretty popular and a safe choice if it's going to be sitting around for a while. I don't mean to say you can leave it on the counter over night and have some for breakfast, like cold pizza, but if you've got a large spread and lots of people grazing for a while, it's ok to sit out for a few hours. The taste is still pretty good at room temperature too.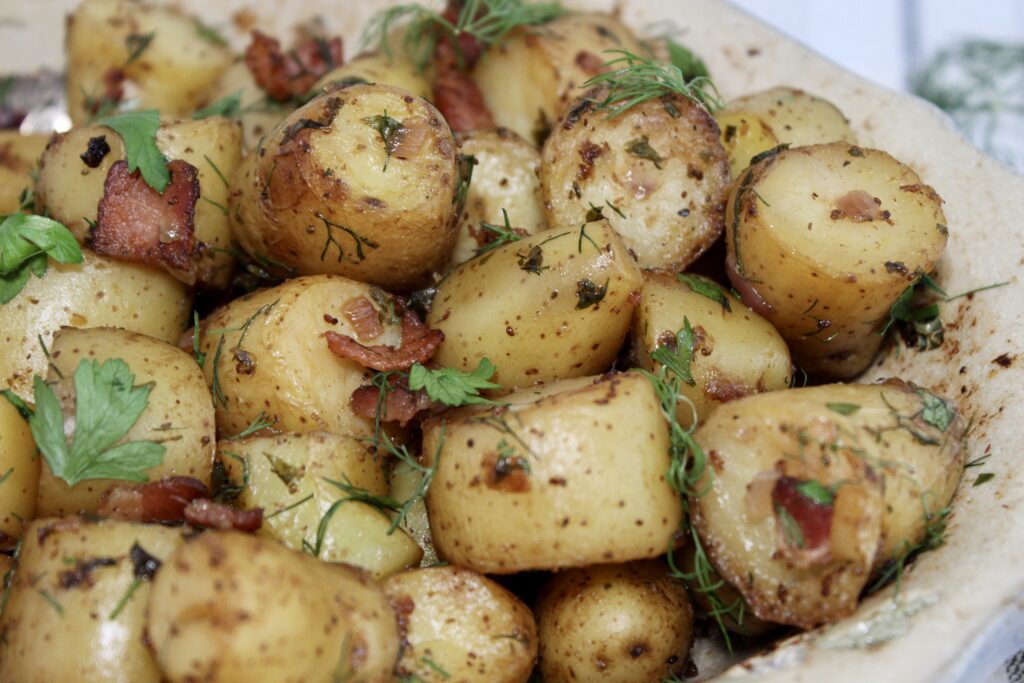 Mr. H says he thinks this should have twice as much bacon. I explained that it would then be a bacon salad and not German Potato Salad. Can't blame a guy for trying!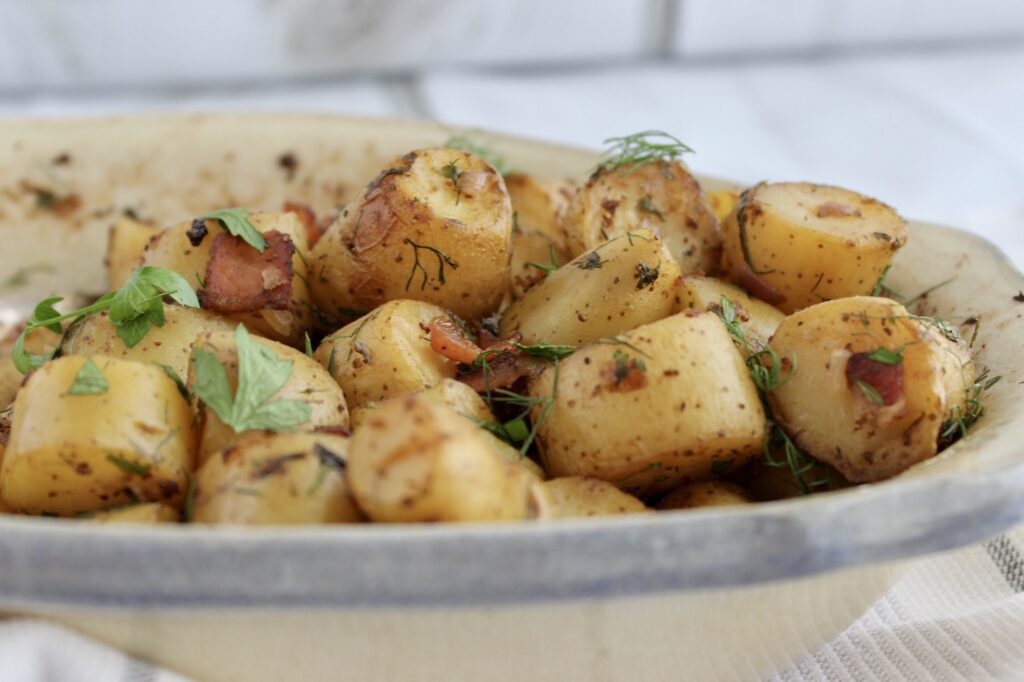 Here's the recipe:
German Potato Salad
Warm potato salad with bacon, onion, vinegar and celery seed
Ingredients
2

lb

Fingerling Potatoes

1

tsp

salt

½

onion

4

strips

bacon

2

tsp

celery seed

½

cup

white vinegar

1

tsp

sugar

1

handful

fresh chopped parsley and dill

about ¼ cup each
Instructions
Scrub potatoes and remove any dark spots. Cut into bite sized chunks.

Boil in salted water until almost cooked through, about 10 minutes. Drain and allow to dry in warm pot.

Finely dice onion. Slice bacon into thin strips. Fry bacon in skillet until sizzling and browning. Add onion when bacon is about half cooked.

When onion is golden and bacon is crispy, reduce heat and add vinegar, celery seed and sugar to pan. Dump potatoes into pan and stir to combine all ingredients. Taste and season if necessary with salt and pepper.

Pour into oven safe baking dish and roast at 350° for about 30 minutes until potatoes are browning.

Chop parsley and dill. Add to potatoes after roasting and stir to combine just before serving.
Print Recipe
If you've tried this recipe, consider leaving a comment or a rating. You can share the post on social media by clicking on the icons below.
more hearty salads
Pasta Salad with Asparagus, Bacon and Feta