This should be called "The Easiest Fudge Ever Made in the History of the World" because there are only 3 ingredients. Also, there's no cooking involved unless you count melting as cooking. It takes longer to wait for Chocolate Peanut Butter Fudge to set than it actually takes to make them.
I learned this recipe when I was 7 years old, so I've been making it for 22 years now. Wink. I know, it's not REAL fudge but Chocolate Peanut Butter Fudge is so easy and good, who cares? Not me! That's why this recipe is sometimes referred to as Never Fair Fudge.
Jump to Recipe
You start by gently melting chocolate chips. If you're too aggressive with the heat, the chocolate will "bloom" which means turn a whitish colour. It doesn't affect the way it tastes but it doesn't look great. That's why a double boiler or very very low heat works best. You can also melt the chocolate in a microwave, just make sure to use short bursts of a lower power setting.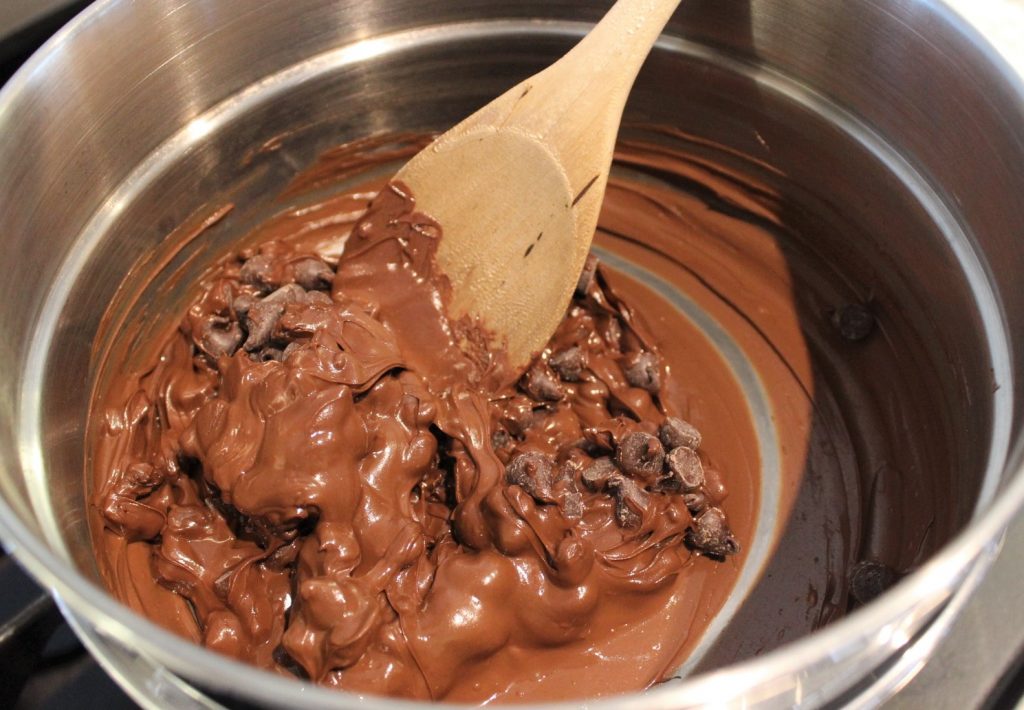 Chocolate chip package sizes are sneaky. Normally they are priced the same but the better quality chocolate will be in slightly smaller packages while the cheaper chocolate will be larger. US sizes differ from Canadian sizes too so look for 12 oz or 340 grams. You need about 2 cups. Once the chocolate is melted, stir in the peanut butter. Smooth works the best.
If you don't already know this, the easiest way to measure ingredients like butter, shortening, peanut butter etc (those that are fat based so non water soluble) is to add them to cold water and use water displacement as your measurement tool. So, if you need ½ cup of peanut butter, fill a clear measuring cup with 1 cup of cold water, then immerse peanut butter by the spoonful until the water level comes up to 1 ½ cups. You have to get eye level with the measuring cup to be accurate. See? We did learn something in science class!
The secret ingredient? Marshmallows.
Marshmallows magically turn this mixture into a fudge like texture. Use the white mini marshmallows, not the coloured type, they have a funky flavour.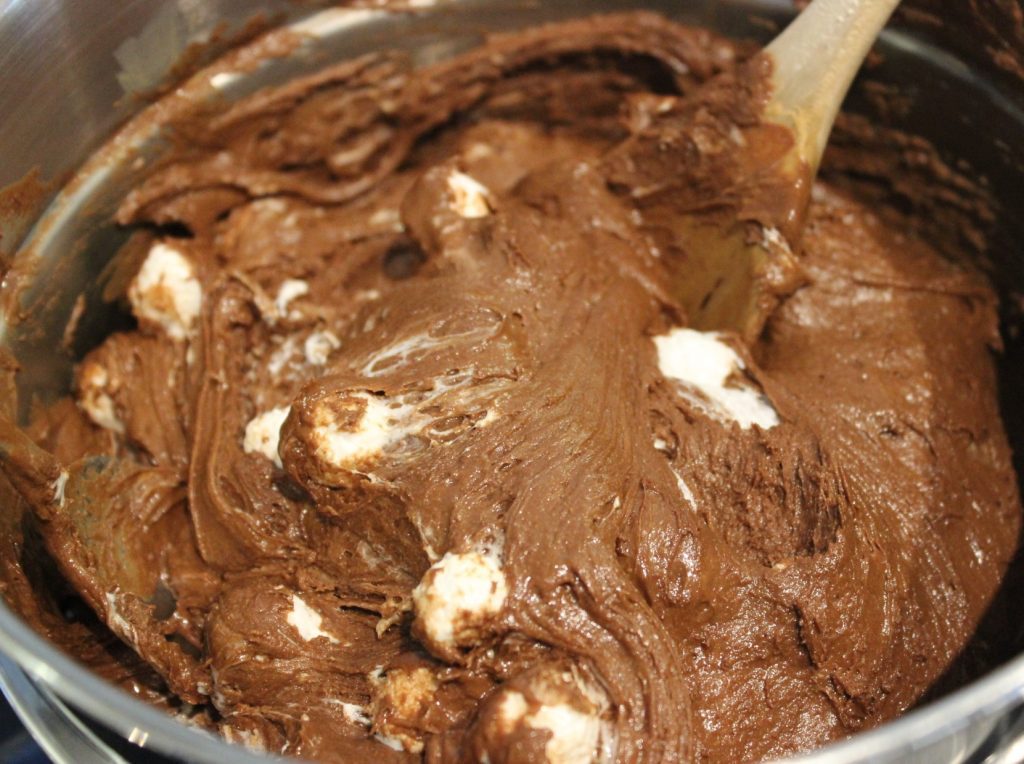 The mixture will get thicker and thicker as the marshmallows melt. It gets pretty hard to stir at the end. But the upside is, it doesn't stick to the pot. Once there are no white streaks left, press the fudge into a square baking dish lined with parchment paper.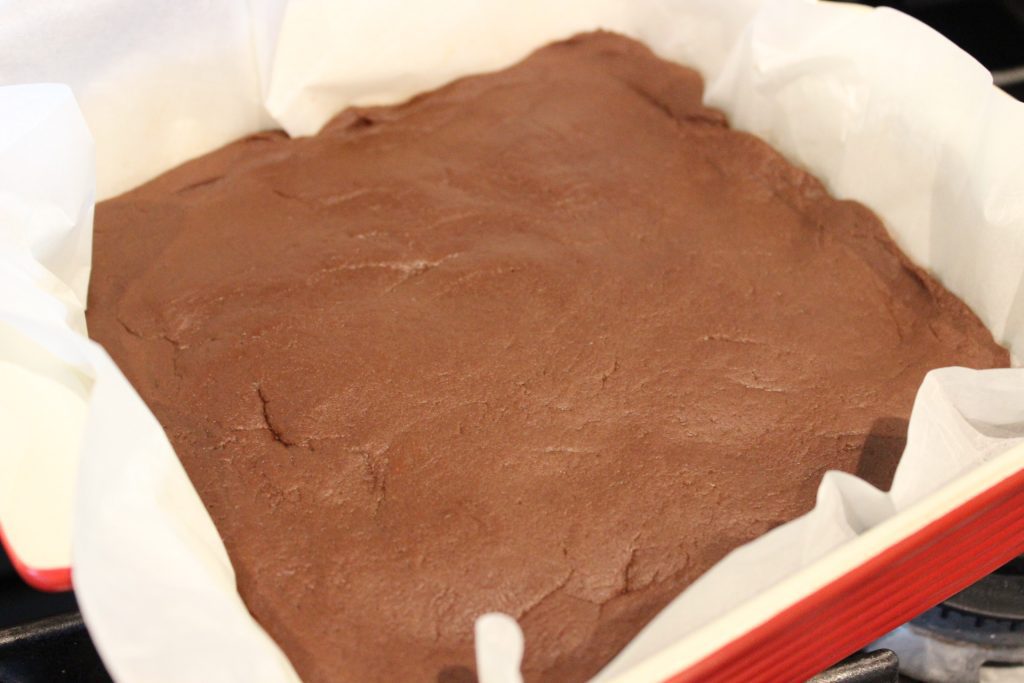 Allow your Chocolate Peanut Butter Fudge set at room temperature. You can refrigerate to cool it faster, however, remember how chocolate blooms at higher heat? It also blooms at cold temperatures. That's why it's important to be patient.
Lining the pan with parchment paper lets you lift the fudge out so you can easily cut it into squares. Or, if you're making these for your Valentine, cut them into heart shapes. They make a great gift and are sure to score you some extra points!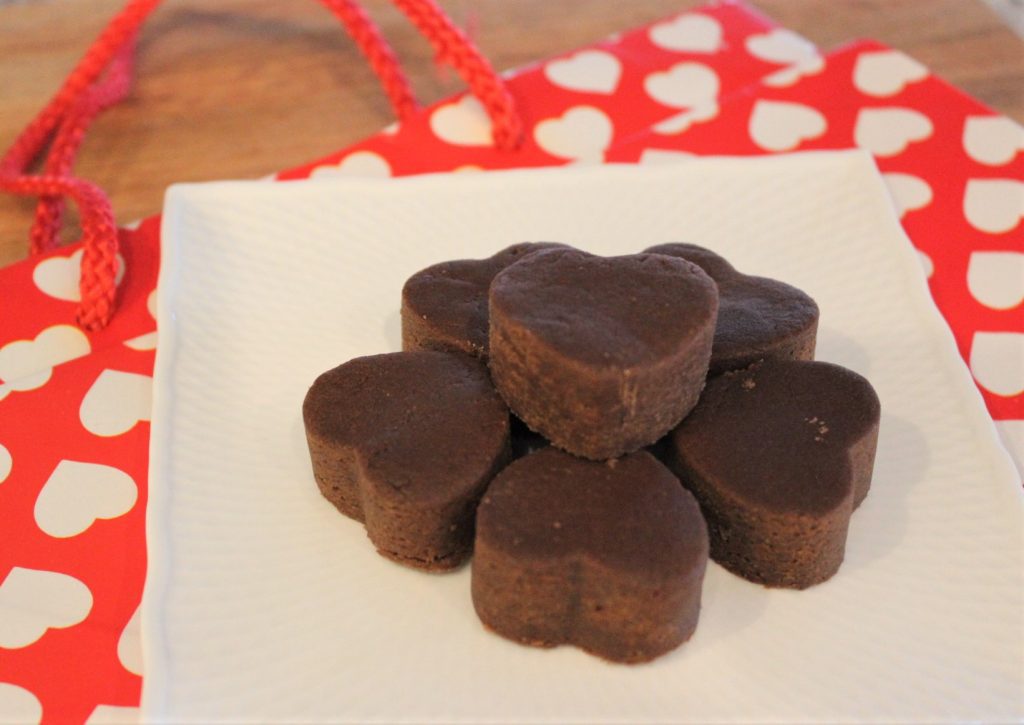 Otherwise, cut them into squares. The marshmallows in this recipe for Chocolate Peanut Butter Fudge give them that authentic texture. Without the lengthy cooking time and temperature monitoring.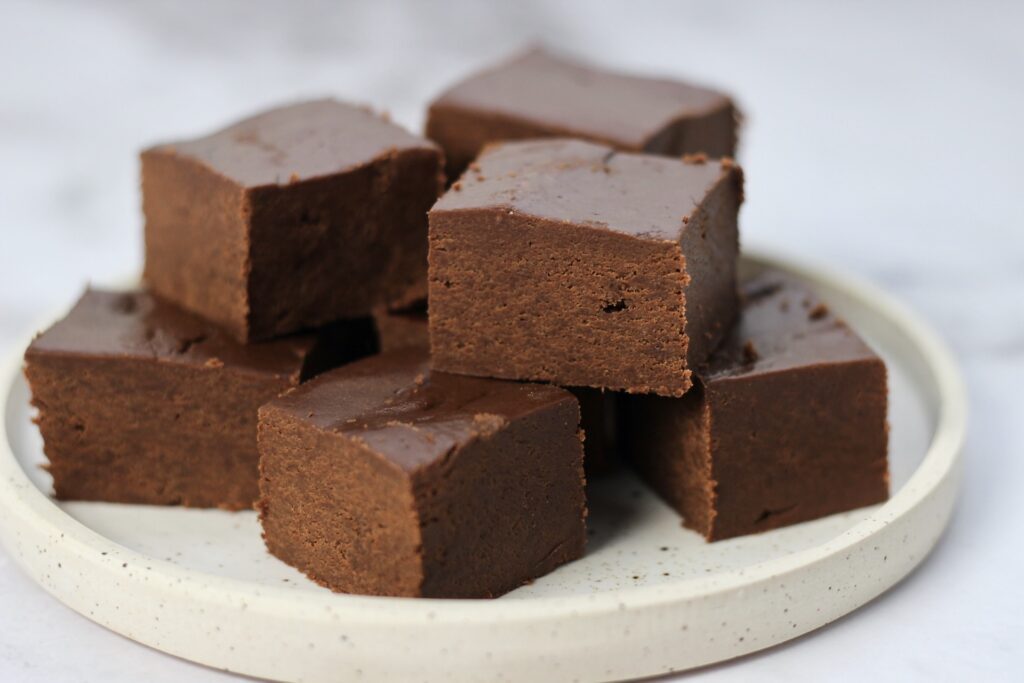 You're welcome.
Here's the recipe:
Chocolate Peanut Butter Fudge
The easiest fudge you'll ever make with only 3 ingredients!
Ingredients
2

cups

semi sweet chocolate chips

340 gram package or 12 oz

1

cup

peanut butter

smooth is best

4

cups

miniature white marshmallows
Instructions
Melt chocolate gently over a double boiler or on very low heat, stirring frequently.

Add marshmallows and stir until melted and no white streaks are left.

Press mixture into a square 8 or 9 inch baking dish lined with parchment paper. Allow to rest at room temperature for about an hour until set.

Remove fudge easily from dish by lifting out parchment paper. Cut into squares or heart shapes.
Print Recipe
more ideas for fellow chocolaholics
Double Chocolate Zucchini Muffins