If you love your traditional Sunday dinners like I do, you know how important it is to make perfect Yorkshire Pudding when you're having roast beef. Especially when you're having company and serving the ultimate roast beef….prime rib. And any excuse to eat more gravy is ok with me. I mean, that's the whole point of yorkies, isn't it?
I couldn't tell you how many times I've made these or how many different ways. Until recently I've used my mom's recipe that I think came from the Robin Hood Flour Cookbook. Many people over the years have offered me tips and tricks for best results but I was never really thrilled with how they turned out. I tried making them in one pan which is, I think, the traditional or original way of making them. Likely why they are called puddings.
Yorkshire Puddings or Popovers?
Then I discovered I was having more success with a recipe that used more eggs. Someone said oh, those are popovers. So I figured I was cheating but who cares? They were puffing up and looked beautiful! But then I started doing some research and if you read everything you can find on making the perfect Yorkshire Pudding and the difference between them and a popover, you'll find, like I did, that there's no agreement. On anything. Some say there's a difference, some don't. Some say it's the pan, some say it's the use of butter instead of drippings and others say it's American vs. English. So, I make Yorkshire Pudding. In a muffin tin. Because that's how my mom made them and that's what we call them in our house.
Jump to Recipe
People who claim to make perfect Yorkshire Pudding say you have to let the batter rest and some others say you don't. Some say the batter has to be room temperature, some say it has to be cold. I was so confused. But……I found a great resource that explained everything using a bit of science and, best of all, several trials testing all the theories with results and pictures! A little too much information? Maybe. But, for someone like me it helped explain a few things. A lot of things actually.
Here's a link to the site:
https://www.seriouseats.com/2015/12/food-lab-yorkshire-pudding-popover-best-method-science.html
So, I tested my new and improved Yorkshire Pudding knowledge and I made the best dam Yorkies I've ever seen!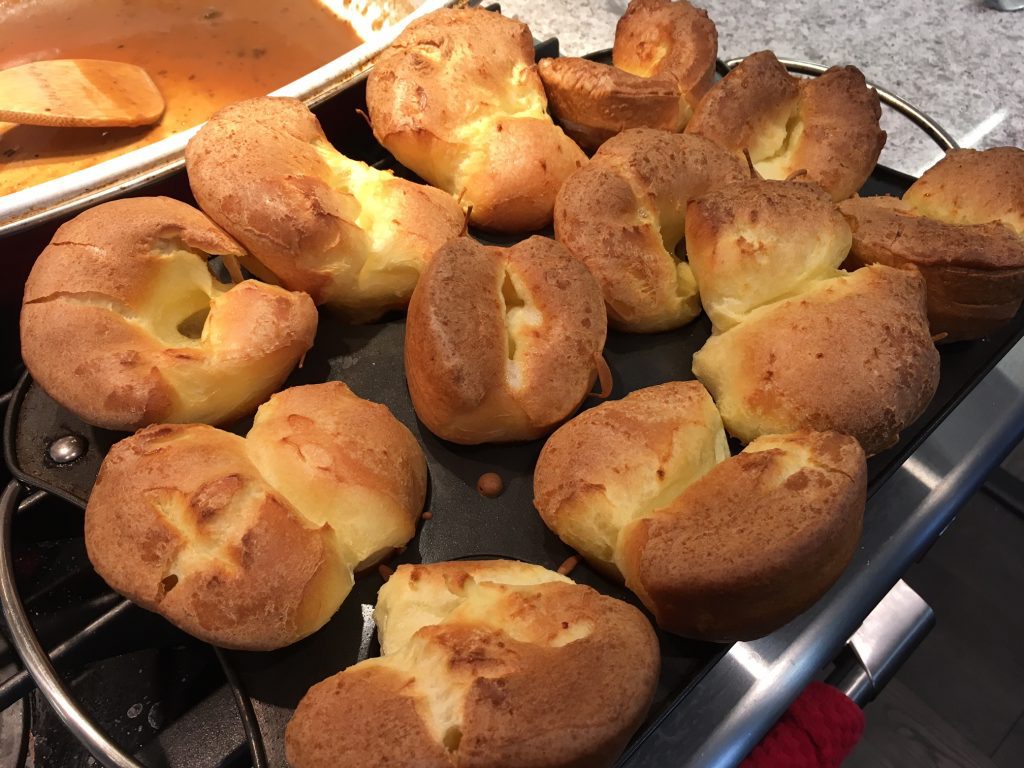 In a nutshell, these are the things that have worked consistently for me:
1. Make the batter in advance and put it in the fridge.
2. Take the batter out of the fridge about 30 minutes before cooking and give it a quick whisk before pouring into the pan.
3. Heat the pan and the oil before pouring in the batter.
4. Cook in a really hot oven on the middle rack and don't reduce the temperature.
5. Crack your eggs into a measuring cup and add an equal amount of milk, diluting a little bit with water.
Eggs come in sizes but they're never exactly the same. Usually a large egg is a little bit less than 1/4 cup. My four eggs measured just over 3/4 cup and I added a tiny bit more than 3/4 cup 2% milk and a few teaspoons of water. The website calls for 1 Tbsp + 2 tsp of water but I was using 2% milk instead of whole milk so I didn't need to thin it with as much water. I used the same dry measurements as the website so 1 cup flour plus 2 teaspoons and a pinch of salt. These measurements make a 12 muffin pan. Perfect for 2 people! Ok, 4-6 but I love these the next day reheated and filled with leftover meat and gravy. These reheat in a warm oven in about 10 minutes and are just as good the next day.
If you don't have meat drippings or you're saving them for gravy you can use a small lump of shortening or lard in each muffin cup. They puff up beautifully, and, unlike my previous attempts they don't deflate because I had been reducing the temperature. Keeping the oven at 450 degrees really works!
The timing is perfect for these perfect Yorkshire Puddings. You've got time to carve the roast after resting, mash the potatoes and get everyone to the table so you can serve the Yorkshire Puddings as soon as they come out of the oven.
This is what I got.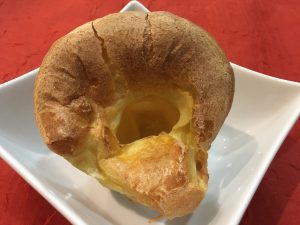 The perfect hollow centre. It even looks like a wide open mouth just begging for gravy.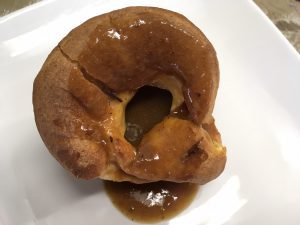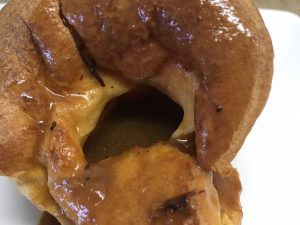 So a little science really helped!
And don't worry if you have leftovers. You can make Shepherd's Pie Yorkies.
Pay attention to the measured amounts or even better – weigh them! The site claims the perfect ratio is 75 g of flour to 200 g liquid. Here are the measured amounts for 12 perfect muffin tin sized Yorkshire Puddings:
Yorkshire Pudding
Also called popovers, a crispy puffed up side to serve with roast beef and smother with gravy
Ingredients
4

large eggs

¾

cup

whole milk

1

Tbsp

whole milk

2

tsp

water

if using 2% milk, dilute with 1 tsp only and use milk for the rest of the measured liquid

1

cup

all purpose flour

2

tsp

all purpose flour

pinch of salt
Instructions
Whisk all ingredients together and refrigerate until 30 minutes before cooking.

While waiting for batter to return to room temperature, remove roast from oven and allow to rest. Increase oven heat to 450°.

Place a tsp of lard or meat drippings into each of 12 muffin holes. After 20 minutes of batter being out of the refrigerator, place muffin tin in the oven and heat for 10 minutes.

Give the batter a quick whisk and carefully pour evenly into the hot pan, filling about half way or a little less. Return pan to oven and bake about 17-18 minutes until puffed up and browned.
Notes
You'll want to turn your hood fan on because the fat will smoke when heated to that temperature.
DO NOT use olive oil.
Print Recipe
more sunday dinner ideas