You can serve Corned Beef and Cabbage any day but it's a popular St. Patrick's Day meal or pub dish. Corned Beef Brisket is simmered slowly, then served in a stew of  potatoes, turnips, carrots and cabbage.
You might be wondering what exactly is a corned beef brisket. The brisket part is a tough and chewy cut of beef. The corned part isn't anything to do with corn actually, it's simply a brine of water, salt and spices. And when I say salt, I mean salt and lots of it. You can buy corned beef sealed in a bag of brine where you boil it right in the bag. Or, you will fine Corned Beef that needs to be removed from the bag before boiling. Either way it takes up to 3 hours to cook, depending on the size of cut.
Jump to Recipe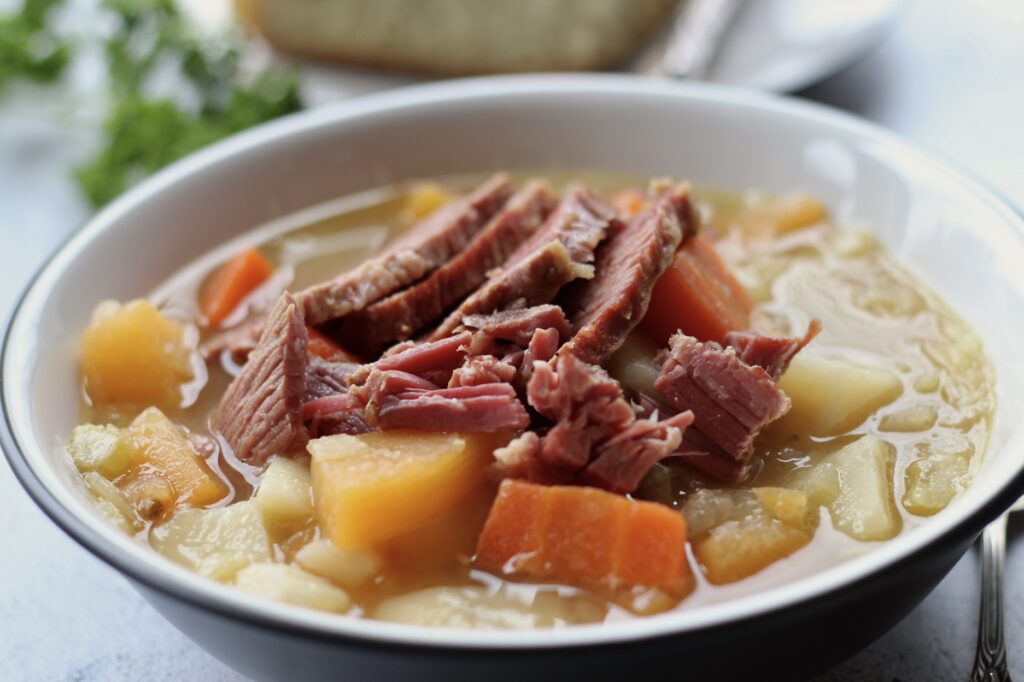 If you have the boil in bag type of Corned Beef, make sure you discard the water after boiling, otherwise your stew will taste suspiciously like boiled plastic. Carefully cut open the package and drain all the brine and spices and discard that too. Then add the cooked meat to chicken broth and simmer away with the veggies to make a great flavoured Corned Beef and Cabbage.
If your corned beef is the type that is NOT cooked in the bag, you can use the cooking water as the broth in the stew. It does tend to reduce while simmering so have some chicken broth handy to top up the liquid. Keep in mind that Corned Beef is quite salty so use a sodium reduced broth if possible and make sure you taste the broth periodically before adding salt.
You might be wondering why I use chicken broth instead of beef. Chicken broth is a fairly neutral flavour and goes great in most soups and stews, regardless of the type of meat. The result is a very tasty stew with the right amount of flavour and salt. And that corned beef….it literally falls apart as you cut it.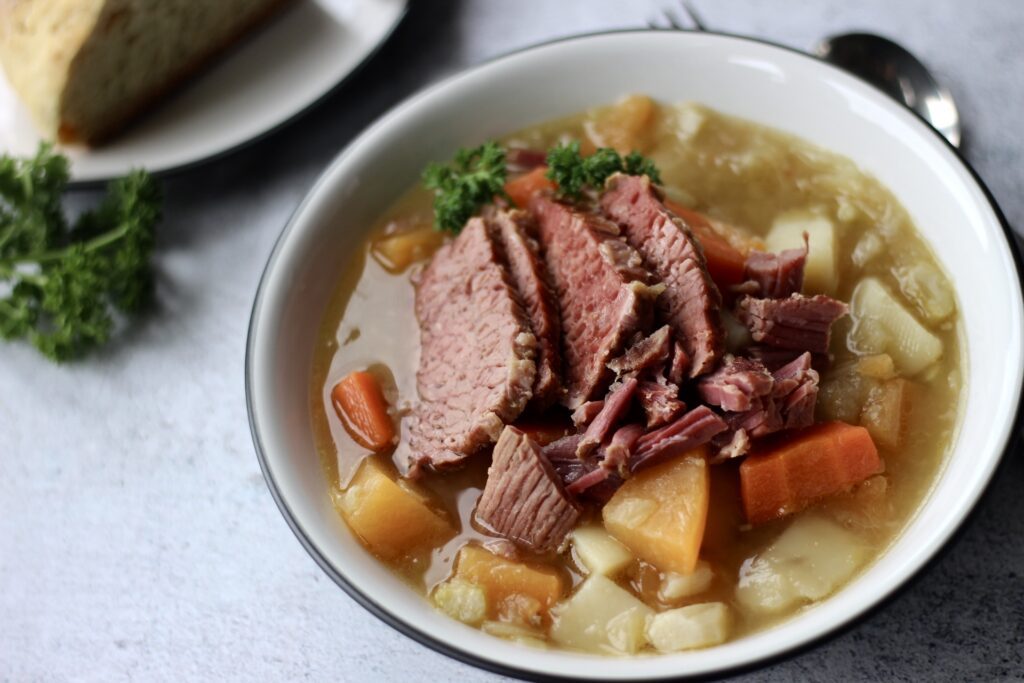 While the beef is simmering away, chop up an onion, some celery, turnip and cabbage. Once the beef has been cooked to just less than the required time based on its size, add the chopped veggies to the broth (if using the beef that is NOT cooked in the bag) or to a new pot with chicken broth if you boiled the beef in the bag. Toss in a bay leaf and let the mixture simmer for about half an hour.
After half an hour, add the potatoes and carrots and continue to simmer for about 30 more minutes. Remove the beef before serving and cut into slices. Ladle hot stew into bowls and arrange the beef on top. Garnish with fresh cracked black pepper if you like.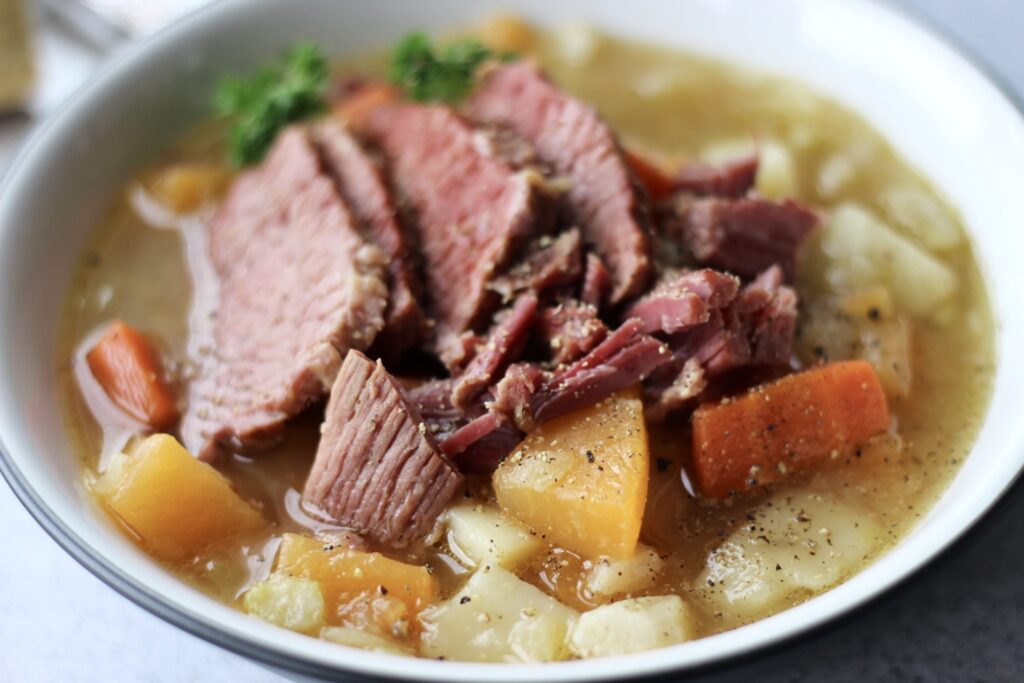 Serve with some Irish Soda Bread or Potato Bread.
Corned Beef and Cabbage is very similar to a meal served in Newfoundland called Jiggs Dinner. It's also very much like something my mother made for us called Boiled Dinner which was made with pork hocks. Those are pig's ankles in case you didn't know. The first time I made it for Mr. H the look on his face was priceless. But once he tasted those tender chunks of meat and the delicious stew, he understood.
Here's the recipe:
Corned Beef and Cabbage
Ultimate pub food for St. Patrick's Day, Corned Beef Brisket in delicious broth with cabbage, turnip, potatoes and carrots.
Ingredients
1

corned beef brisket

about 2 lb for 6 servings

1

onion, chopped

2

stalks

celery

6-7

cups

low sodium chicken broth

about 2 900ml cartons or less if not boiling in bag

1

bay leaf

or 2 if small

3

cups

cabbage, chopped

about 1/4 cabbage

2

cups

turnip, cubed

about 1/2 turnip

2

cups

potatoes

2 medium

2

cups

carrots, chopped

about 4

salt and pepper to taste
Instructions
Poke several holes in corned beef brisket in plastic packaging with a fork. Place in large soup pot, cover with cold water and bring to a boil. Reduce heat and simmer according to directions on package to match with size, boiling a little less time than required.

If package recommends not boiling in bag, remove corned beef from packaging, rinse, cover with cold water and cook as instructed above. Add chicken broth as needed to keep liquid level above meat.

If using boil in bag, remove beef from water, cut package open to drain contents. Discard all liquid. Add chicken broth and beef to a clean pot.

If boiling outside of bag, leave beef in same pot with liquid.

Meanwhile, finely chop onion and celery. Roughy chop cabbage. Peel and cube turnip. Add to beef in pot and simmer for 30 minutes.

Peel and cube potatoes and carrots. Add to broth after 30 minutes and continue cooking for an additional 30 minutes. When all vegetables are fork tender, taste and season with salt if necessary.

Remove beef. Slice into small pieces. Arrange on top of bowls of hot stew. Garnish with fresh cracked black pepper.
Print Recipe
want more comfort food? try these
Chicken and White Bean Enchiladas
If you've tried this recipe, consider leaving a comment or a rating. Or, you can share the post by clicking on the icons below.