Butter Chicken is probably the most popular mainstream Indian meal. It's a simple recipe where chicken is simmered in a mild fragrant tomato sauce and usually served over rice. It doesn't take long to prepare and this recipe has ingredients you can find at most grocery stores.
This is a true story. I was in a grocery store looking at yogurt and a woman came over and started talking to me about what kind of yogurt I should buy. Yes she was a complete stranger. I told her I wanted yogurt because I was making Butter Chicken. She said oh no, you make butter chicken with coconut milk. "Hmmmm," I said, "well I haven't ever made it that way. I'm using a recipe shared by a former co-worker who is actually from India." She insisted her recipe was authentic so I smiled and said "Sure, I'll try it with coconut milk." Just as I was about to make a clean getaway, she brought me a can of coconut milk.
So instead of making a run for it, I bought the coconut milk. And guess what? It was good. Really good.
Jump to Recipe
I made it again without the coconut milk a week later, just to be sure. We invited friends to taste test. The same ones who tried the previous version. Unanimous voting decided the coconut milk version is BETTER. And, it doesn't have a lot of fat so it's even a little healthier!
Who knew?
If you never experiment you won't learn anything. I once made this in the slow cooker. I just put all the ingredients together and let it bubble away for 5 hours. It tasted ok but the sauce was watery and the chicken broke up into small bits. I won't do that again.
How to make Butter Chicken
For best results, you want to marinate the chicken before cooking. You can do this the night before, earlier in the day or even up to an hour before. Use full fat yogurt, not the fat free or reduced fat type that have added ingredients like thickeners. Toss the chicken pieces together with the marinade ingredients in a bowl or freezer bag and let them hang out for a while. I use boneless, skinless chicken thighs for this recipe. I prefer dark meat but you can use breast meat too.
Garam Masala is a blend of spices used in Indian and South Asian cooking. It's easily found in the spice section of most grocery stores and saves you from buying a whole bunch of exotic spices. It's used both in the marinade and the sauce. You want to use fresh ginger and garlic, not the ground type. Ginger is actually very reasonably priced, in fact the last piece I bought cost me about 40 cents!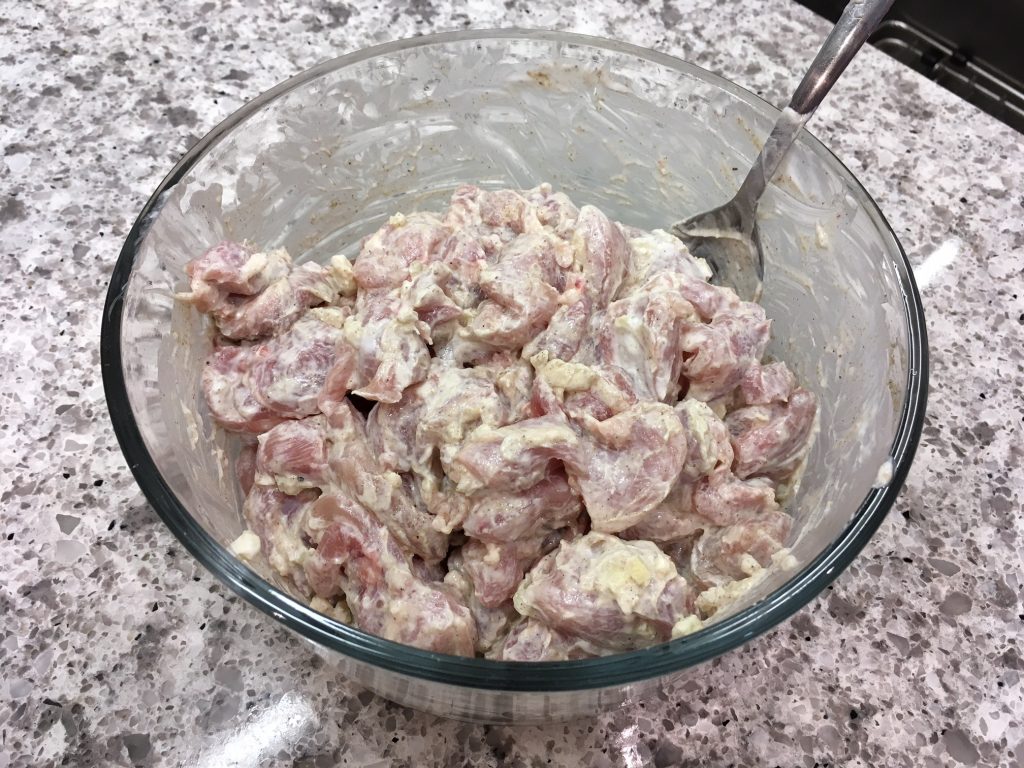 When you're ready to make Butter Chicken, start with the onion and sauté slowly in butter to soften and sweeten. Believe it or now, this is the only butter in the recipe. Then add the spices and cook them to release the flavour. This is when your kitchen starts to smell really good. Cayenne pepper is optional, if you like some heat, add it. If not, don't even worry about it. But turmeric? Don't skip it. Not only for the flavour, it adds something to the colour. You'll see. Spices keep for ages so it's worth buying some. Besides, this is so good you'll be making it again and again.
Since your chicken has been marinated, you won't be able to brown it when added to the skillet but don't worry, there's so much flavour in Butter Chicken it's not necessary. Just turn up the heat, toss it in, including the marinade and stir until the chicken is almost cooked through.
Next, add the tomato sauce, yogurt and coconut milk. Use a smooth tomato sauce. Passata is the perfect consistency but a great alternative is canned whole tomatoes, just squeeze them with your bare hands or crush with a masher. Simmer for about 20 minutes to ensure all the flavours have combined and the chicken is cooked through. The sauce will thicken slightly as it cooks so leave it uncovered. This step gives you time to make rice. Basmati or Jasmine rice are great with Butter Chicken. And don't forget fresh Naan Bread. If you're really ambitious you can make your own!
Butter Chicken has the most beautiful colour! I developed this recipe that can be made easily without buying a laundry list of ingredients, yet still has an authentic flavour. Some traditional recipes have nuts in the sauce and have to be strained and puréed. This version is a little friendlier.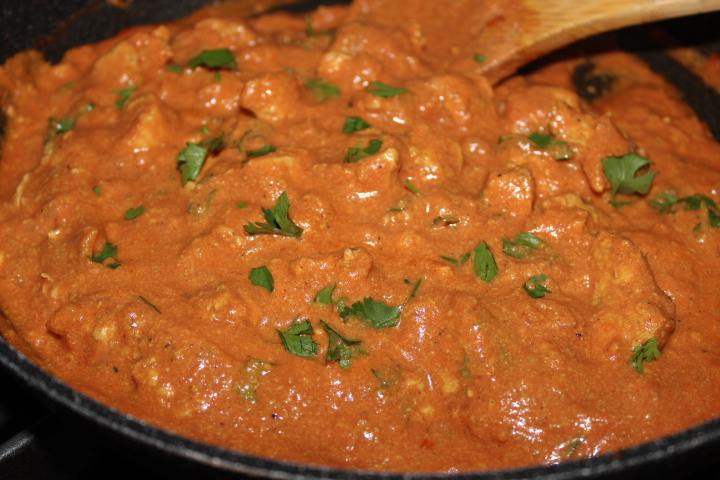 Garnish with fresh cilantro. You can make Raita with the leftover yogurt which is a simple sauce with shredded cucumber, fresh garlic and a pinch of cumin. It's used to cool your mouth with hot dishes but is also great on warm naan.
Here's the recipe:
Butter Chicken
Authentic recipe with chicken simmered in a creamy smooth sauce with coconut milk
Ingredients
Marinade
1¼-1½

lb

boneless, skinless chicken

2-3 breasts or 6-8 thighs

¼

cup

full fat yogurt

1

clove

garlic, finely minced

1

piece

fresh ginger, size of thumb, finely minced

2

tsp

garam masala

salt and pepper
Butter Chicken Sauce
2

Tbsp

butter

1

small onion, diced

1 ½

tsp

garam masala

1

tsp

chili powder

1

tsp

cumin

¼

tsp

cayenne pepper

optional, if desired

½

tsp

turmeric

⅓

cup

full fat yogurt

160

ml

coconut milk

the small can, about 2/3 cup

1

cup

smooth tomato sauce

Passata is good option

handful fresh cilantro for garnish

if desired for garnish
Instructions
Chop chicken into bite sized pieces. Add all marinade ingredients and combine well. Marinate at least 30 minutes, up to over night in refrigerator.

In large skillet, heat butter and sauté diced onion gently over medium-low heat until golden and soft.

Add spices and sauté about a minute or two to release flavours and fragrance.

Turn heat to medium and add chicken, including marinating liquid. Cook chicken, stirring, until pieces are cooked on the outside.

Stir in ⅓ cup yogurt, coconut milk and tomato sauce. Lower heat and simmer at least 20 minutes until chicken is cooked through and sauce is thickened slightly.

Serve over warm Basmati or Jasmine rice. Garnish if desired with fresh chopped cilantro and serve with warm naan bread.
Print Recipe
make it a meal