This unusual mixture of caramel corn and cheese popcorn is all the rage. My friend Marilyn told me she had some at Garret Popcorn in Chicago and they served it warm. I was surprised to learn that the popular mix actually originated in Minnesota and there have been lawsuits over the use of the title Chicago Mix Popcorn. I doubt I'll get sued.
Jump to Recipe
We have a local popcorn grower right here in Norfolk County. The Ontario Popping Corn Co. sells Uncle Bob's Premium White Hull-less Popping Corn which is perfect for Chicago Mix Popcorn. The kernels are a little smaller than regular popping corn, resulting in slightly smaller popcorn, but not getting hulls caught in your teeth is so worth it.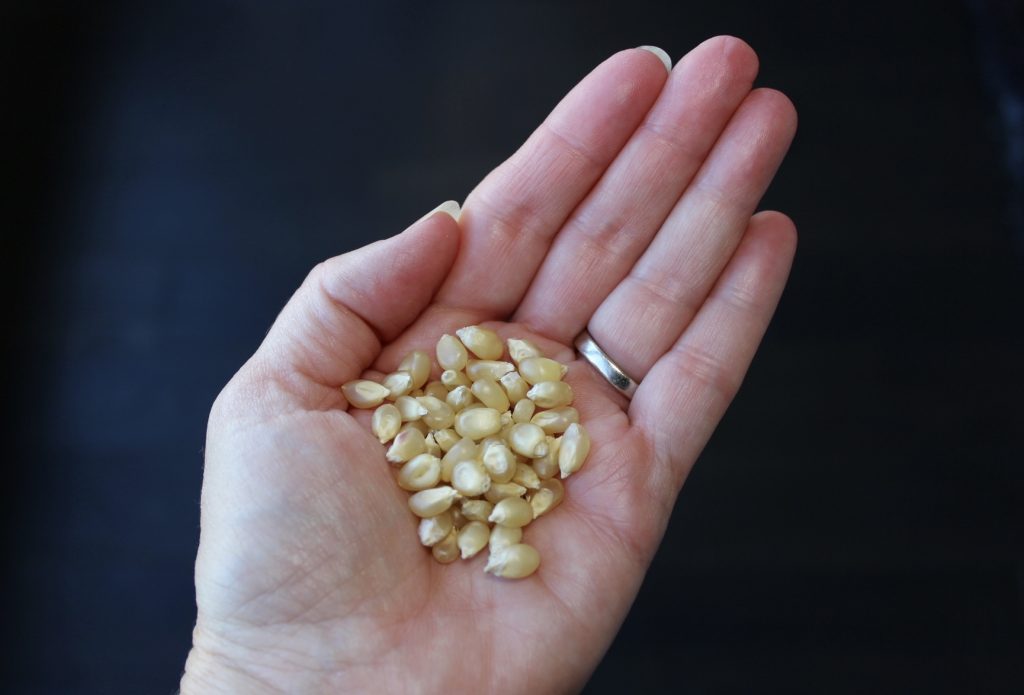 And of course supporting a local farmer is the right thing to do. Their product is sold locally but you can also order right from their website.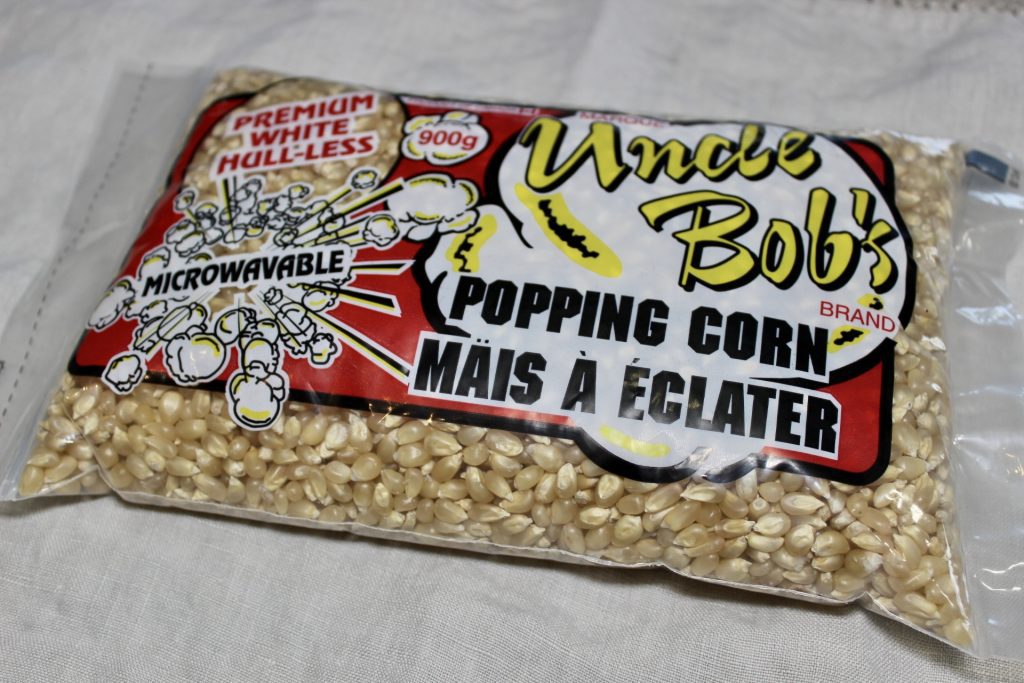 When was the last time you made popcorn on the stove top? Good thing there are instructions on the package, we've probably all forgotten how to make it. Don't use microwave popcorn, it has additives and preservatives you don't want. The trick to making great popcorn is to make it in a smaller batches in a large heavy lidded pot so there's room for all the kernels to pop. Shake the pot during popping and let a little steam out to prevent the popcorn from getting chewy.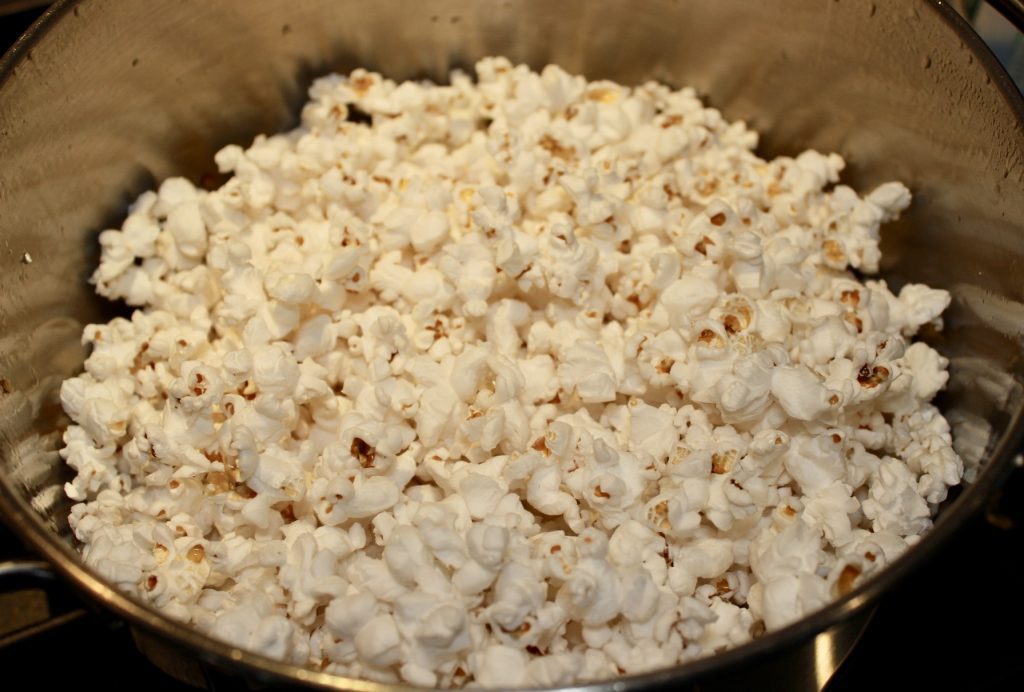 You need 2 roasting pans for baking, one for the caramel corn and one for the cheese popcorn. You bake them separately, then mix together once they've cooled. Make 2 batches of popcorn, one for each roasting pan. Use a cooking oil like vegetable or canola. Don't use olive oil, it can't withstand the high heat.
Make sure you have 2 racks in the oven and can fit both roasting pans before you preheat the oven.
Caramel Corn
Make the caramel sauce first. Just melt some butter, brown sugar and corn syrup together. It doesn't matter if you use light or dark corn syrup. This is dark so the colour of the caramel will be darker. Add a bit of salt and let it come to a boil for 5 minutes. After 5 minutes, remove it from the heat and add vanilla and baking soda. The sauce expands and gets foamy when you add the baking soda so use a large pot. It helps if it has a pour spout.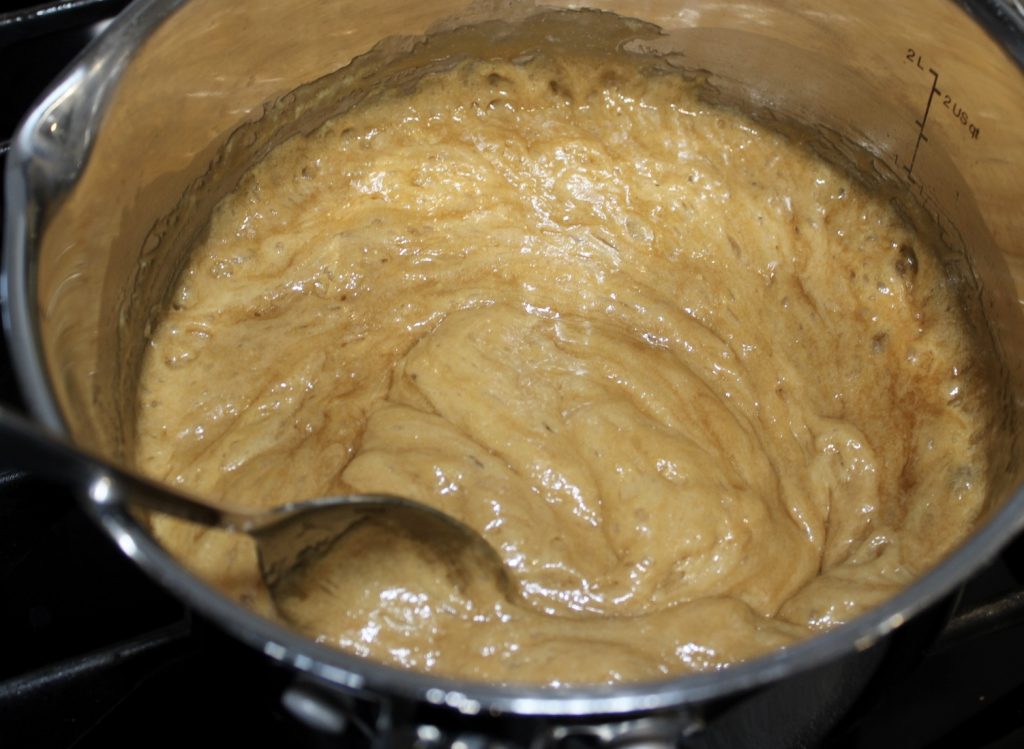 Pour it over the popcorn and fold it in as best as possible.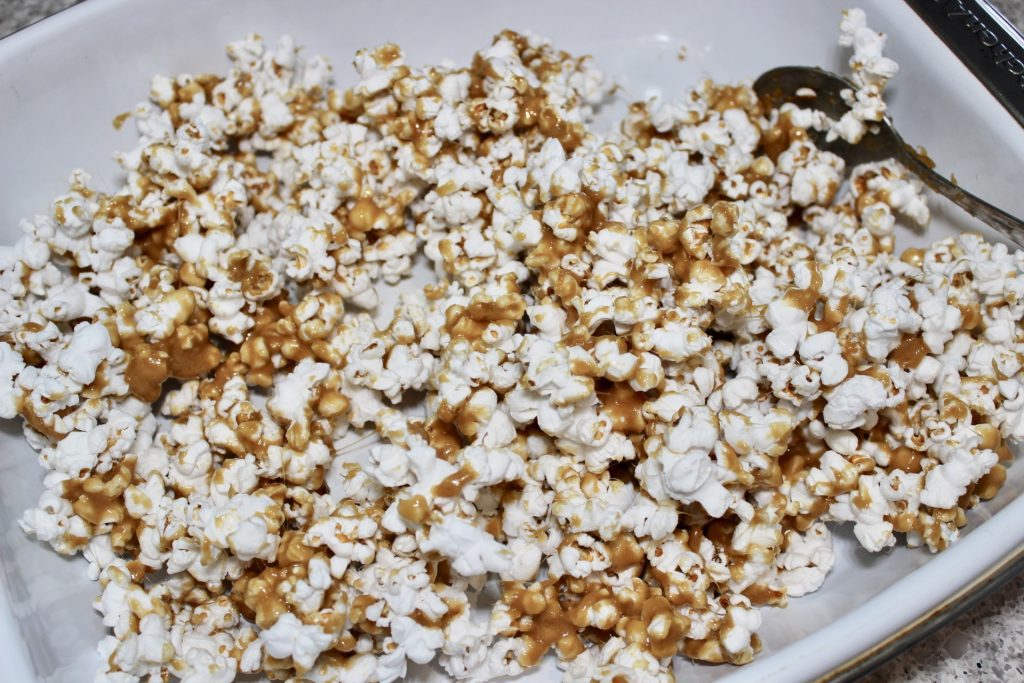 Don't worry, it won't be evenly distributed at first but the caramel stays soft while it's baking. By stirring it every 15 minutes or so you get an even coating. Whatever you do, don't stick your finger in the caramel sauce or lick the spoon. It's like molten lava, it will burn you. I found out the hard way.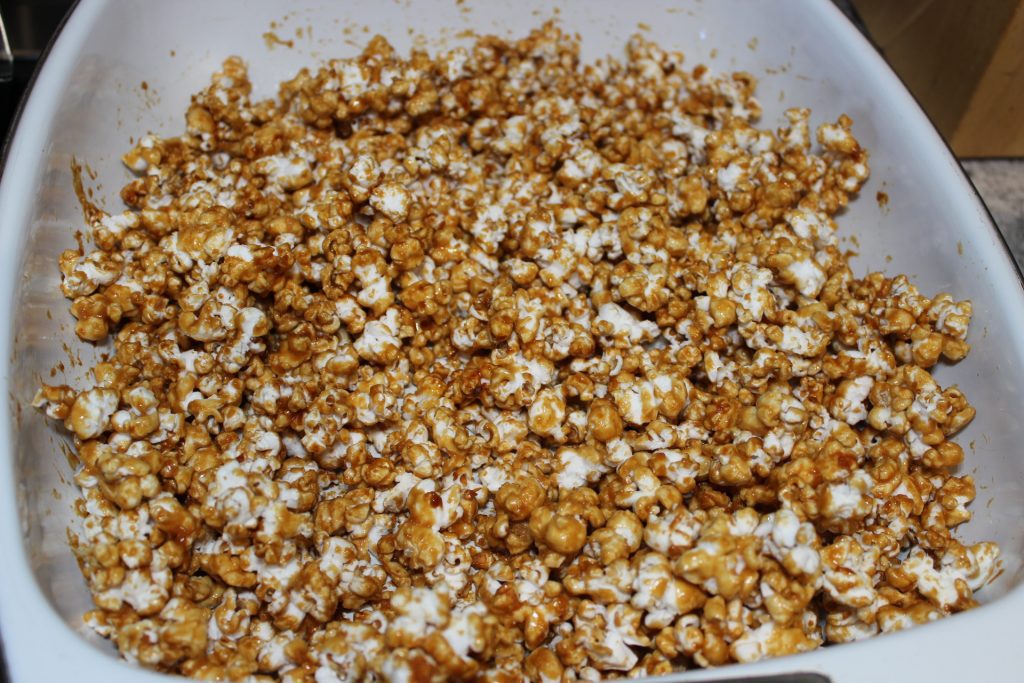 Once it cools, the caramel hardens. Not just on the popcorn but on the pot, the spoon and the roasting pan. Good news though, it literally melts right off in hot soapy water!
Cheese Popcorn
Once you've got the caramel corn in the oven, sprinkle the cheese seasoning over the popcorn in the other roasting pan and bake along with the caramel corn. Don't be tempted to shake it in a bag because the popcorn breaks up. Stirring it gently works best. Any dry cheese in the bottom of the pan gets mixed in during baking and stirring. It doesn't matter on which rack you bake either pan of popcorn.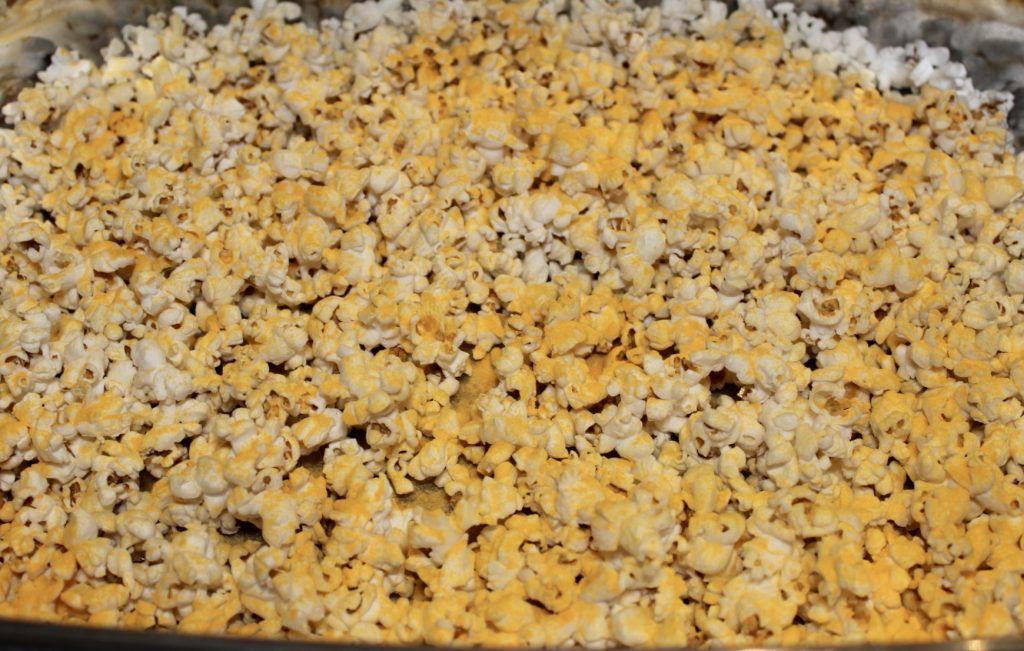 You're probably wondering where to get cheese popcorn seasoning. I visited the Bulk Barn and found they had a selection of popcorn seasoning. I then found they also carried "cheese sauce mix" that was about a quarter of the price. Some online research confirmed they had very similar ingredients so I went with the cheaper option. I'm pretty sure the cheese sauce mix is similar to what you get in a box of KD.
After the popcorn has baked for an hour let it cool before mixing together. The caramel corn tends to clump together so try to gently break them up before it cools and hardens.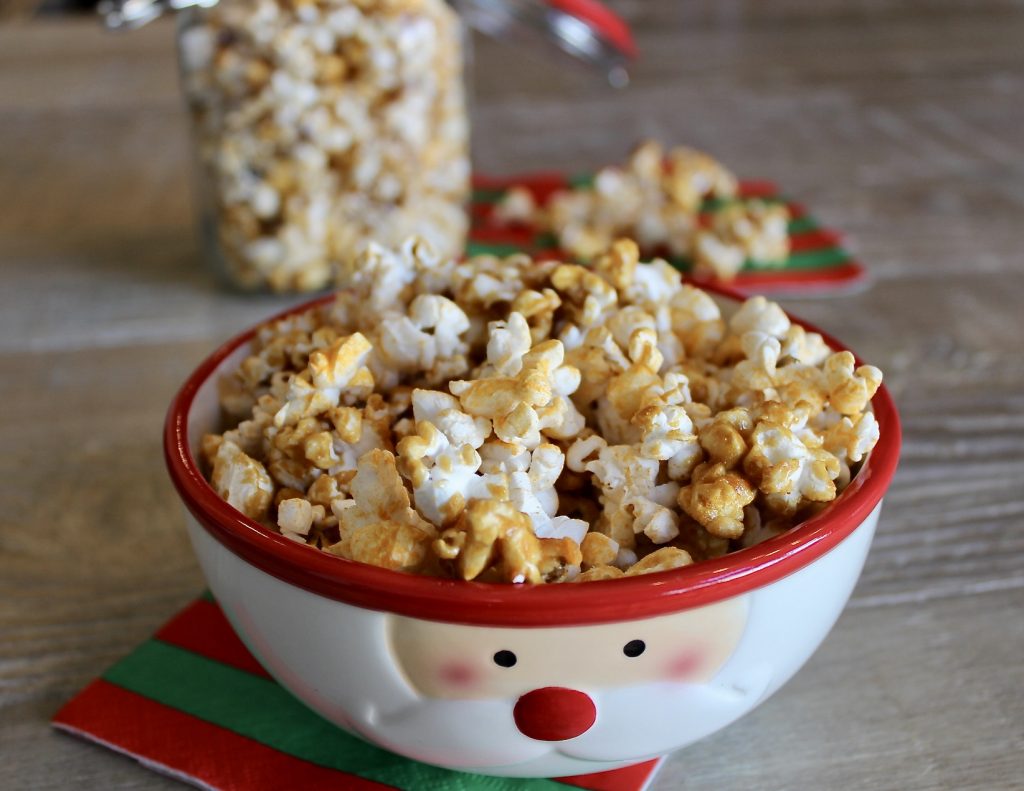 Chicago Mix Popcorn makes a fun hostess gift.
My friend Marilyn, the one I mentioned above who had this in Chicago gave me this bowl. Thanks my friend!
Here's the recipe:
Chicago Mix Popcorn
This homemade version of a popular snack is a unique mixture of caramel corn and cheese popcorn.
Ingredients
6

Tbsp

vegetable or canola oil

1

cup

Uncle Bob's Premium White Hull-less Popping Corn

4

tsp

dried cheese sauce mix

2/3

cup

packed brown sugar

1/3

cup

unsalted butter

1/3

cup

corn syrup

light or dark

pinch

salt

1/2

tsp

vanilla

1/2

tsp

baking soda
Instructions
In a large heavy pot with a lid, heat 3 Tbsp of oil to medium-high heat. Drop a kernel of popping corn into oil and once it sizzles, add 1/2 cup popping corn. Cover. Once you hear the first kernels starting to pop, lower the heat to medium and shake the pot often until the popping stops. Tip open the lid a few times during popping to allow steam to escape.

Pour popped corn into a large roasting pan.

Repeat with the other 3 Tbsp oil and 1/2 cup popping corn and pour into second roasting pan.

Preheat oven to 250 degrees and arrange racks to fit 2 roasting pans.

In a large heavy saucepan heat butter, brown sugar and corn syrup and stir until blended at medium heat. Add a pinch of salt and allow to boil for 5 minutes. Remove from the burner and stir in vanilla and baking soda. Mixture will foam up. Stir well and pour over one pan of popped corn. Mix caramel into popcorn gently.

Sprinkle dry cheese sauce mix over popcorn in second roasting pan. Stir to distribute as evenly as possible without breaking popcorn. Place in oven on second rack.

Remove each roasting pan every 15 minutes to stir. Coatings will distribute more evenly during this process.

Remove from oven after 1 hour to cool. Gently break up clumps of caramel corn while still warm.

Combine both roasting pans and gently stir/fold together once cool.
Print Recipe
more fun snacks