Tender and juicy beef short ribs in a sauce with a huge punch of flavour from the chipotle chilis in adobo sauce. Cooked low and slow, these braised Chipotle Beef Short Ribs fall right off the bone and are even better the next day.
There are a few ways beef short ribs are sold but for this recipe, choose the ones that are cut into blocks. You can ask a butcher to cut them for you which is a common cut. They will have layers of beef and fat with a layer of bone at one end. They're fairly expensive for a tougher cut of meat with a lot of fat but when cooked properly, they're worth every penny.
Jump to Recipe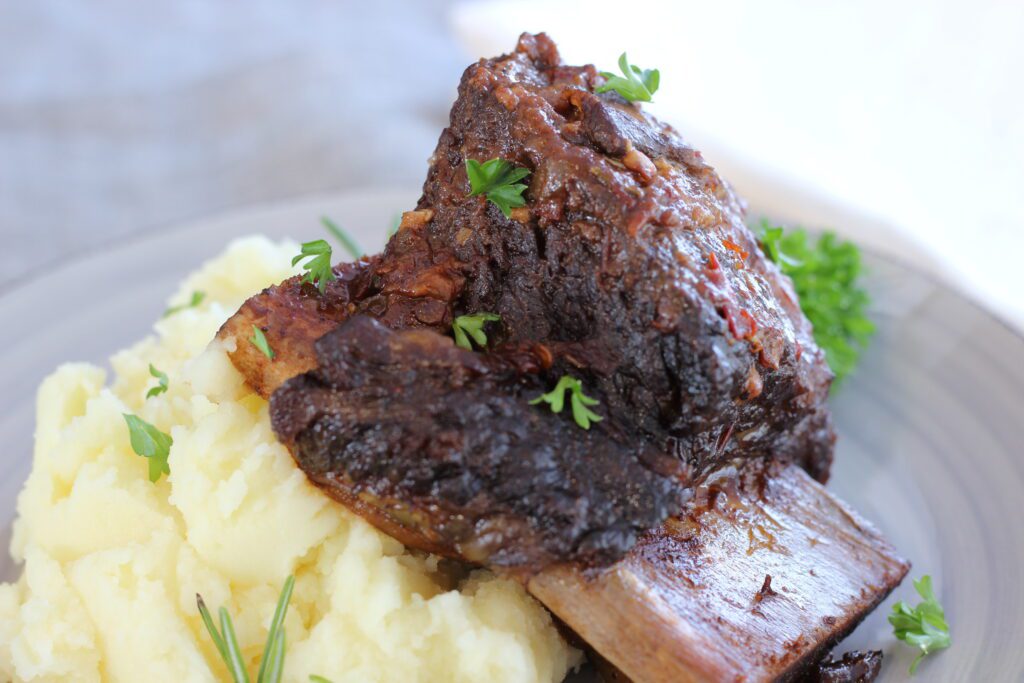 Check out this Canadian Beef website to learn about different cuts of beef and how to cook them properly. It's a great resource!
Like all tougher cuts of meat, these ribs need to be cooked low and slow. This is where "braising" comes into play. You can just cover meat with some type of liquid and cook it for a long period of time but what you end up with is basically boiled meat. Braising is a method where you first sear the meat dry on high heat and then finish slowly in a liquid.
How to cook short ribs
This first step helps caramelize the outside of the beef ribs and starts rendering off the fat. The brown bits left behind really add to the flavour. Give the ribs a dusting of flour and some salt and pepper. This seasons and dries the outer edges which helps with browning. The flour also helps thicken the sauce slightly.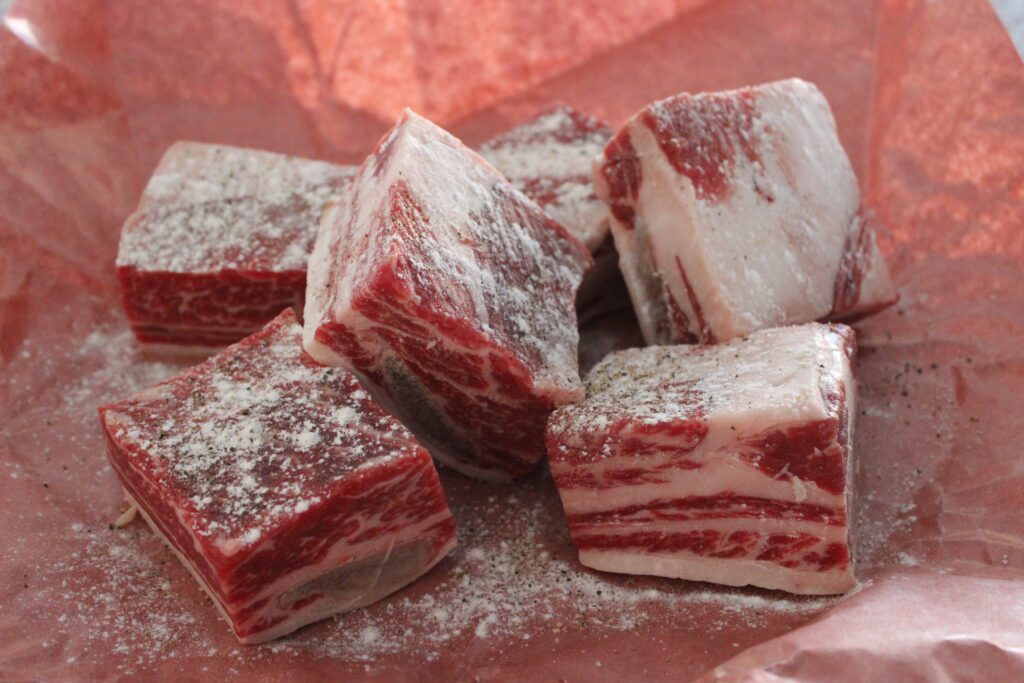 Adding oil to the pot sounds counterproductive when you're going to be trying to remove as much fat as possible but it helps start the browning. Use a very heavy oven safe dish with a lid and heat some oil to medium-high. Use a heat safe oil like vegetable oil or peanut oil. Olive oil is not a good choice when cooking at high heat.
Turn on the vent fan and sear the pieces on each side, in batches if your dish isn't wide enough. Once all the pieces are well browned on each side (top, bottom and all 4 sides), pour out all the oil and add the liquid mixture. A word of caution, adding cold liquid to a very hot dish can be a disaster. Even the most durable heavy dutch ovens can be damaged so I recommend heating the liquid in the microwave first. Just to be safe.
The liquid mixture doesn't have a laundry list of ingredients because there is so much flavour in chipotle chilis in adobo sauce. You can buy tiny little cans of these guys. They're small peppers, usually jalapeños that have been dried and smoked then stored in a tomato sauce. Yes, they have some heat but they have an amazing smoky flavour and after cooking they lose some of the heat. If you're not comfortable with some heat, use less, maybe 2 peppers.
The rest of the ingredients in the liquid are simply onion, garlic, tomato paste and beef broth with some salt and pepper and rosemary.  While developing this recipe I experimented with other ingredients like espresso powder and red wine but honestly, they get lost because the chipotle is the star of the show.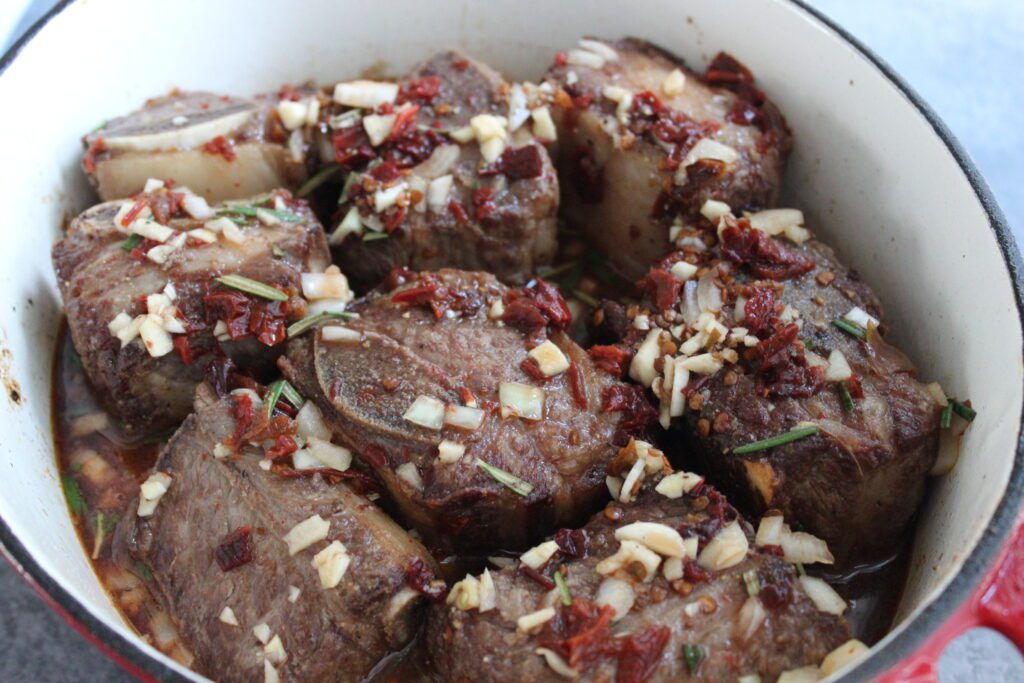 How to remove the fat from short ribs
When meat has this much flavour and tenderness there's always a catch. This time it's the fat. There's a lot of it. You have two options. First, you could periodically ladle out the fat as your ribs cook. Remove the pot and carefully ladle out the fat from the top every half hour or so. An easier way is to prepare the ribs a day in advance. Then when they're refrigerated the fat will float and harden right on top. You can easily remove it before reheating the next day. Either way, Chipotle Beef Short Ribs are rich so so one rib is usually enough for each person depending on the size. And adding some fresh herbs will help cut the richness.
I like to serve Chipotle Beef Short Ribs over mashed potatoes. Because they have a big bold flavour you can add some garlic or horseradish to the potatoes which won't really compete with the flavour of the meat.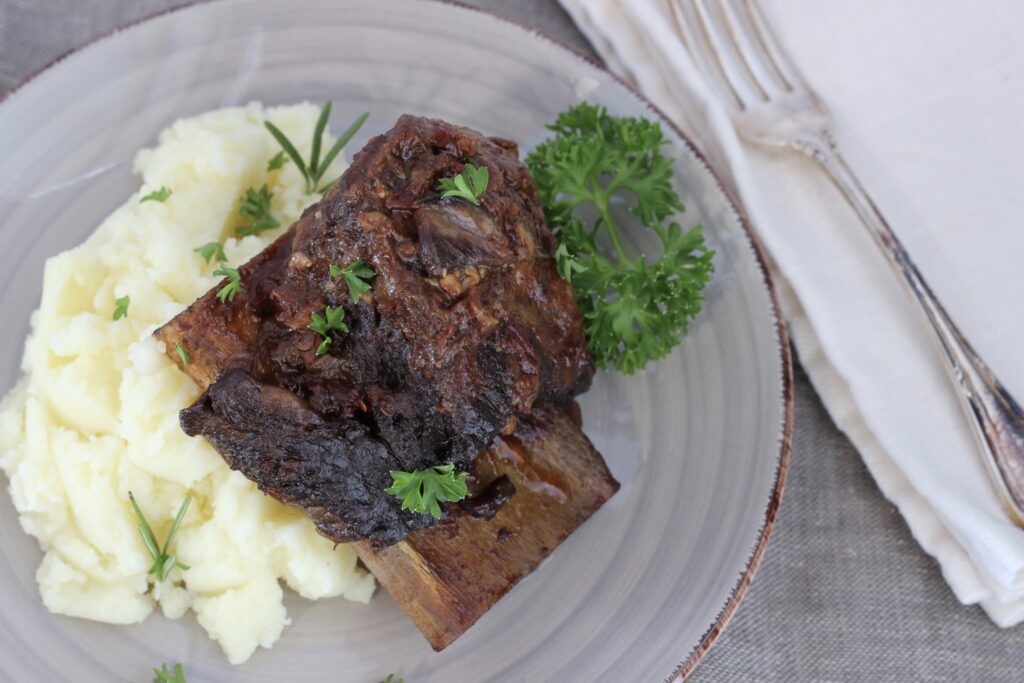 Here's the recipe:
Chipotle Beef Short Ribs
Beef short ribs braised with chipotle in adobo sauce for tender fall off the bone ribs
Ingredients
6-8

beef short ribs cut into blocks

1

Tbsp

vegetable oil

or any oil that can withstand high heat - not olive oil

1

Tbsp

flour

1

tsp

salt

½

tsp

pepper

1

small onion, chopped

2

large cloves garlic, minced

2 ½

cups

beef broth

2

Tbsp

tomato paste

½

can

chipotle peppers in adobo sauce, about 4 peppers, or less for a milder heat

small cans are 186 ml or 6.5 oz

1

Tbsp

chopped fresh rosemary

plus extra for garnish

salt and pepper to taste

depends on sodium level of beef broth

fresh chopped parsley

for garnish
Instructions
Pat beef ribs dry and dust with flour, salt and pepper.

Heat large dutch oven over medium-high heat and add oil. Sear ribs on all sides until well browned. Sear in batches to prevent steaming.

Drain all fat from dutch oven.

Prepare sauce by chopping chipotle peppers, garlic, onions and rosemary. Add to microwave safe dish along with beef broth, tomato paste, salt and pepper. Heat until hot and pour over ribs.

Bake at 325° for 2 ½ hours until meat is very tender. Remove fat with a ladle from the top every 30 minutes, OR prepare in advance and refrigerate. Remove fat once it has solidified on top. Reheat before serving.

Serve over mashed potatoes, polenta, or starch of choice. Garnish with fresh parsley and more fresh rosemary if desired.
Print Recipe
more meat cooked low and slow
If you've tried this recipe, consider leaving a comment or a rating. Or, you can share the post by clicking on the icons below.