You can skip takeout and make this easy Fried Rice at home with just a few simple ingredients. It's a great way to use up leftover cooked rice and if you include a few more veggies than the typical takeout version, you get a more nutritional dish at a lower cost.
This Fried Rice recipe is actually from my grandmother. Which is a bit unusual because making your own Chinese food at home was not a thing when she was younger. And being that she grew up on a farm in northern Ontario and cooked fairly plain meals, well, it's quite surprising. Lucky for you I'm sharing THIS recipe and not one for some of the meat she learned to cook. I don't want to give our family secrets away but let's just say her father was a fur trapper and when money was tight they had to eat what was caught in the traps.
Jump to Recipe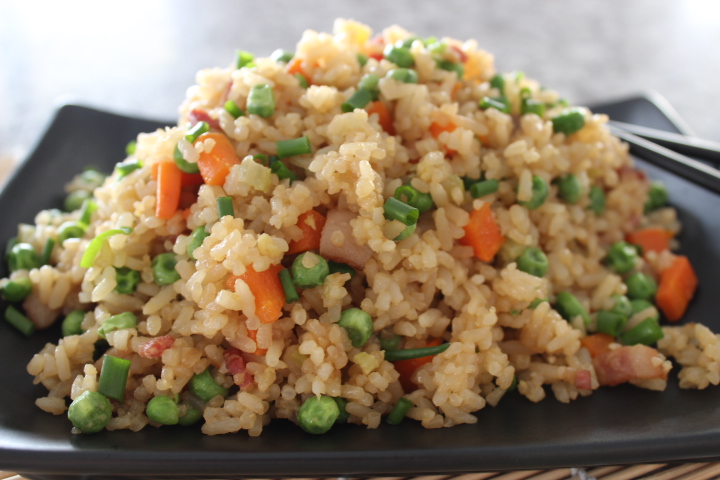 And before we go any further, I have to warn you that the rice sticks to the pan while it's being fried. It will look like you'll never get it clean but a handy trick is to put some water in the pan and turn the burner on for a few minutes and let it simmer. Then you should be able to scrape it out fairly easily. You can use a non stick pan to make Fried Rice but I tend to save mine for gentle cooking like scrambled eggs because when non stick pans get really hot, that's when the trouble starts.
What kind of rice do you use for Fried Rice?
The best rice for making Fried Rice is leftover cold rice. In fact, it's best if it's lost some of the moisture content so it's a bit dryer, which happens slowly after cooking. Cooked rice will be safe in the refrigerator for a few days so you can cook some two or three days before making Fried Rice. Even better, store cooked rice in the freezer. I usually have some in there in case I feel like making Cabbage Rolls or Tijuana Meatball Soup. Any kind of cooked white rice works. I typically use jasmine or basmati. I don't make this with brown rice but it would be fine. In fact, you could sneak it in there without anyone knowing. I wouldn't, however, recommend wild rice because it just doesn't seem to work in this recipe.
It takes more time prepping the ingredients than actually making Fried Rice. You start with a few slices of diced bacon which is your fat and flavour. I like to use thick cut bacon for this so it doesn't get too crispy when you're cooking the rice. Regular bacon is ok, just don't cook it too much before adding the rice. Add some onion, celery and carrot to the bacon once it's starting to cook. Cut them into pretty small pieces so you don't have big chunks of vegetables mixed with small grains of rice. Once they're golden and the bacon is cooked but not crispy, add the garlic and give it a quick sauté. Garlic burns easily so by adding it later you won't get that bitter taste.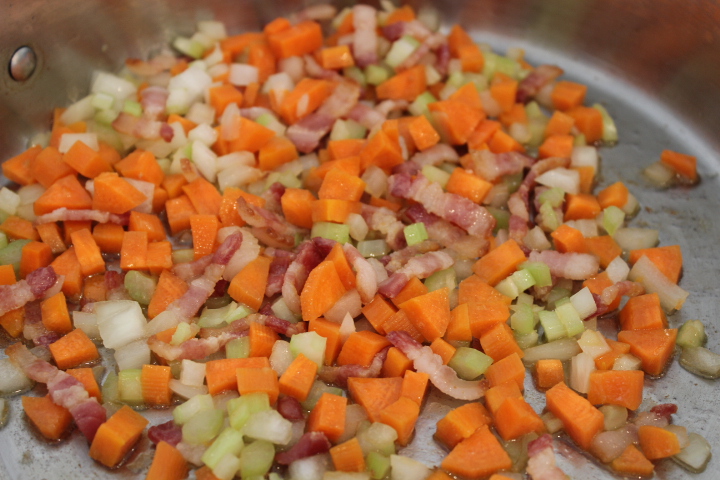 Now you're ready to add the rice. Dump it in and spread it out so it's evenly distributed in the pan. Let it start to fry, then stir and spread again. Continue doing this a few more times to ensure all the rice has a chance to hit the heat on the bottom of the pan. It won't actually "fry" in that it doesn't get brown. It's really just heating and drying and incorporating the flavour from the other ingredients.
While you're frying the rice, rinse and drain the frozen peas. You know how they get a little frosty in the freezer after a while? Make sure you don't add any extra moisture but adding a chunk of frozen peas. You can even skip the carrots in the sauté mixture and use frozen peas and carrots. I prefer to use just frozen peas because I'm not crazy about the texture of frozen carrots, but it will save you a bit of time. You will have to cook it longer to make sure the carrots are cooked which will result in your peas losing their colour. So another reason to use fresh carrots.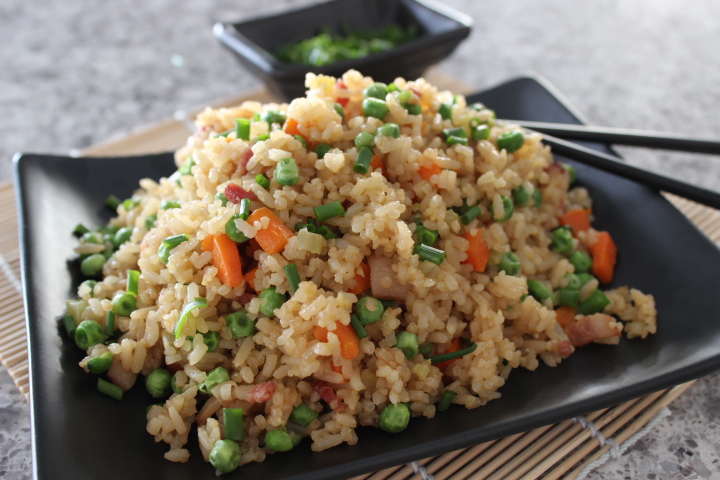 Now add the soy sauce and stir fry it until it's all incorporated. You can increase the amount of soy sauce by a little if you like your Fried Rice darker but be careful to not make it too salty. I always use reduced sodium soy sauce so I can control the amount of salt. With bacon and soy sauce both in this recipe you may not need any salt at all. Wait till the end, then decide.
The last step is to add the frozen peas and stir to heat them fully. Then, crack your egg, give it a quick whisk and pour it right into the pan. If you move your rice mixture to the outside of the pan you'll be able to scramble it slightly, then mix it into the rice. This may not be the way Fried Rice is made in restaurants but it's the way my grandmother made it.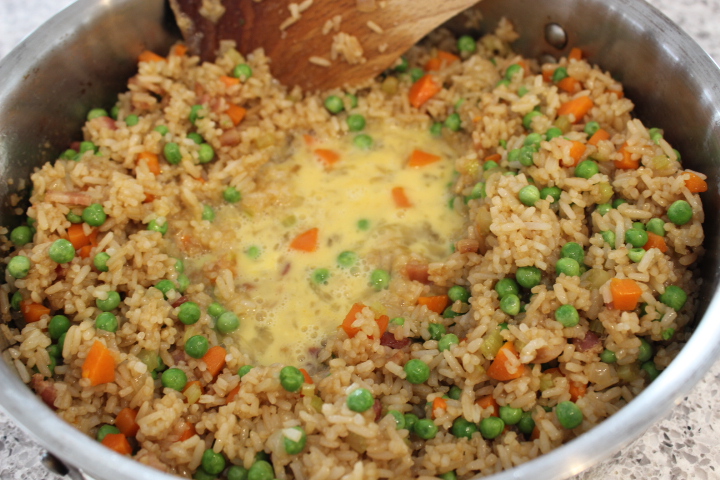 Turn the heat off and taste to see if you need any more salt. Season if necessary and top with some fresh chopped chives or green onions.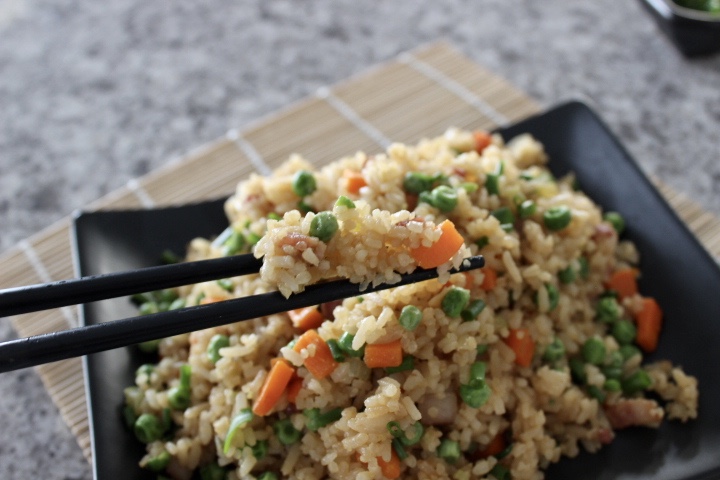 This recipe for Fried Rice isn't as dry as some take out versions. I think that's why I like it. You can even eat it with chopsticks if you've learned that trick. I'm still working on it.
Here's the recipe:
Fried Rice
Easy make at home Fried Rice with leftover cooked rice
Ingredients
2

strips

thick cut bacon

or 4 regular strips

½

onion, chopped

1

stalk

celery

1

large

carrot

onion, celery carrot amount approx 1¼-1½ cups

1

clove

garlic

3

cups

cooked white rice

best if refrigerated for a few days or previously frozen

1

egg, whisked

½

cup

frozen peas

3

Tbsp

soy sauce

¼

cup

minced green onions or chives

if desired for garnish
Instructions
Slice bacon into thin strips. Add to large skillet and turn to medium heat. Fry until bacon is cooked but not browning.

Chop onion, celery and carrot. Add to bacon mixture and sauté until softening. Add garlic and cook slightly.

Add cooked rice and spread evenly on bottom of the pan. Let sit for 15-20 seconds or so, stir, then spread out again. Repeat until rice has combined well with vegetable mixture and is starting to dry out.

Add soy sauce and stir well to combine, continuing to fry as above.

Rinse and drain frozen peas. Add to rice mixture and stir to combine.

Whisk egg slightly in bowl. Move rice to outer edge of pan and pour in egg. Stir to scramble slightly, then stir into the rice mixture, continuing to stir fry until egg is cooked through.

Taste and season with salt if necessary.

Garnish with green onion or chives if desired.
Print Recipe
If you've tried this recipe, consider leaving a comment or a rating. You can share the post on social media by clicking on the icons below.
make it a meal
Napa Cabbage and Ramen Noodle Salad