This awesome crunchy zesty salad can be served 2 ways. One, with uncooked ramen noodles added right before serving for an extra crunchy texture or made ahead with the ramen noodles soaking up some of the dressing so they're softer. Either way, Napa Cabbage and Ramen Noodle Salad is always a crowd pleaser.
Did I mention this is a budget friendly recipe? The ingredients are so inexpensive and most you'll have on hand anyway. The dressing is made from basic pantry items like vinegar, oil, soy sauce, ketchup and garlic. There's sesame oil as well which really does add to the flavour so it's worth buying some. If you do, you'll be able to make Beef Vegetable Stir Fry and Sweet and Sour Pork.
The dressing for Napa Cabbage and Ramen Noodle Salad is inspired by a recipe my aunt Trudy used to make called Spicy Vermicelli Salad. It was sweet and spicy and everyone loved it! I thought "why not use it in a cabbage salad?"
Jump to Recipe
Ramen noodles are so cheap it's unbelievable. And since you're throwing away the flavour packet that comes inside, it doesn't matter what flavour you choose. Make sure you pick instant Ramen noodles which means they've been precooked, then dried so they're edible raw. And they soak up the dressing nicely if you decide to try the make ahead version.
Napa cabbage (sometimes called Chinese Cabbage ) is best for this salad because its leaves are narrow. Simply chop crossways into thin strips and you'll have perfect sized pieces. It's a little more expensive than a regular green cabbage but I like the texture and size. Once you get close to the bottom the cabbage gets a little too tough so leave that part out.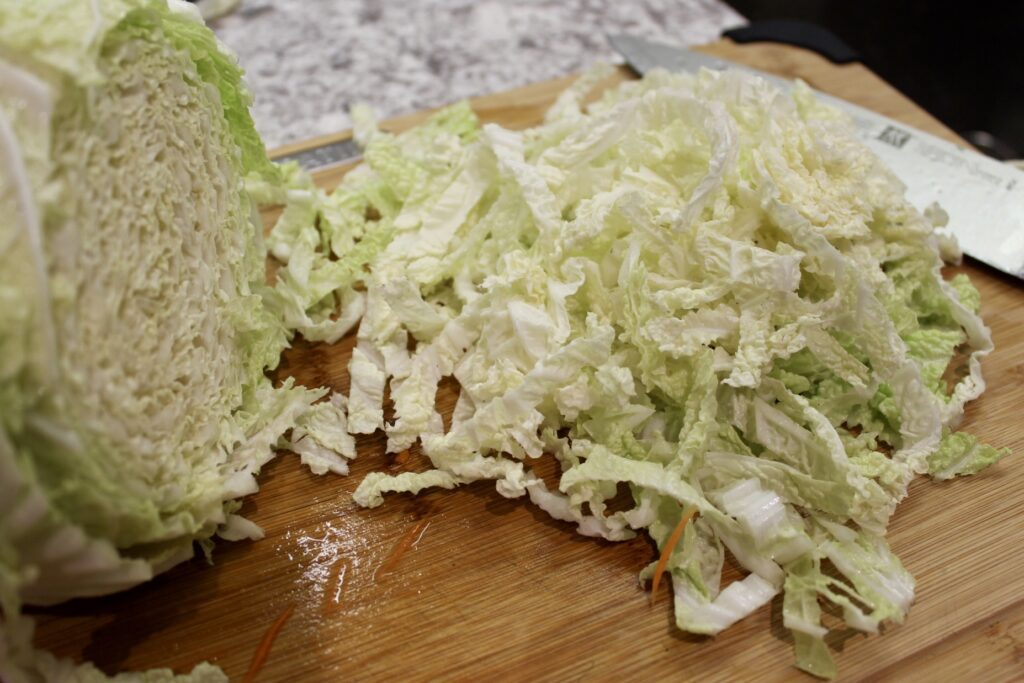 I have this awesome kitchen tool from Aussie Kitchen Gadgets that easily makes carrot ribbons. It's called a Julienne Peeler.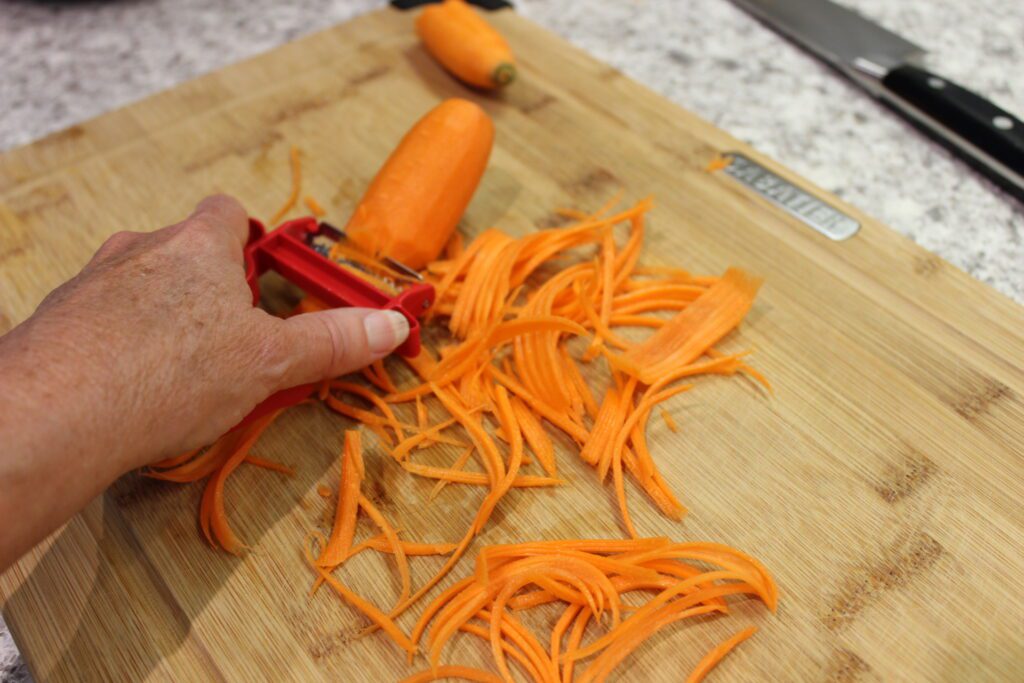 If you don't have a tool like this you can shred or grate your carrots. Add some minced green onions and that's it! You can also use chives instead of green onions. Or both. They add a really nice green colour to the mix.
The dressing can be mixed up in a jar and poured over right before serving. There's a hot pepper in there but if you prefer to skip the heat, just omit it. But everyone agreed that the heat really works in this salad. Just make sure it's very finely minced.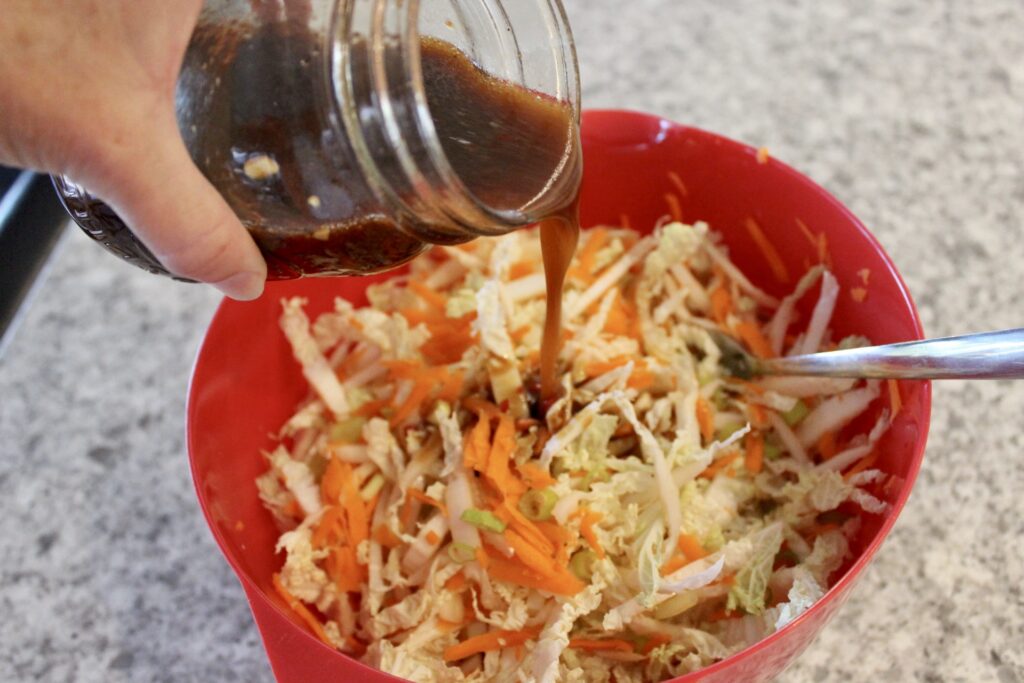 Crunch up the Ramen Noodles in the package. Careful though, if you get too aggressive the package might split open and dry Ramen noodles will fly all over your kitchen. Break up any large chunks by hand and stir them into the salad. Start in a larger bowl, but once the dressing is mixed in the salad reduces in volume and can be transferred to a smaller dish for serving.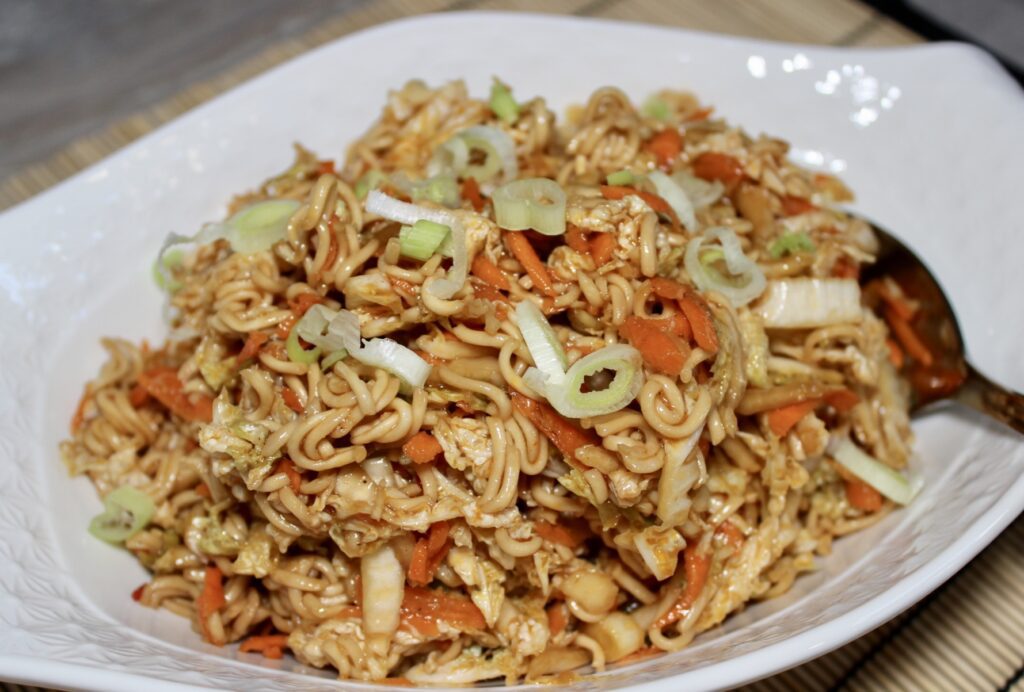 Top with more sliced green onions before serving. This salad will keep for several days.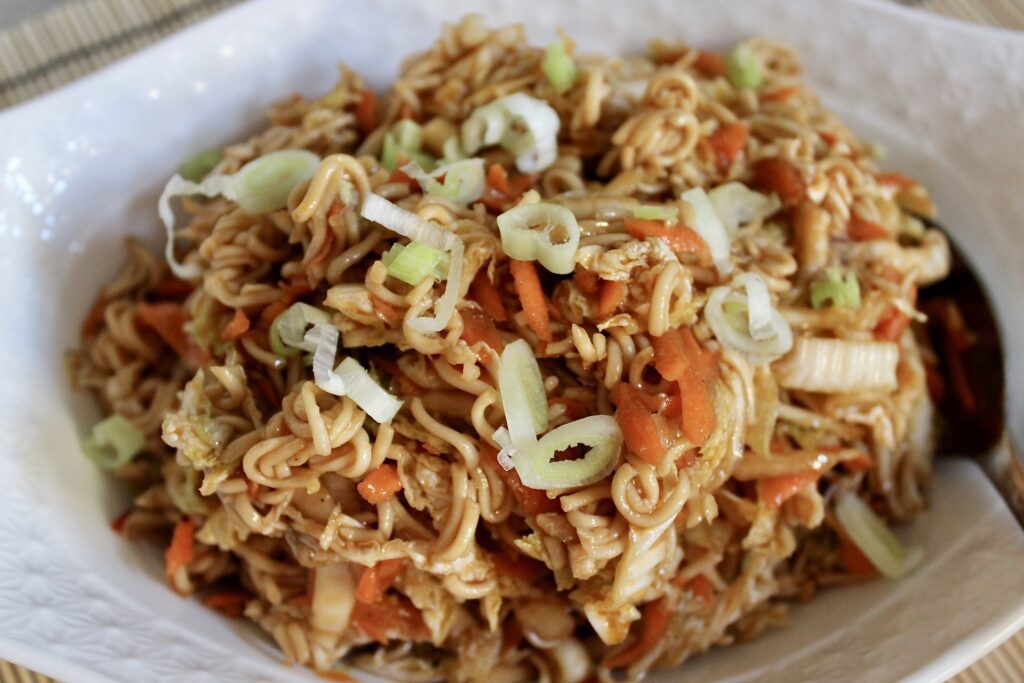 Here's the recipe:
Napa Cabbage and Ramen Noodle Salad
Napa Cabbage with carrots and green onions with a spicy dressing and crunchy ramen noodles
Ingredients
1

Napa cabbage

2

medium carrots

3

green onions

snipped chives

optional but adds colour

1

package instant Ramen noodles

discard flavour packet

3

minced garlic cloves

1

hot chili pepper, very finely minced

optional but recommended

¼

cup

vinegar

¼

cup

oil, light tasting like vegetable or peanut

not olive oil

⅓

cup

soy sauce

use reduced sodium if possible

2

Tbsp

white sugar

2

Tbsp

ketchup

2

Tbsp

sesame oil

cracked black pepper

pinch of salt if necessary

depends on sodium level of soy sauce
Instructions
Peel outer layers from cabbage if necessary. Thinly slice crosswise, avoiding very bottom area where vein is very thick and tough.

Peel and grate or shred carrots.

Mince green onion, saving some for topping. Mix with carrots and cabbage in large bowl.

Snip fresh chives with kitchen scissors into small bits if using and add to cabbage mixture.

Combine all remaining ingredients in jar and shake well. Pour over salad and mix.

Crunch up Ramen noodles and add to salad right before serving. Mix well.

Top with additional minced green onion if desired.

Can be refrigerated over night and served the next day. Noodles will be soft.

Will keep refrigerated for several days.
Print Recipe
Want more interesting salad recipes?
Spicy Thai Grapefruit Salad with Shrimp