You can make a complete meal from a few seasonal veggies and some store bought sausage meat. And if you're looking for an easy mid week dinner recipe, with some prep in advance, Sausage Stuffed Peppers can be whipped up in no time at all.
When peppers are in season, these Sausage Stuffed Peppers are a great way to enjoy them, along with some other late summer produce. Choose green or red peppers. It doesn't matter. But for the best presentation, use some sweet red pepper in the stuffing mixture if you're stuffing green peppers or the opposite if you're using red. Just to add some colour.
Jump to Recipe
I prefer cutting the peppers in half instead of stuffing full peppers. Personally it's a better ratio of veggies to meat for me. Just cut them in half, scoop out the seeds and veins and lay them in a baking dish. This recipe makes enough stuffing for 2 large or 3 medium sized peppers.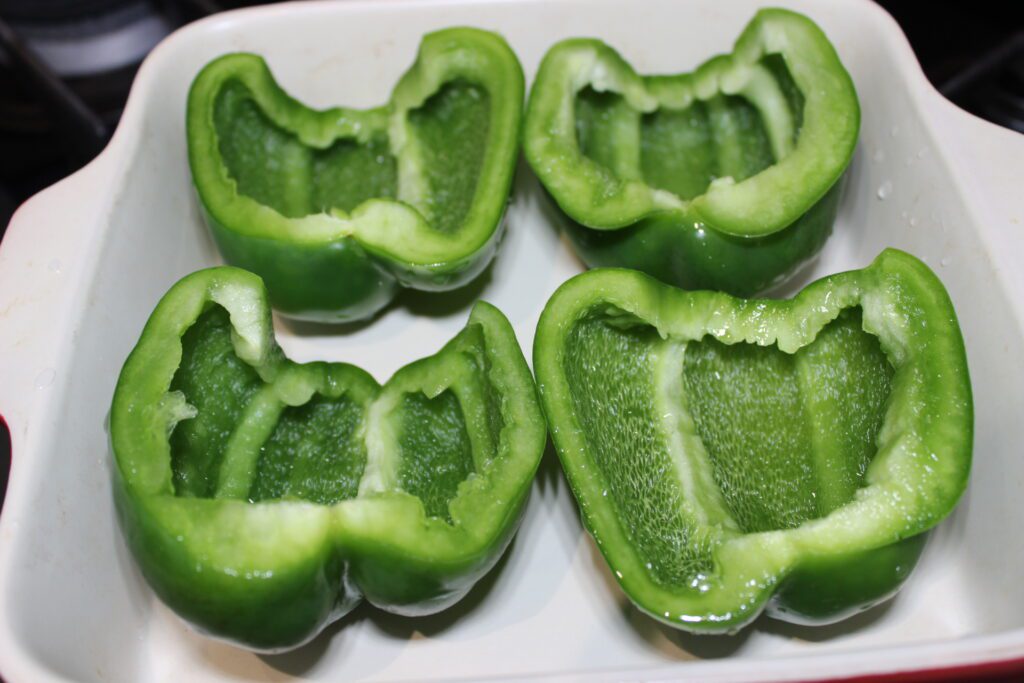 Eggplant and summer squash or zucchini don't have a lot of flavour but they're excellent sponges. So adding some to the stuffing mixture not only adds volume and nutritional value, but also soaks up the flavours from the sausage and seasoning. Sauté some onion and garlic, mushrooms and peppers in olive oil along with your chopped eggplant or summer squash. You can add some hot peppers too if you like.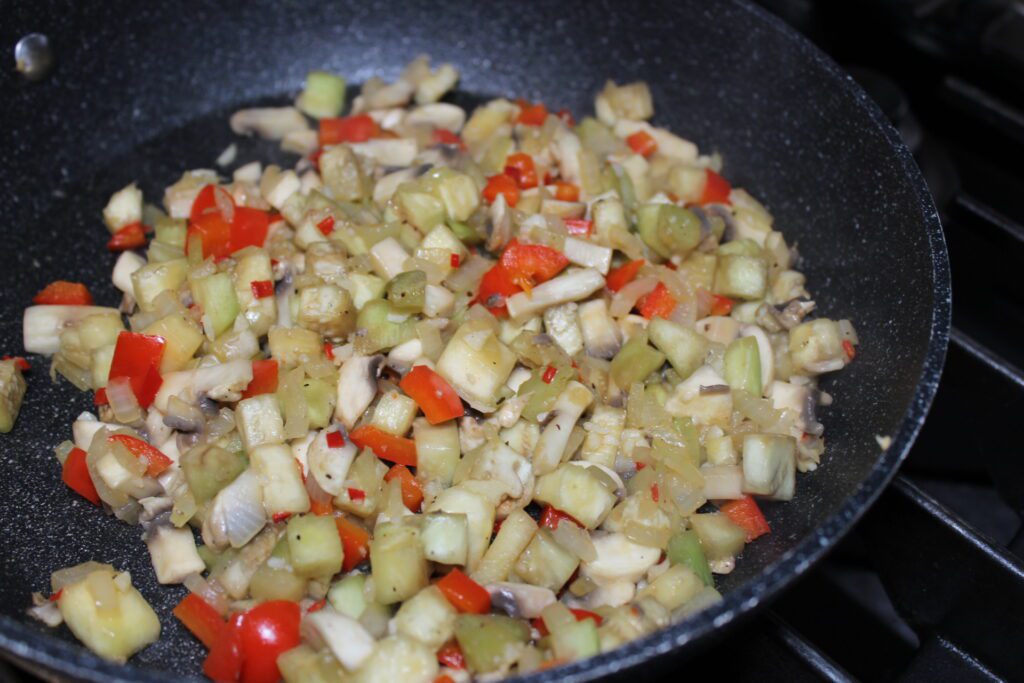 Sausage Meat in Stuffed Peppers
Using sausage meat is great for this easy Sausage Stuffed Peppers recipe because it saves time and ingredients. All the seasonings are already in the meat so you just have to add a few things and they're ready to bake. If you can't find sausage meat, just buy sausages and squeeze the meat from the casings right into the pan. For spicy people like me, use hot sausages or add hot peppers to the stuffing mixture. Otherwise use mild Italian sausage meat. Italian seasoned sausage meat works perfectly in this mixture with the right amount and kind of seasoning. You won't need much salt and pepper since the sausages are already seasoned. Taste before stuffing and decide if you want some or not.
Once the veggies are partially cooked, spread them to the edge of the pan and add your sausage meat to the middle. Brown the meat, breaking the chunks up as it cooks. Once it's mostly cooked, stir everything together.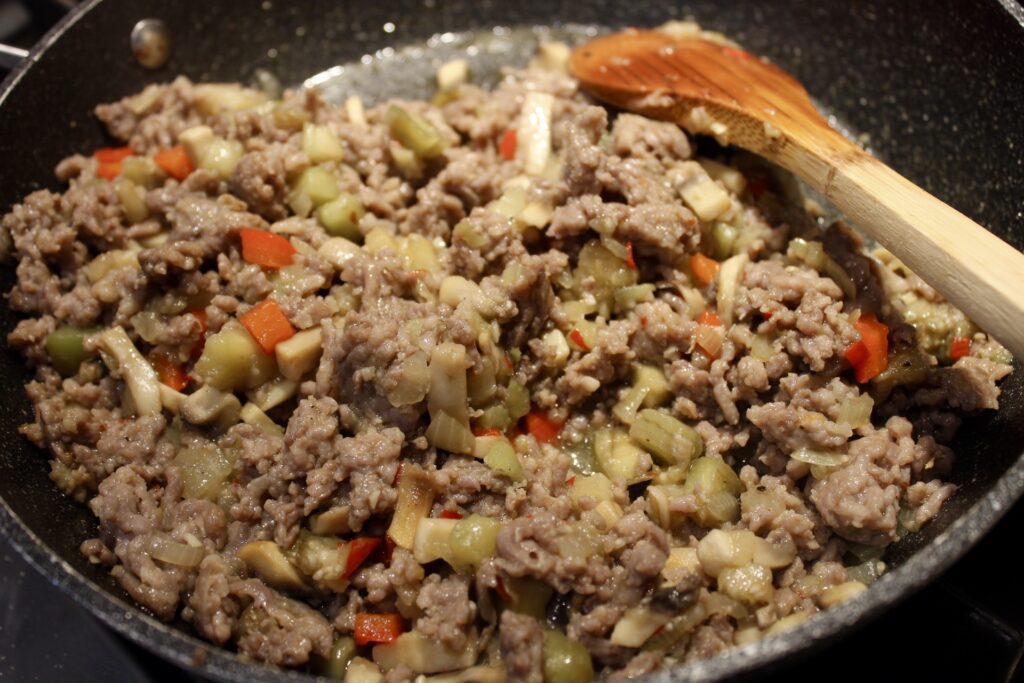 While you're preparing the filling, preheat the oven and pre bake the peppers, covered with foil for about 15 minutes. Pre baking the peppers while you're making the filling gets them started cooking, saving you baking time and ensuring the peppers have the right consistency for serving. Not too soft and not too crunchy. You'll notice a bit of liquid may be pooled in the bottom of the peppers after pre baking them. Get rid of that liquid before you stuff them.
Stir in some shredded cheese and fresh chopped parsley then pile in as much stuffing as you can.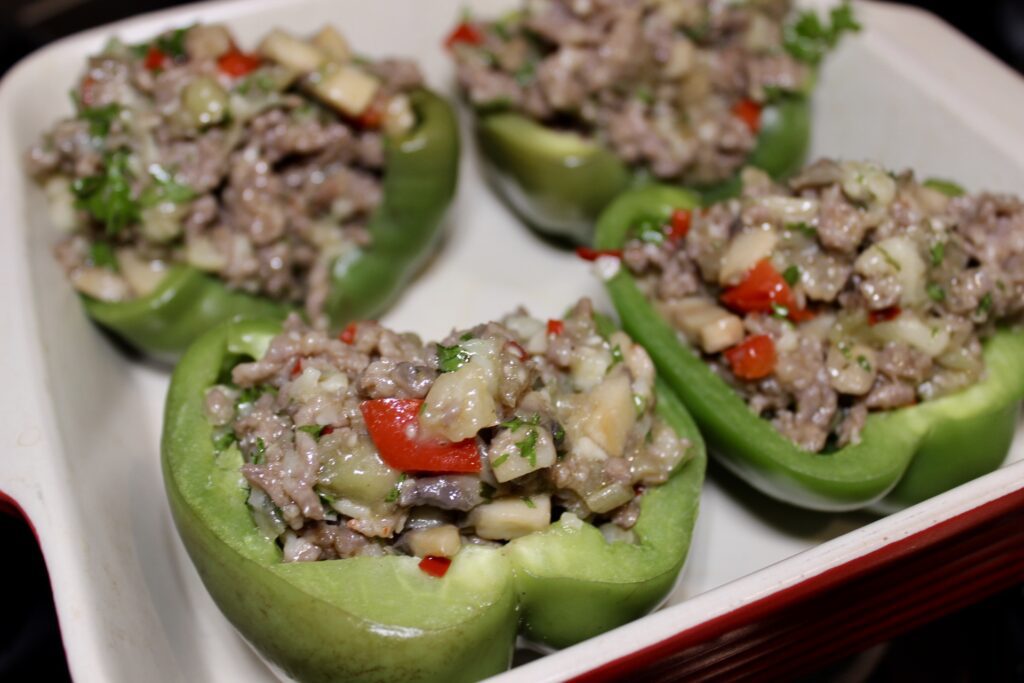 Sprinkle some breadcrumbs on top and bake, covered first, then uncovered so they brown on top. Use convection setting if you have it or switch to roast to maximize the browning on top. For a gluten free version, skip the breadcrumbs. You could add Parmesan cheese instead.
The cheese in the filling makes it ooey gooey and creamy.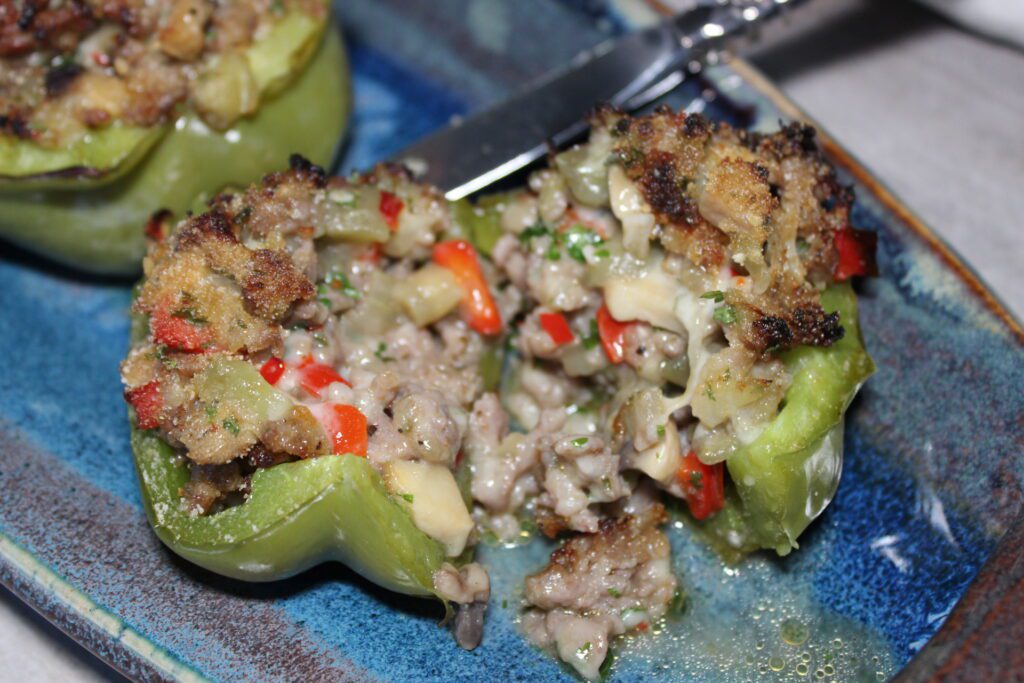 For an even speedier mid week meal, pre bake the peppers and make the filling in advance. Then, when you're ready to cook, add the shredded cheese and fresh parsley to the filling, fill your peppers and bake them. You'll have dinner on the table in 30 minutes or less!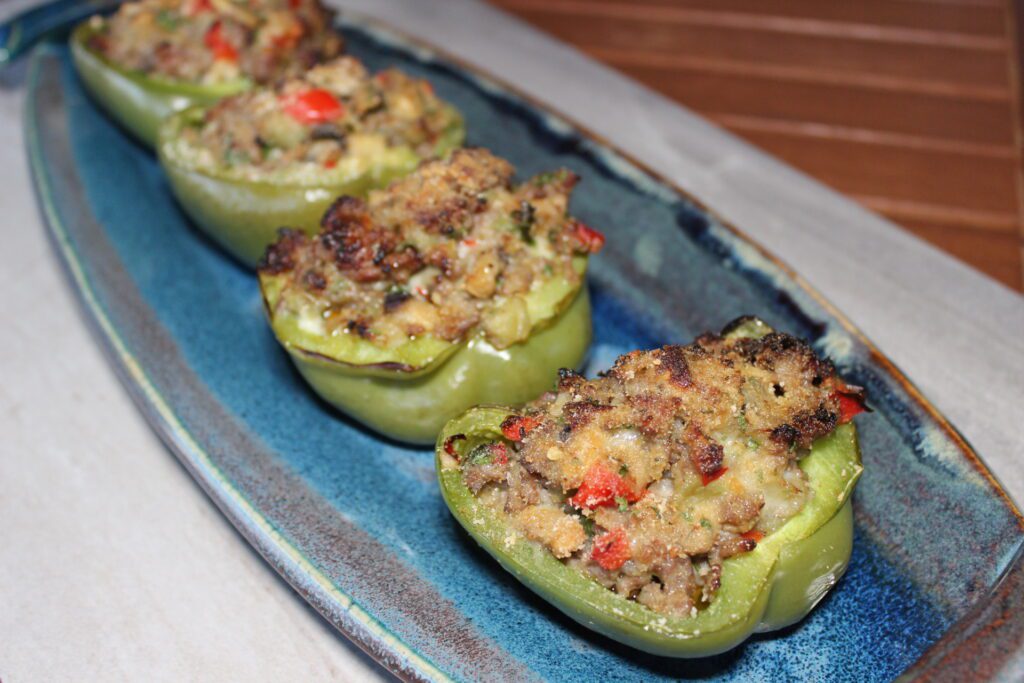 You can enjoy Sausage Stuffed Peppers on their own as a complete meal or serve along with some Rosemary Roasted Potatoes.
Here's the recipe:
Sausage Stuffed Peppers
Sweet peppers stuffed with sausage, veggies and cheese, topped with crunchy breadcrumbs
Ingredients
2

large sweet peppers

or 3 medium, any colour

1

lb

Italian sausage meat

mild or hot

1

Tbsp

extra virgin olive oil

1

clove

garlic

½

onion

½

medium eggplant

or 1 small summer squash

½

sweet pepper, opposite colour of main peppers

4

medium mushrooms

¼

cup

diced hot peppers

optional

salt and pepper to taste

1

cup

shredded sharp cheddar cheese

2-3

tsp

bread crumbs

handful fresh chopped parsley
Instructions
Preheat oven to 350°. Cut peppers in half and scoop out seeds and veins. Lay upright in baking dish, cover with foil and pre bake while oven is preheating, approximately 15 minutes.

Saute onion and garlic in olive oil at medium heat just until softened. Add diced pepper, hot pepper if using, chopped mushrooms, diced peeled eggplant or summer squash (no need to peel summer squash).

Once all vegetables are softened, spread to edge of pan and add sausage meat. Brown meat, breaking up chunks until almost cooked. Stir all filling ingredients together. Taste and season with salt and pepper if needed.

Stir shredded cheese and parsley into stuffing mixture.

Remove peppers from oven and pour out any liquid that has formed in the bottom of peppers. Add stuffing, pressing well into the bottom and heaping on top. Cover with same foil and bake 15 minutes.

Remove foil, add breadcrumbs and change oven setting to convection bake or roast. Cook another 15 minutes or until top is browning.
Print Recipe
more ideas with sausage
Baked Pasta with Sausage and Peppers
If you've tried this recipe, consider leaving a comment or a rating. Or, you can share the post by clicking on the icons below.