Chunks of artichokes in a creamy cheesy mixture, topped with Parmesan and baked until hot and melty. Warm Artichoke Dip is a crowd pleaser at casual gatherings. This simple recipe features an interesting optional ingredient that goes perfectly with artichokes.
This isn't a recipe for someone who doesn't really like artichoke dip. You know who I mean, the ones who just eat it for the cheese and hope they don't get any artichokes. Or the ones who don't know there's artichokes in the mixture because they're pureed. This version has lots of artichokes and they're roughly chopped so you know what you're eating. And the ingredient list is short so you're not overpowering the flavour.
Jump to Recipe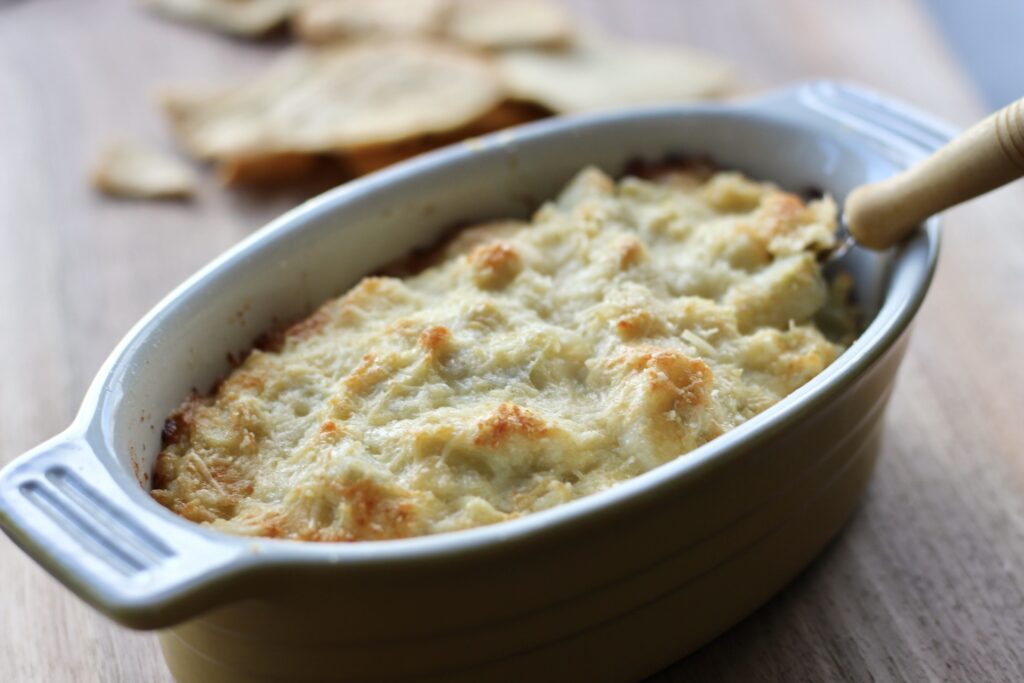 A friend of mine made a Warm Artichoke Dip years ago. She called it 1:1:1. Or one and one and one dip. It was one can of artichokes, one cup of mayo and one cup of parmesan chopped up in a food processor. Pretty simple and tasted good. I hadn't made it myself until recently. It was ok but the artichokes were almost undetectable and it was a bit oily on top.
I thought about what I liked and didn't like about the previous versions and updated the recipe. Mayo can get oily when cooked but I've learned that adding more fat to ingredients that tend to separate usually does the trick. So I used cream cheese in addition to the mayonnaise and that seemed to work. Use full fat which is less likely to separate when heated. And what goes great with cheese? More cheese. Lots of freshly grated Parmesan both in the mixture and on top. Make sure you use real Parmesan and not the dry stuff that comes in a can. It doesn't melt. And real mayo, not the sweet dressing type.
Artichokes have a mild briny flavour that gets lost if overpowered so I decided to add more and leave them chunky. Then it occurred to me, I'd tried Hearts of Palm a few years ago and they had a very similar flavour and texture. I figured what the heck, toss some in and see what the taste testers think. They were perfect in the mixture. If you can't find them, just use 2 cans of artichokes. But if I can find them way up here in the great white north, maybe you can too. Look in the artichoke and pickle section or the canned veggie isle.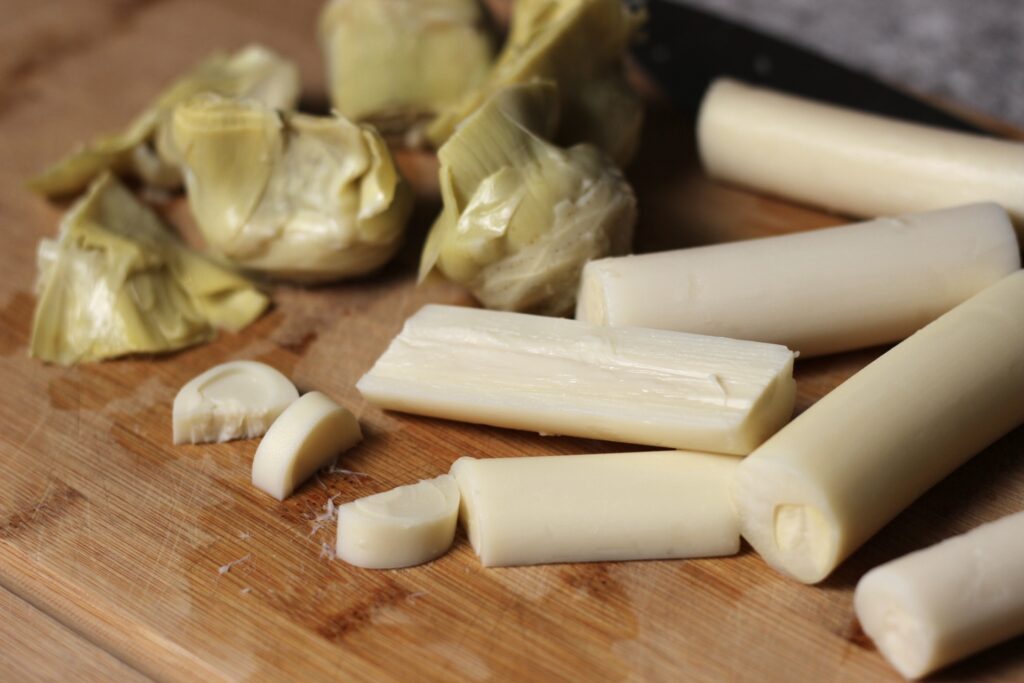 What are Hearts of Palm?
If you're not familiar with Hearts of Palm, they are literally the heart – inside – of a young palm plant. The first time I had them I initially thought they were leeks. They were sliced into rings and were served with a squirt of fresh lemon juice and some cracked black pepper. The flavour is quite mild and they come canned in water or brine either whole or in rings. And guess what? They actually have some nutritional value!
If you decide to use the hearts of palm, you may find there's more of them than artichokes. Especially if you buy them whole. If so, use a bit less than one can. Serve the leftovers cut into rings with a squirt of lemon juice and cracked black pepper. That's how I had them the first time and they're a fun addition to a charcuterie board.
This recipe makes about 3  cups of dip so you can either spoon it into one larger wider oven safe dish or 2 smaller ones. If you're saving one to bake later, wait until it's about to go in the oven before you sprinkle the Parmesan on top. Bake the Warm Artichoke Dip for about 35 minutes. It sounds like a long time for a small dish but it needs time to heat slowly. If the top isn't quite brown, turn up the heat or turn to convection for about 5 minutes or so. I don't recommend broiling unless you're watching very closely.
Serve Warm Artichoke Dip with pita crackers or any bite sized crunchy cracker that can hold lots of dip. Or veggie sticks for a lower carb snack. If you're wondering what to do with the rest of the cream cheese, you could make Creamy Chicken and Mushroom Rotini.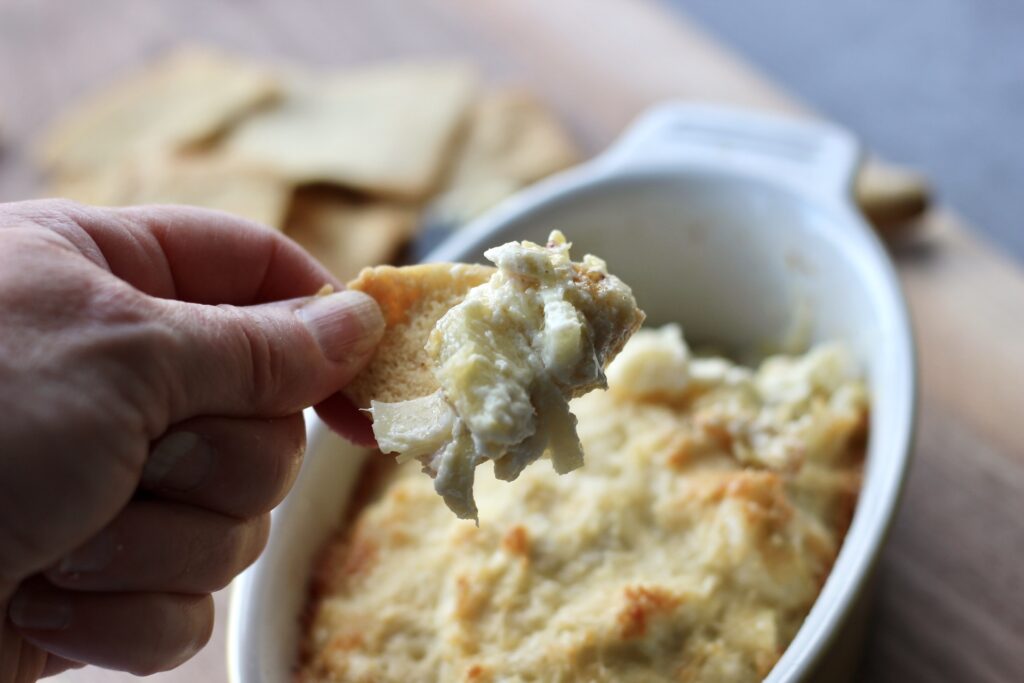 Here's the recipe:
Warm Artichoke Dip
Artichokes in a creamy cheesy dip with an option to add hearts of palm.
Ingredients
1

can

artichoke hearts

398 ml or 14 oz, not seasoned

1

can

hearts of palm

398 ml or 14 oz - or sub artichoke hearts

¾

block

full fat cream cheese

at room temperature

½

cup

mayonnaise

real mayo, not miracle whip

1

cup

freshly grated Parmesan cheese

divided into ¾ cup and ¼ cup

¼

tsp

salt
Instructions
Drain artichokes and hearts of palm (if using). Chop up into chunks. If desired, chop into smaller chunks.

Combine cream cheese, mayo and salt with artichokes and hearts of palm.

Grate Parmesan cheese. Add ¾ cup to mixture and combine well. Pour mixture into shallow baking dish or 2 smaller oven safe dishes. Top with remaining Parmesan.

Bake for 30-35 minutes at 350°. If top is not browning, increase heat or turn to convection bake for 5 minutes until golden and bubbling.
Print Recipe
more popular party food
If you've tried this recipe, consider leaving a comment or a rating. Or, you can share the post by clicking on the icons below.