Imagine a melt in your mouth shortbread cookie with chunks of chocolate covered almonds inside. You can't buy them from the Shriners any longer but you can now make your own. It took me years to get this recipe but it was worth the wait.
I used to buy these cookies at Christmas time from the Shriners. They would be selling their fruitcakes and goodies in shopping malls to raise money for children's hospitals. Although I felt good about the charity part, I really bought them because they were SO GOOD. Unfortunately, after a few years they didn't sell them any more. Year after year I'd ask them if they sold these cookies. Most of those I asked hadn't ever heard of them.
I was starting to think I'd lost my mind. I googled. I asked other people. No luck. Then, I pulled out an old cookie tin and what do you know, it was the tin that contained my beloved cookies! With a list of ingredients and a manufacture name on the back. I checked their website and nope, they don't make them any longer. But I had the ingredients. And the evidence that I wasn't crazy.
When a product lists the ingredients, they are in order from largest to smallest quantity. So by comparing a few shortbread recipes I had on hand with their ingredient list, I was able to come up with a recipe for Shortbread with Chocolate Covered Almonds that tastes just like I remember.
Jump to Recipe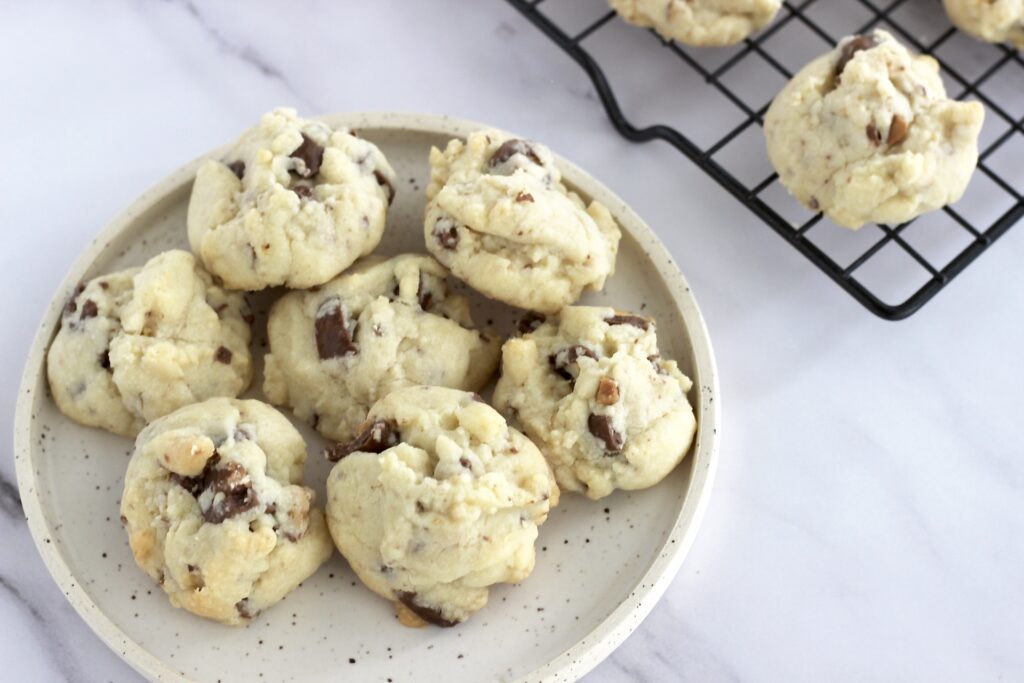 How to make Shortbread with Chocolate Covered Almonds
The dough is very stiff so you'll need a stand mixer or a heavy duty hand mixer. Unless you're training for the olympics and have tremendous arm strength, then you might be able to mix this up by hand. The key is to really whip the butter well, then slowly add the dry ingredients. On low speed. Otherwise you'll have a flour and icing sugar cloud over head. Once the dry ingredients are mixed in you can turn up the speed and whip the dough some more.
Make sure you buy real chocolate covered almonds. Check the ingredient list and look for words like milk, cocoa and sugar. If the packaging says "chocolaty" or "chocolate flavoured" with ingredient words like hydrogenated or oil, take a pass. You need less than a cup of chocolate covered almonds so it's worth the spurge on good ones.
Chop up the almonds into chunks. A typical one could be cut into 3 or 4 pieces which isn't actually easy but they don't all have to be the same size. Plan on about one full almond candy in each cookie so somewhere between 25-30 chocolate covered almonds is about the right amount. The cookie dough isn't very sweet but the chocolate makes up for it.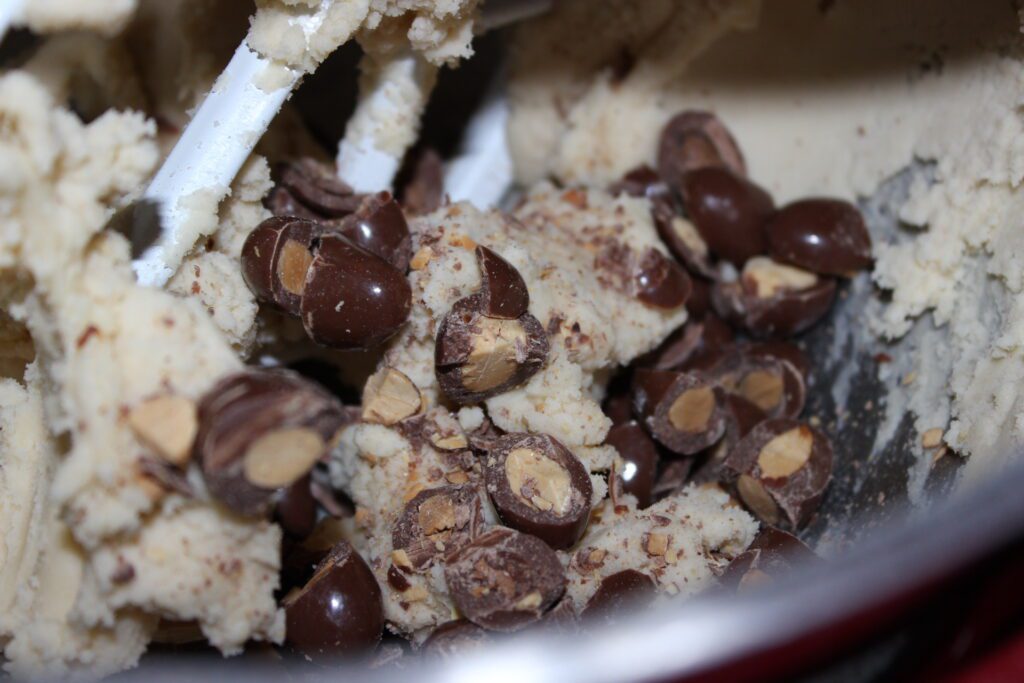 Add the chopped almonds to the dough and mix them in on low speed, just until they're about evenly spaced throughout the dough. Preheat the oven to 325 degrees and line one full sized or 2 half sized baking sheets with parchment paper. Or, just use a dry, not oiled, baking sheet. These cookies aren't shaped, just spoon equal amounts of the dough and drop onto the baking sheet. Not too big, not too small.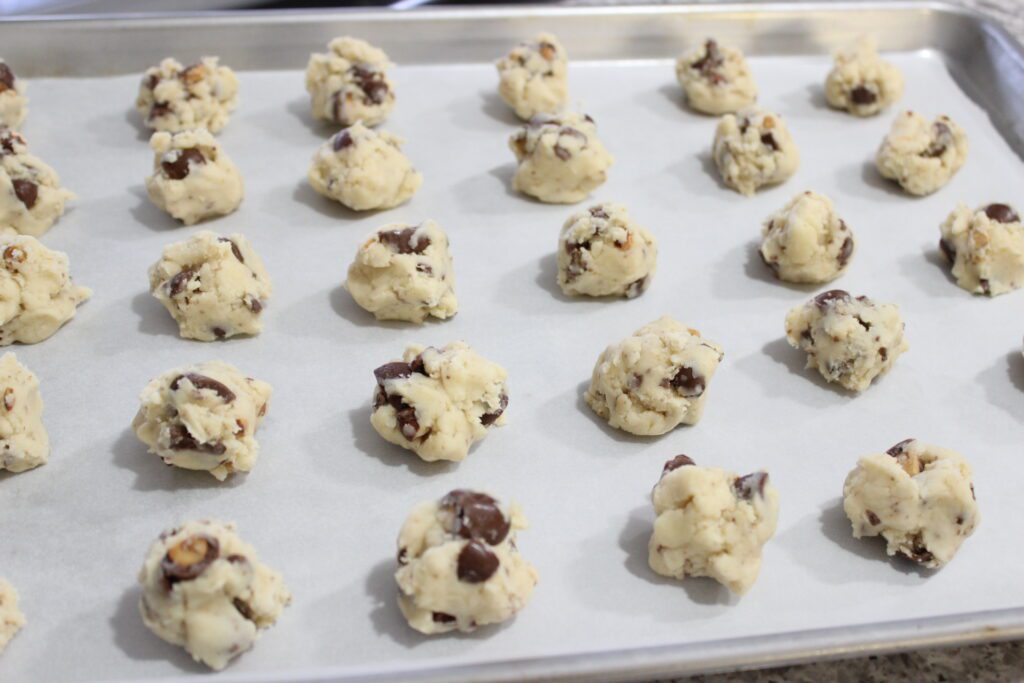 Bake them for 22 minutes in the middle of the oven. You don't want them to brown, just a hint on the bottom is enough. The chocolate doesn't melt because this kind of chocolate is made to hold its shape, like a chocolate chip. Let them cool before storing in cookie tins. This recipe makes about 30 cookies.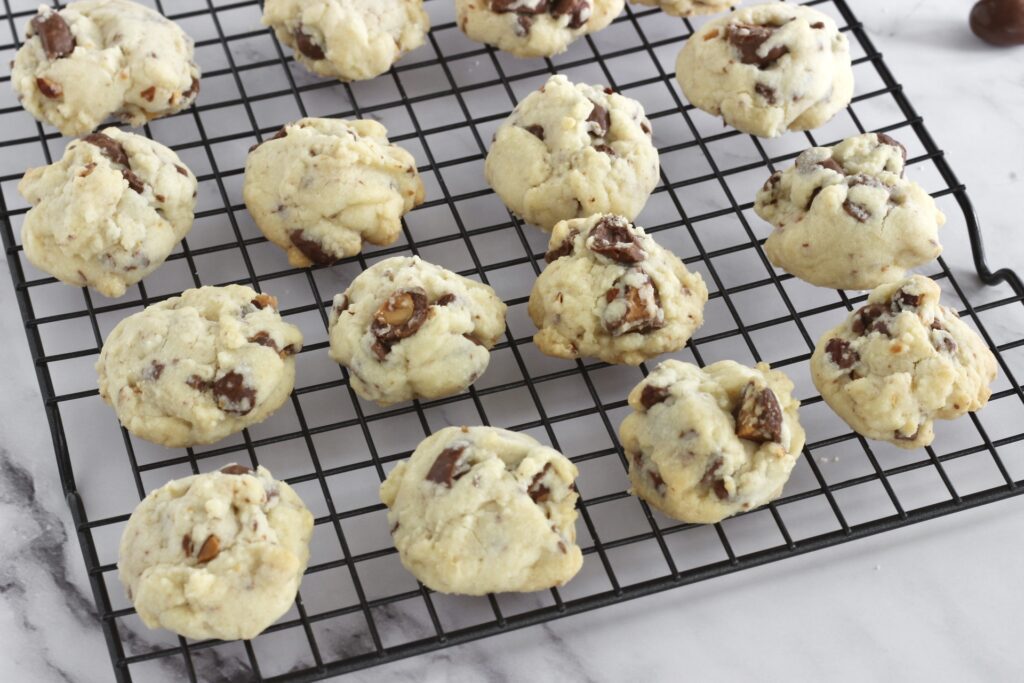 Shortbread with Chocolate Covered Almond Cookies are hard to give away. Cookies are meant to be shared but honestly, you may have a hard time letting go of the tin.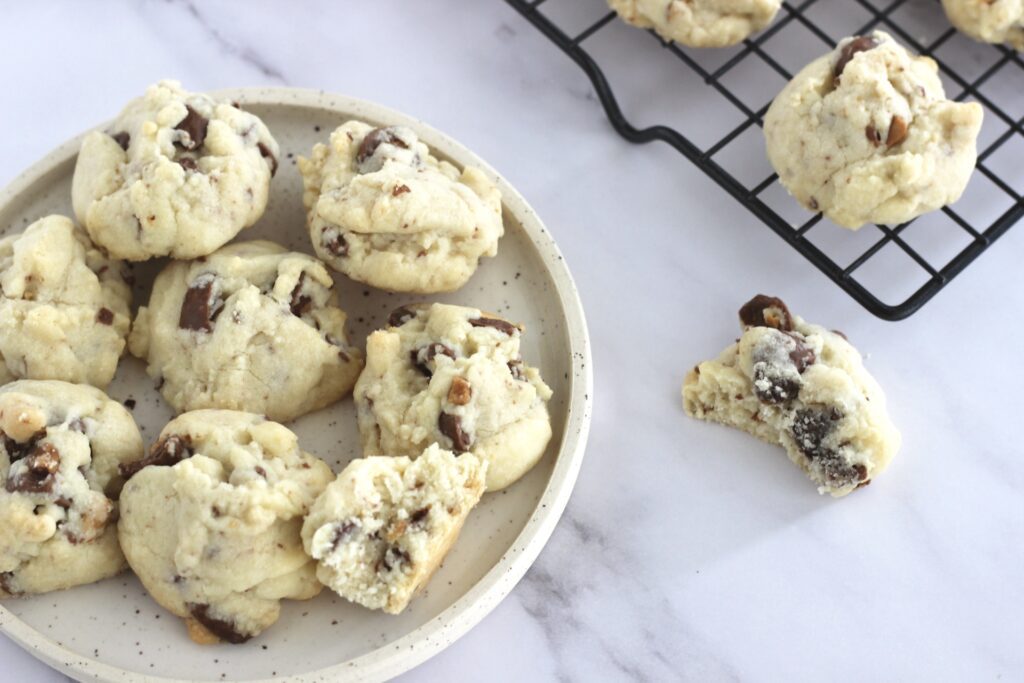 Here's the recipe:
Shortbread Cookies with Chocolate Covered Almonds
Melt in your mouth shortbread cookies with chunks of chocolate covered almonds
Ingredients
1 ¾

cups

sifted all purpose flour

sifting prevents using too much flour

1

cup

unsalted butter

½ pound at room temperature

½

cup

icing sugar

½

cup

cornstarch

¾

cup

chocolate covered almonds, chopped into chunks

use real chocolate covered almonds
Instructions
Allow butter to warm to room temperature. Add to stand mixer and beat well until fluffy. Scrape down sides of bowl periodically to ensure all butter gets whipped.

Sift together dry ingredients. Add a small amount to mixer and beat on low, adding more in small amounts until blended. Beat on high for a minute or so.

Chop almonds into chunks, into thirds or quarters. Add to mixer and beat on low just until incorporated evenly.

Preheat oven to 325° and set rack to centre of oven. If using 2 racks, arrange evenly as close to centre as possible.

Line one full size or 2 half size baking sheets with parchment paper. Alternatively dry sheets can be used, do not oil or spray.

Spoon even amounts of dough onto baking sheet, ensuring there are some chocolate covered almond pieces in each chunk. Cookies can be fairly close together as they don't expand during cooking.

Bake for 22 minutes or until cookies are just set and only a tiny golden colour on bottom. Do not let brown.

Cool on a rack before storing in tins.
Print Recipe
more cookie recipes
If you've tried this recipe, consider leaving a comment or a rating. Or, you can share the post by clicking on the icons below.