I have no idea why people make this around Christmas but it seems lots of people do and everyone has their own version. Some people call this Bits and Bites. No matter what the season or what you call it, Nuts and Bolts is a tasty mix of toasted cereals, pretzels, crackers and nuts, perfect for snacking.
I was actually given this recipe in 1983 by a coworker. It was tucked away in a recipe book and I found it years later. I hadn't ever made it but I didn't need to because my sister always made some and if I was lucky I'd get some free! But now I make my own.
The first time I made Nuts and Bolts was to give as gifts to the many staff I worked with. Mr. H was pretty disappointed that I gave most of it away so I made another batch. The following year some of the staff hinted they were looking forward to getting some more. So it became a tradition. The cereals and crackers you use are up to you. It really doesn't matter. The most important thing is using snacks you like, having a good variety and adding the liquid and seasoning in smaller amounts and stirring carefully so everything gets coated evenly while getting warm and toasty.
Jump to Recipe
What goes in Nuts and Bolts?
I like a combination of a rice cereal, oat cereal, pretzels, peanuts and lots of cheesy crackers like Cheese Bits, Cheese Nips and even Cheesy Fish! Many people use Shreddies. I prefer something less sweet because I find they don't pair well with cheese crackers, however if you're not using cheesy options in your mix, the Shreddies are good! Mixed nuts are nice too if you feel like splurging.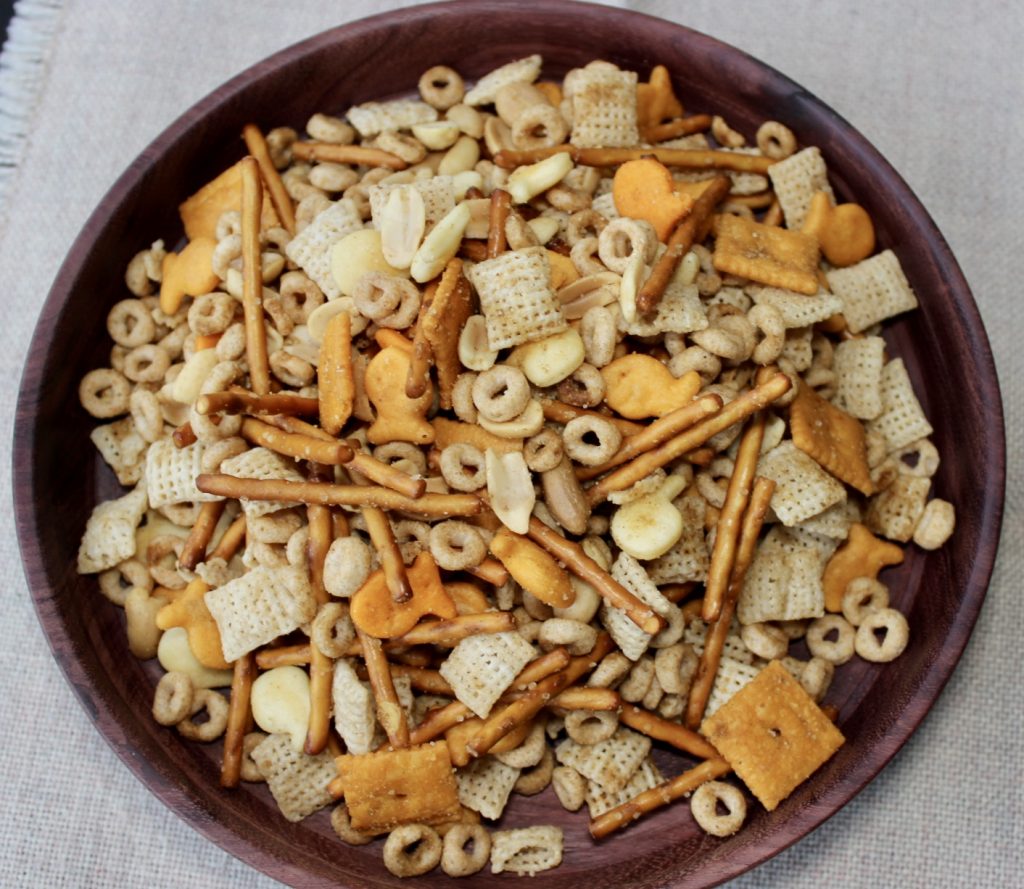 Start by emptying all the cereals, crackers etc. into a large roasting pan. Fill it quite full but leave a few inches so you can stir without everything falling out. It's more of a folding technique than stirring. You don't want to break up the pieces. Try to keep an even proportion of each item so don't use the extra big cereal boxes. Or save some for breakfast.
Melt the butter and stir in the oil and Worcestershire.
Combine the 3 spices in a shaker or bowl. You can use garlic salt or powder. You can use onion salt or powder. Just don't use all 3 salts. I find it's a little too salty. I usually use the combination of celery salt, garlic powder, onion powder. The butter and Worcestershire are salty enough.
Pour about 1/4 of the butter and oil mixture over the dry ingredients. Shake about 1/4 of the seasoning over. Now gently fold from the outer edges in carefully. Add another quarter of liquid and seasoning and fold again. Continue until all the dry ingredients are coated evenly. Pour, sprinkle, stir. Repeat.
My friend Betty told me she uses 2 large pans and pours the mixture from one into the other instead of stirring, which helps prevent snack breakage. Great idea Betty!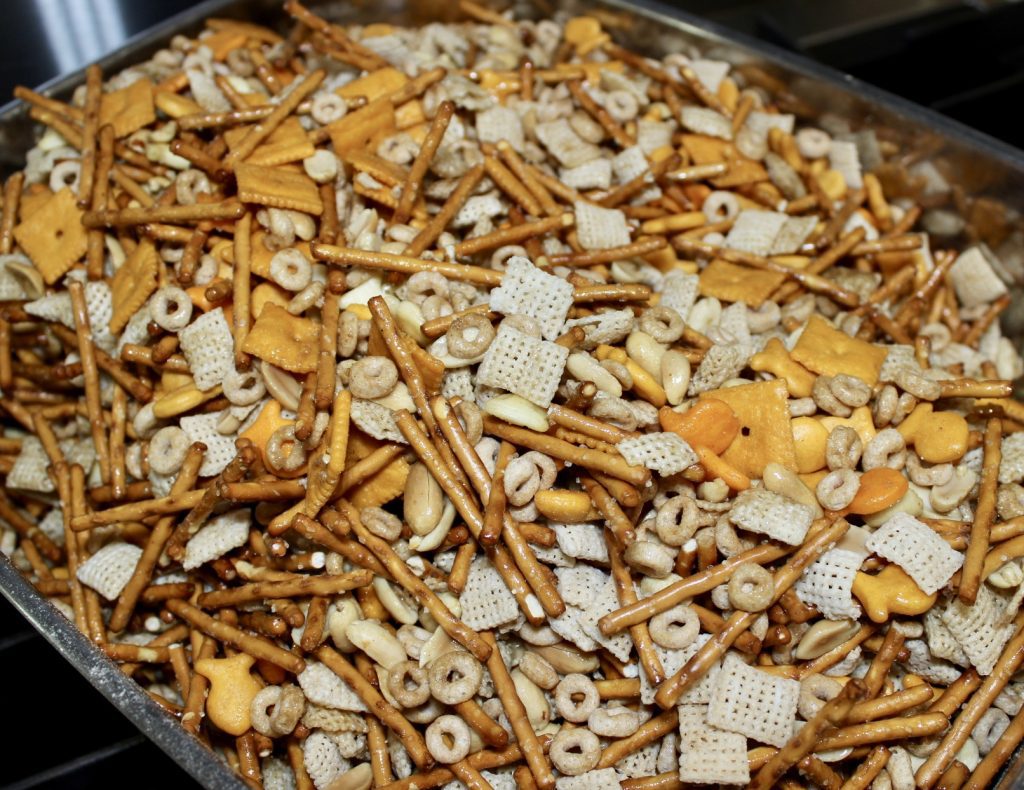 Bake in an oven set around 225 degrees and stir every 15 minutes for about an hour. Turn the oven up to 250 and roast another 30 minutes, stirring at the halfway point. Be patient. It will be drier every time you stir. After the last stir, turn off the oven and leave in for about 15 more minutes. Remove and stir one last time. It should be nicely roasted. Allow to cool and store in tins or plastic containers.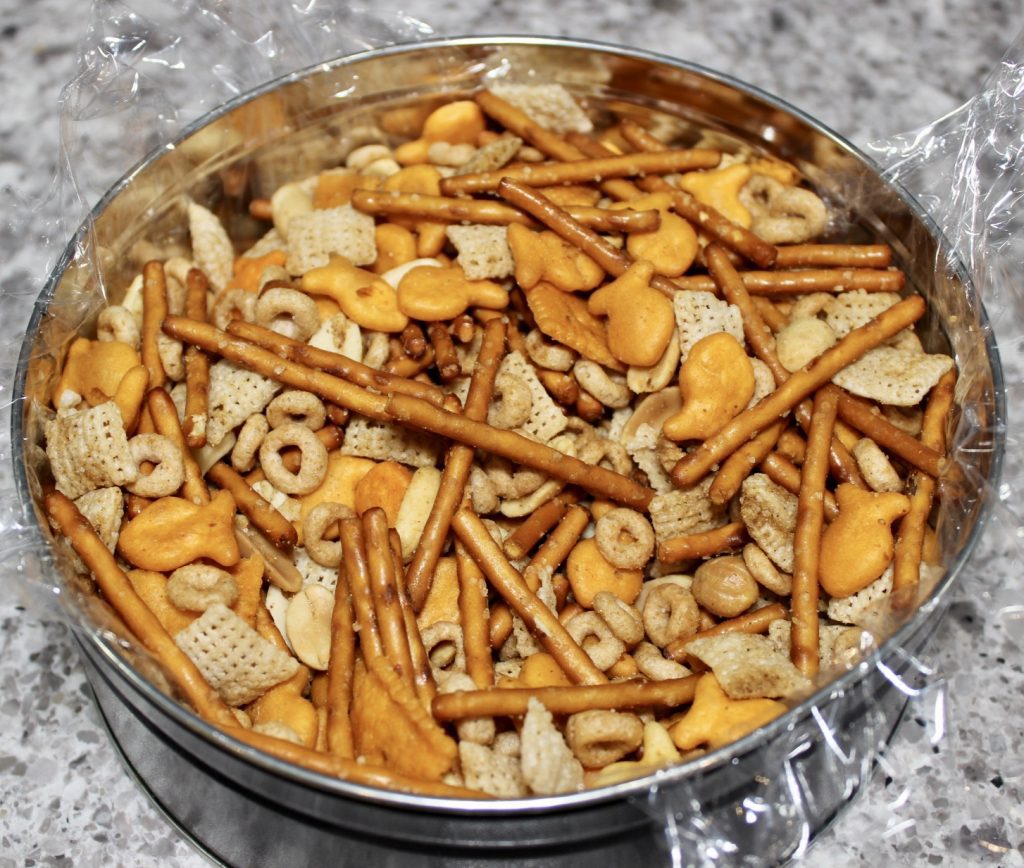 Nuts and Bolts don't need to be refrigerated. They stay fresh if you keep them in a cookie tin or a large sealed container or freezer bag. But they don't last long anyway. At least not in my house.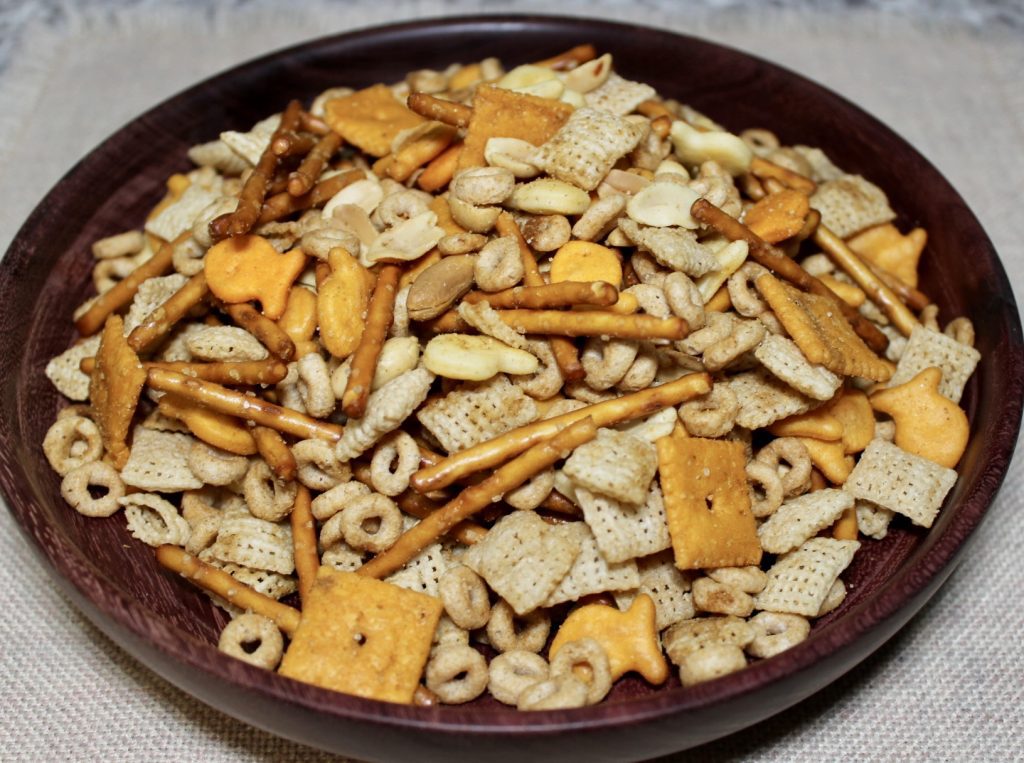 Pour some into festive cellophane and share with your friends!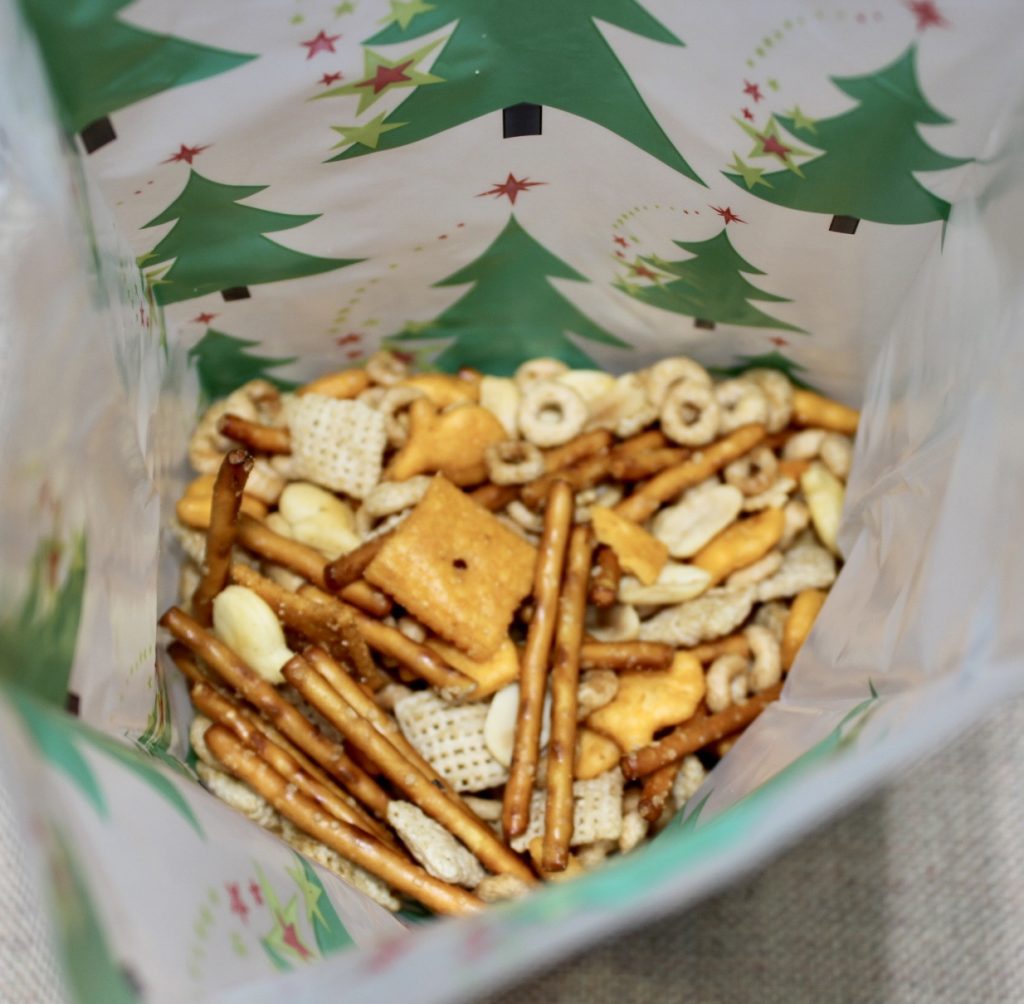 Here's the recipe:
Nuts and Bolts
Also called Bits and Bites, a popular snack mix of roasted cereals, pretzels, crackers and nuts
Servings
1
large roasting pan
Ingredients
1

C

melted butter

1

C

vegetable or canola oil

5

Tbsp

Worcestershire sauce

5

tsp

celery salt

5

tsp

onion powder

5

tsp

garlic powder

1

box

Cheerios or other oat cereal

1

box

Rice Chex or other rice cereal

1

bag

pretzel sticks

or small twists

1

jar

peanuts or mixed nuts

1

box

Cheese Nips crackers

1

box

Cheese Bits

or 2 package cheesy fish
Instructions
Preheat oven to 225° and set rack in middle setting.

Empty all snacks into a large roasting pan.

Melt butter in large measuring cup with pour spout. Stir in oil and Worcestershire sauce.

Combine celery salt, onion powder and garlic powder in shaker or container and mix well.

Pour ¼ of the oil mixture, then sprinkle ¼ of the seasoning evenly over top of cereal mix. Stir gently to coat using a folding technique, bringing mixture from bottom of the pan to the top. Repeat with the rest of the oil and seasoning in 3 more stages until everything is coated as evenly as possible.

Bake for an hour, stirring every 15 minutes. Increase oven temperature to 250° and bake another 30 minutes, stirring at the half way point. Turn oven off and leave in for one more 15 minute time span.

Allow to cook, stirring a few times during cooling, before storing in containers.
Print Recipe
more salty snacks