A heavenly dessert recipe with a shortbread bottom layer topped with strawberry custard then covered with whipped creamy topping. Strawberry Custard Cream Bars are like strawberry shortcake on steroids.
I was given this recipe by a coworker years ago. She was a wonderful baker and was always treating us to her creations. This one was actually written for rhubarb but I decided to try it with strawberries since they're in season right now. There are multiple steps that require some waiting time between but I assure you, Strawberry Custard Cream Bars are well worth the effort.
I typically research recipes that have been given to me hand written to see if they're already published. This one is found on Taste of Home website with exactly the same ingredient amounts but using rhubarb. So I'll assume it's one of those classic retro recipes. They're usually the best, aren't they Because this recipe features strawberries instead of rhubarb, I've reduced the sugar. Rhubarb needs lots of sugar but strawberries don't.
Jump to Recipe
Seasonal or Everbearing Strawberries?
Where I live, seasonal strawberries are at their peak in June and July. I find they're usually smaller and sweeter than Day-Neutral, or what are commonly called Everbearing strawberries that grow from spring to fall. Personally I prefer the seasonal June berries. When I see huge perfect looking strawberries I avoid them.
If you love shortbread cookies, you'll love the bottom layer of Strawberry Custard Cream Bars. It's baked just for a few minutes to set up enough that you can pour the strawberry custard layer over top. Then you bake it for another 40-45 minutes or so until the custard is set.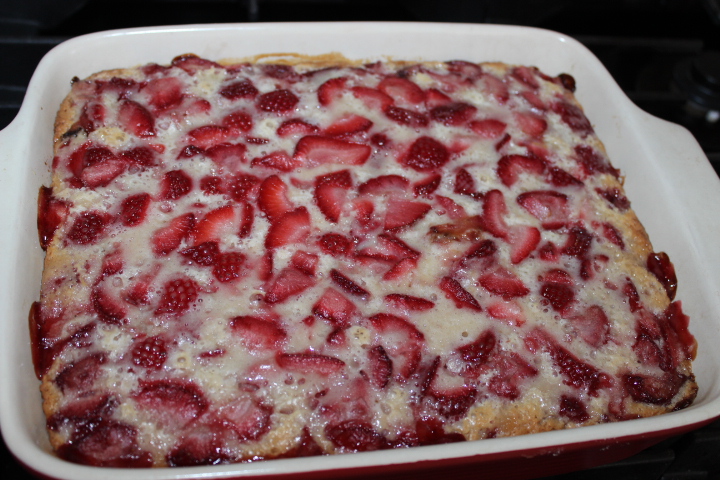 The edges will brown slightly and the centre should be set up. It will be jiggly but shouldn't be runny. I actually made this in a slightly smaller baking dish than 9 x 13 so it took a bit longer to bake because it was deeper. The result was more of a cake than bars but the taste testers all said two thumbs up. So you can make Strawberry Custard Cream Bars or…Cake.
What's the difference between whipped cream and whipping cream?
Whipped cream is already whipped and sweetened. Whipping cream, on the other hand, is 35% cream in a liquid form that hasn't been whipped. In this recipe you're using whipping cream (unwhipped) in the custard and then whipping the remainder for the topping. Don't even think about using fake whipped cream. The kind that starts with "cool" has no cream. It's an edible oil product that shouldn't be consumed by humans if you ask me. Yes, it's 35% butter fat. So what? Real vanilla is also best too but you can get away with artificial. The cream? No way.
You can't add the topping until it's cooled, otherwise your whipped cream mixture will melt.  Cream cheese mixed with the whipped cream gives the topping a thicker texture and a hint of tang. Make sure the cream cheese is at room temperature, otherwise it will be lumpy.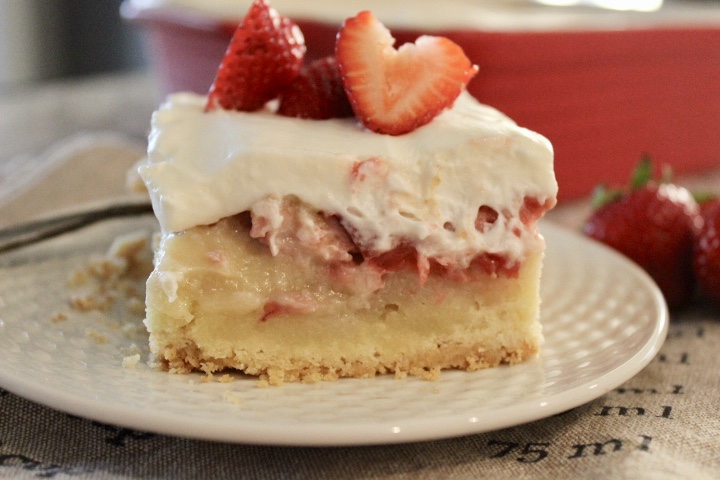 You might find the bottom layer is a bit crumbly if you serve it right away but it softens as it sits. In fact, Strawberry Custard Cream Bars last in the fridge for a few days, but they'll probably be gone by then anyway. You can easily make a half recipe in a smaller baking dish, 8×8 inch would be just about right.
Here's the recipe:
Strawberry Custard Cream Bars
Strawberry custard over a shortbread crust and topped with creamy whipped topping
Ingredients
Crust
2

C

flour

¼

C

sugar

1

C

cold butter
Filling
1 ½

C

sugar

7

Tbsp

flour

just under half a cup

1

C

whipping cream

35% cream, not whipped

3

large eggs, beaten

5

C

chopped strawberries
Topping
6

oz

cream cheese at room temperature

¾ of a package

½

C

sugar

½

tsp

vanilla

1

C

whipping cream, whipped
Instructions
Combine dry ingredients, cut in butter until it resembles cornmeal. You can do this in a food processor or use a pastry blender.

Press into a lightly greased 9x13 pan. Bake at 350° for 10 minutes.

Combine flour and sugar of filling ingredients. Whisk in cream and eggs. Stir in strawberries.

Pour filling over crust and bake at 350° for 40-45 minutes until set. Centre can be wobbly but not runny, edges will be slightly browning. Allow to cool while preparing whipped topping.

Beat cream cheese with sugar and vanilla. Whip cream until stiff peaks form. Fold into cream cheese mixture, incorporating well without deflating cream. Spread over cooled filling. Refrigerate to allow topping to set, about an hour, before serving.
Print Recipe
If you've tried this recipe, consider leaving a comment or a rating. You can share the post on social media by clicking on the icons below.
more creamy sweet treats