One of the first signs of spring is when local asparagus breaks ground. Asparagus Pesto Penne is a light and lemony pasta dish with a simple fresh green pesto made with the asparagus stalks.
Asparagus Pesto is so quick to make, it will be ready before the pasta is finished cooking. Penne is the perfect shape and size but fusilli or other short pastas would be a great option in this dish. And you don't need to cook the asparagus for the pesto. Everything is simply whizzed together in a mini chopper, food processor or blender, then poured over the hot cooked pasta.
Jump to Recipe
While the tips of asparagus are tender and pretty, the ends can be woody. In most cases, simply bend each spear near the bottom and they should snap off exactly where the woody part starts. But, if you've just cut your own and they're not very long, slice a small amount off the bottom and give it a chew. You might not need to trim much, if any. Also, if the stalks are fresh and fairly thick you might end up snapping off half of the stalks instead of just the woody ends. So it's better to check before you waste perfectly good asparagus.
Asparagus should be rinsed before cooking. Around here they grow in sandy soil so you want to make sure there's none hiding in the tips. Cut about 2 inch sized pieces off the top of the asparagus spears, then another row of pieces the same size. You want about 1 cup of tips. Put them aside, then use the remainder to make the pesto. You'll have about 2 cups if you chop them into chunks.
How to make Asparagus Pesto Penne
Assemble all your ingredients and get the salted pasta water on to boil. In order to not overpower the asparagus flavour in the pesto, there's only a little garlic. And, instead of basil pesto with lots of good olive oil, this one has a good splash of lemon juice and only a little oil. It's fresh and green and tastes like spring. In order to maximize the fresh flavours, fresh squeezed lemon juice and freshly grated Parmesan cheese are best choices. And no, you don't cook the asparagus that goes in the pesto.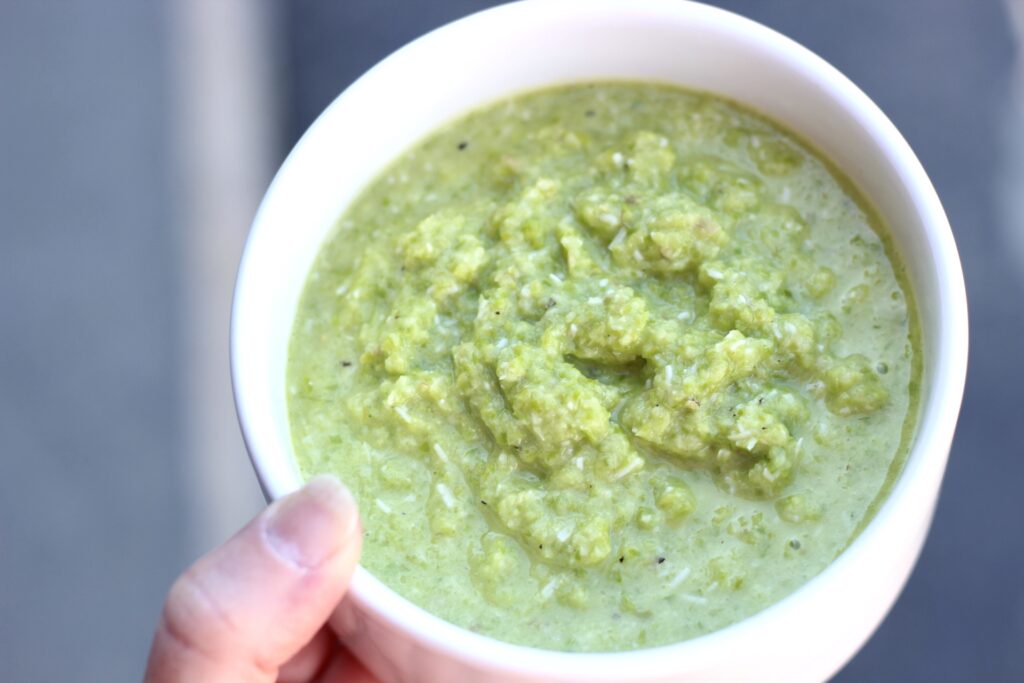 Once the pasta is almost cooked, add the reserved tips you set aside to the pasta water and cook for about the last 2 minutes. Cooking them a short time helps keep their fresh green colour and prevents them from getting too soft. Drain the pasta and reserve some of the cooking water.
Toss the hot pasta and asparagus tips in a big bowl with most of the pesto. Add a bit of the reserved hot cooking water and continue to toss until the penne is coated well and a creamy sauce is forming. Add the rest of the pesto and a bit more water if necessary until you have a perfect creamy warm Asparagus Pesto Penne.
If asparagus is in season, chives will be growing too. I love the way they compliment the fresh flavour and colour of Asparagus Pesto Penne. Use scissors to snip small pieces for garnish and grind some fresh Parmesan cheese over top.
Here's the recipe:
Asparagus Pesto Penne
A light and lemony pasta dish with asparagus pesto tossed with penne and asparagus tips
Ingredients
1

lb

fresh asparagus

rinsed and woody ends removed

2

cups

penne pasta

or other short pasta

1

clove

garlic, minced

½

lemon, juiced

approximately 2 Tablespoons

2

Tbsp

extra virgin olive oil

¼

cup

freshly grated Parmesan cheese

plus extra for garnish

1

tsp

kosher salt

or ½ tsp table salt, plus more for pasta water

fresh cracked black pepper

½

cup

reserved salty pasta cooking water

snipped fresh chives

optional, for garnish
Instructions
Rinse asparagus and trim woody ends. Cut off tips in about 2 inch pieces. Cut one further row from the top to have about 1 cup of asparagus tips and tops. Reserve.

Roughly chop remaining asparagus. Add to food chopper, processor or blender, along with garlic, lemon juice, salt and pepper. Process until fairly smooth. Drizzle in olive oil and process again until well blended.

Grate parmesan and stir into pesto. Taste and season with additional salt and pepper if required.

Meanwhile, bring large pot of salted water to a boil. Cook pasta 2 minutes less than al dente cooking instructions on package. Drop reserved asparagus tips into pot and cook for 2 minutes until pasta is al dente.

Drain pasta, reserving ½ cup of hot cooking water. Toss hot cooked pasta with pesto, stirring until well coated. Add some of the cooking water and toss until a creamy sauce forms, adding more water if necessary, up to but not more than ½ cup.

Serve immediately with more freshly grated parmesan cheese and snipped fresh chives if desired.
Print Recipe
more asparagus recipes
Grilled Halloumi and Asparagus Salad
Roasted Garlic and Asparagus Soup
For more Ontario Asparagus recipes, click here.
If you've tried this recipe, consider leaving a comment or a rating. Or, you can share the post by clicking on the icons below.