Have you ever ordered Fajitas in a restaurant and were served a sizzling pan of…..peppers and onions? With barely any meat? Yup, me too. Making your own Steak Fajitas at home guarantees you get lots of meat and the perfect ratio of meat to vegetables. And homemade Fajita Seasoning is simple, cheap and stores for ages.
When I say Steak Fajitas, I mean steak. Real steak. You can stretch one decent sized strip loin to make 6 fajitas so that would serve 2 – 3 people nicely. Not bad for one steak right? And, leftover cooked steak is awesome for fajitas because the thin strips of meat are stir fried quickly so dinner is ready in no time at all. Our friends Keith and Jenn came for the weekend and brought an enormous feast for dinner. As usual. We had leftover strip loins so I knew exactly what I was going to make!
Jump to Recipe
Strip loins are perfect for fajitas. Their shape is just right for cutting very thin strips across the width of the steak. Just make sure you cut off the layer of fat that runs down one side and any grizzle. Cutting them across the grain ensures the pieces are nice and tender. Just look for the direction of the muscle fibres and cut in the opposite direction. Also, strip loins have great flavour and hold up well when stir frying in a hot pan.
Steak Fajitas cook up very quickly so have all your ingredients prepped before you start cooking. Even the toppings. It's that fast!
Heat your pan to medium-high heat and add some cooking oil. Avoid olive oil if you can because it doesn't react well to high cooking temperatures. Toss the peppers and onions in once the oil is heated and let them get a bit charred before you stir them around. Then move them to the side, add the strips of steak and stir fry for just a minute or so. Sprinkle the seasoning over top and stir fry everything together until it's well coated and the steak is heated through.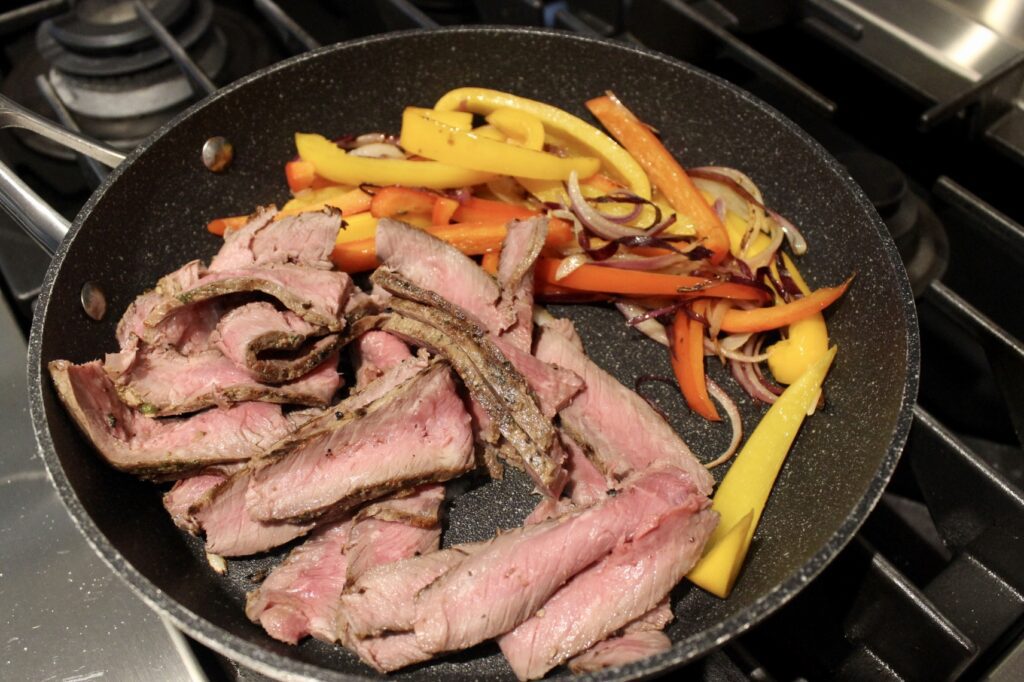 You can use any colour of peppers but I like to use brightly coloured sweet peppers for a nice visual presentation.
The other bonus to making your own Steak Fajitas at home is that you can offer a variety of toppings and let everyone choose what they like. I serve mine with sour cream, salsa or chopped fresh tomatoes, shredded cheese, cilantro, jalapeño peppers, lime wedges and avocado. The jalapeños add a fresh crunch and aren't usually too hot. You can adjust the heat to your preference by choosing a hotter or mild salsa and adding more or less cayenne to the Fajita Seasoning mixture.
If you warm your tortillas before filling, they'll roll easier. You can actually toss them right over the flame on your burner if you're careful. They even char slightly for that authentic presentation. Use large tortillas which are about 8 inches across.
Don't try to over fill your fajitas. It's tempting, I know, but you won't be able to fold them properly so they'll be too hard to eat. Place a few pieces of meat and veggies down the centre of a tortilla and add desired toppings. Fold one side over the end of the filling, then roll into a tube with one end open.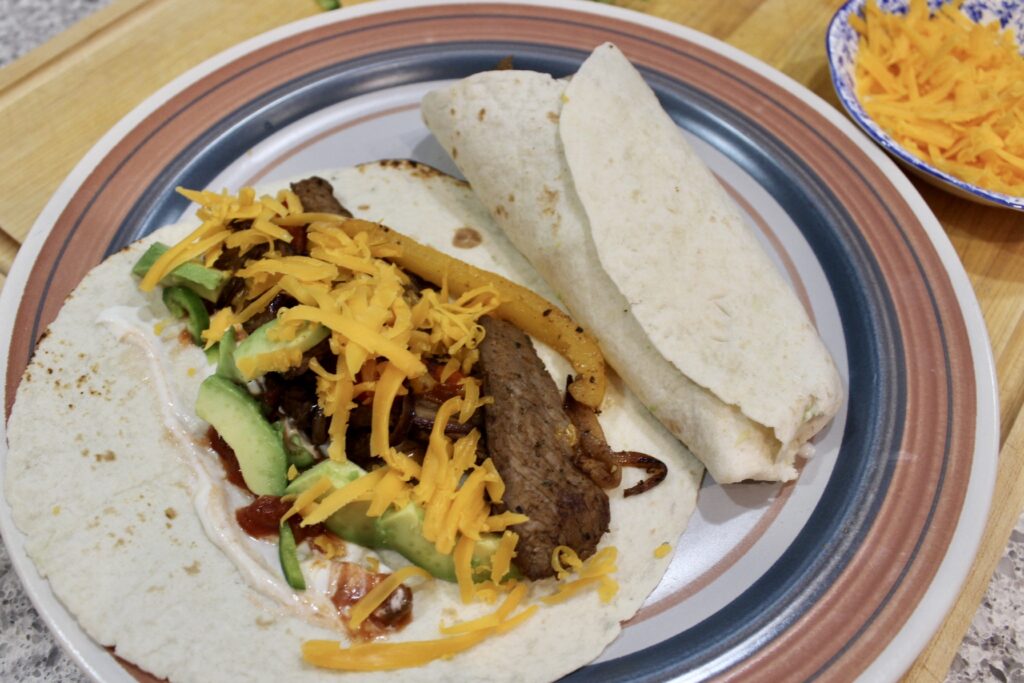 If you've got leftover tortillas, cut them into strips, toast them in the oven and use them to garnish Chicken Fajita Soup. Actually this soup shares a few other ingredients from the Steak Fajitas so make sure you have some leftover and try the soup. It's awesome.
Pre packaged fajita seasoning is ok if you're in a rush or if you don't have a well stocked pantry. However, there's only a few ingredients in homemade Steak Fajita Seasoning and since it's all spices, it stores well for ages. The packaged seasoning contains thickeners, sugar and loads of salt. I leave out the sugar because cooking the filling at a hot temperature caramelizes the meat and veggies so you already have a slightly sweet component. And the instructions on the package say to add liquid to the meat and veggie mixture. I prefer a dry mixture, otherwise your Steak Fajitas will be drippy. A squirt of fresh lime juice when filling your tortilla is all you need.
Cayenne pepper is optional but there's just a hint. And I like to add some garlic powder but no onion powder since there are already onions in the pan. Smoked paprika is expensive but it's an ingredient in Orzo with Smokey Tomato Vinaigrette so you'll have another excuse to buy it. Otherwise, regular paprika is just fine and dandy. This recipe makes enough Fajita Seasoning for 2 batches. So you can make Chicken Fajitas next time.
No leftover steak? No worries, just use a fresh steak (or chicken) and add the meat and veggies to the hot pan all at once so everything cooks through.
Who can resist a sizzling pan of Steak Fajitas? Not me!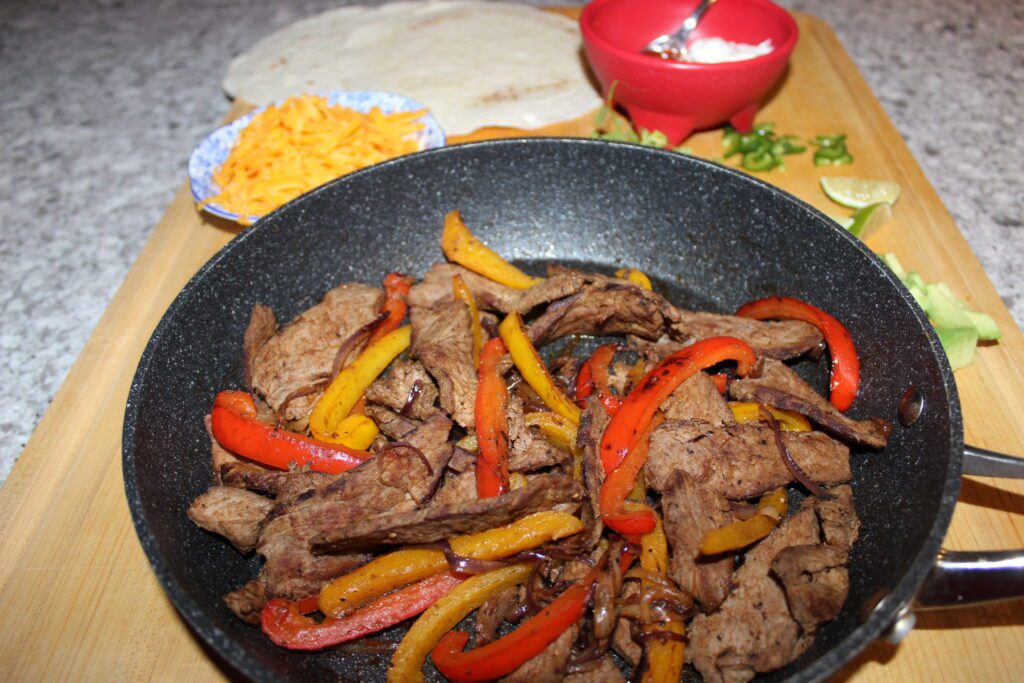 Here's the recipe:
Steak Fajitas
Make your own Steak Fajitas at home with leftover strip loin steak
Ingredients
1

lb

strip loin steak, cooked to rare

if using raw steak, add steak at beginning to vegetable mixture

½

sweet red pepper

½

sweet orange or yellow pepper

or any 2 colour combination

1

medium red onion

1

Tbsp

vegetable oil

avoid olive oil

1

Tbsp

fajita seasoning

6

large tortillas

8 inches diameter
Fajita Seasoning
3

tsp

chili powder

2

tsp

ground cumin

1

tsp

fresh ground black pepper

or ½ tsp regular pepper

½

tsp

salt

½

tsp

smoked paprika

or regular but smoked is better

½

tsp

garlic powder

¼

tsp

cayenne pepper
Toppings
shredded sharp cheddar cheese

sour cream

salsa

fresh chopped tomatoes

fresh cilantro

sliced jalapeno pepper

sliced avocado

lime wedges
Instructions
Combine all seasoning ingredients.

Slice peppers and onions into thin strips.

Remove fat and grizzle from steak and slice across the grain into thin strips.

Heat large skillet to medium-high heat. Add vegetable oil and heat well. Add peppers and onions and allow to char slightly before stirring around.

Move vegetable mixture to the side of the pan and add meat. Spread out as best as possible and allow to cook slightly.

Sprinkle 1 Tbsp of seasoning mixture over top. Reserve remaining seasoning for future use. Stir fry meat and vegetable mixture until heated through and seasoning well blended.

Heat tortillas if desired for easier rolling.

Add 1/6 of meat mixture to each tortilla in a line across the middle. Do not over fill. Top with desired toppings. Fold side in slightly at the end of the line to form the bottom, then roll into a tube leaving the top end open.
Print Recipe
Love Tex mex? you might like these recipes